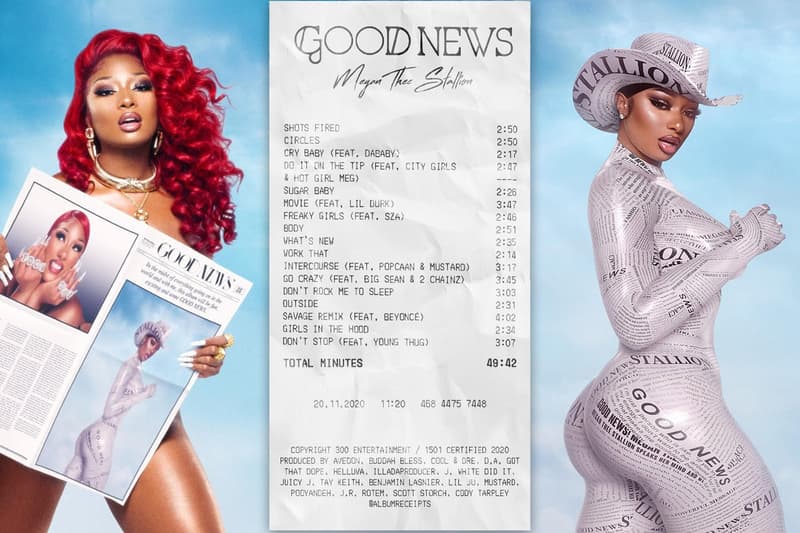 Art
'Album Receipts' Is the Viral Art Project Inspired by Your Favorite Records
The Instagram account has gained recognition from some of music's biggest names.
'Album Receipts' Is the Viral Art Project Inspired by Your Favorite Records
The Instagram account has gained recognition from some of music's biggest names.
Albums, but make them receipts. You've most likely heard of the viral Instagram art project @albumreceipts, originally created by art director and music aficionado Melody You during quarantine earlier this year. Melody has been conceptually reassessing the tracks and discographies of countless artists by deconstructing and applying this sonic content onto that banal scrap of paper we'd all normally trash, accompanied by actual wrinkles and creases. The receipts also contain each album's original typography, as well as a backdrop of the album's visuals. Some are even completed with an authentic signature of the artist too.
The very first "receipt" Melody produced was an artwork inspired by Tyler, The Creator's IGOR, one of her personal favorites. As she began to continuously brainstorm, execute and post more "album receipts" by other musicians of various genres, the Instagram page became an instant hit — eventually gaining recognition from artists such as Chloe x Halle, Ariana Grande and Katy Perry. The Album Receipts Instagram features contemporary records like Beyoncé's eponymous album, Travis Scott's Astroworld, CTRL by SZA, as well as classics and best-sellers like The Miseducation of Lauryn Hill, Back in Black by AC/DC, True Blue by Madonna and The Eminem Show.
We recently got a chance to catch up with Melody to pick her brain about the Album Receipts project. Read our conversation below.
What ultimately inspired you to become immersed in art directing and creating in general?
I've always loved doing art and creative stuff. Growing up, I was extremely fortunate in that my mom supported my creative endeavors and signed me up for intensive visual arts classes, where I would enter in a ton of art competitions for drawing and painting. But even though art was a huge passion of mine, I never really considered pursuing anything creative as a career, because I felt like it was such an intimidating field to go into. It wasn't until earlier this year, after doing a few non-creative marketing internships, that I realized I never really felt quite fulfilled with my major, and decided to switch into art direction.
When did the Album Receipts concept begin going viral? Do you remember which receipt you posted that exponentially increased your following?
I launched @albumreceipts back in early May as a fun project to focus on while in quarantine, and I remember it was a few weeks later when Ariana Grande had noticed my work and the thank u, next album receipt that I made for her. She gave me a shoutout on her Instagram and my account blew up so much that day, which was super exciting.
What was your reaction to all that instant fame? Were you excited, overwhelmed?
I honestly felt very overwhelmed. I was incredibly grateful that my account and work was getting the attention that it did, but I tend to overthink and be self-critical with things. I just felt like now that I had this platform on Instagram, I needed to create as many receipts as possible and fulfill as many album requests as I got when I had the chance. It got to the point where I was on Photoshop and Illustrator like six to eight hours a day, and it quickly turned into a full-time job.
What are your favorite album receipts you've done to date?
I think one of my favorite album receipts is the Blond by Frank Ocean one, because I collaborated with my friend Pepe who is the original creator of this album receipt concept. We worked on this one together and I felt like it was a full-circle moment, because it was his receipt that inspired me to launch this account in the first place. I also posted it on my Instagram the day that I hit 100,000 followers, which was really special. Frank Ocean also happens to be one of my all-time favorite artists.
How do you choose which albums to feature?
It's kind of a mix of doing albums that I'm really into at the moment, albums that are popularly requested by my followers, and albums that are requested by the music labels and artists that I work with. But 100 percent of the album receipts that I make are ones that I personally love, and I also jam out to them while working on the receipt.
How long does it typically take to create one receipt?
It usually ranges from an hour to sometimes three to five days, depending on how busy I am.
Many artists have given you shoutouts, but which one was your favorite?
It definitely has to be Ariana Grande's shoutout, because she was one of the first artists to notice my Album Receipts account so early on, when I only had a few thousand followers. I also freaked out when SZA and Flume noticed me, because I am also a huge fan of their music.
Tell us more about the collaborations that you've done with music labels and artists.
It's honestly been such a dream to have been able to work with so many artists, producers and labels that I love. I got to collaborate with LL Cool J on an album receipt to commemorate the 30th anniversary of Mama Said Knock You Out, which was insane because he's such an icon. I also worked with Aminé on an album receipt to celebrate the release of his album Limbo, which was such an honor because I'm a huge fan of his.
Can we expect some Album Receipts merch in the future? It would be cool to have a tangible receipt to frame as artwork too.
I am absolutely thinking of selling Album Receipts merch, posters and framed receipts in the near future. I'm an avid wearer of hoodies and crewnecks, so I'm working on developing those at the moment and I cannot wait to share them with my followers. I actually just recently purchased a receipt printer — I'm playing around with that idea and I'm so stoked.
What are some other upcoming projects and collaborations you're excited about?
I've been collaborating with Republic Records and Sony Music on producing more album receipts for their artists, so stay tuned.
---
Tiffany Harrison is a multifaceted creative who is skilled in visual storytelling. She immerses herself in artful endeavors within photography, prop styling, product design and creative writing. Tiffany's work is very conceptual and is inspired by contemporary art, which she is truly passionate about. You can connect with Tiffany on her website and Instagram.
Share this article