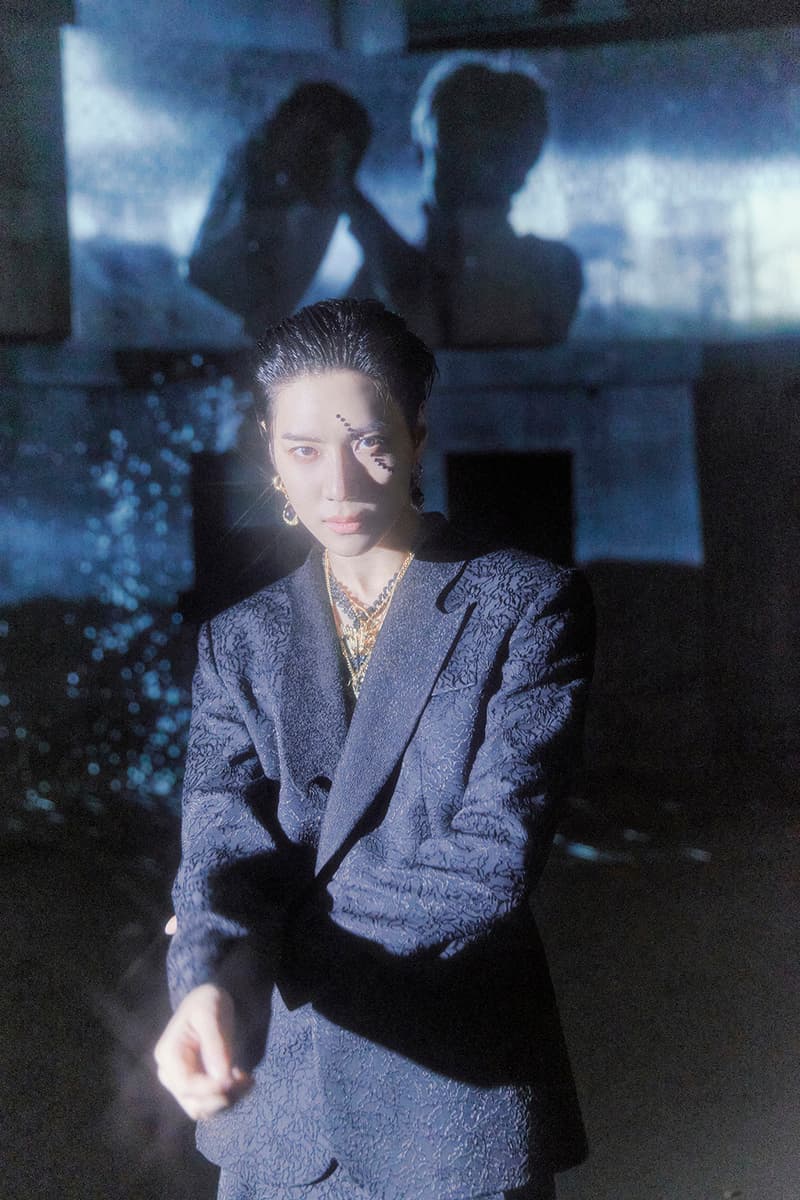 Taemin on the Making of 'Never Gonna Dance Again : Act 2'
The K-pop artist breaks down the inspiration behind his solo project.
Music
Taemin on the Making of 'Never Gonna Dance Again : Act 2'
The K-pop artist breaks down the inspiration behind his solo project.
For Lee Taemin, Never Gonna Dance Again is the dawn of a new era. The title is an antithesis for a performer marked by his ability to entrance audiences with movement, and the 27-year-old hopes to demand attention with a concept both provocative and unimaginable. Led by the prologue single "2 KIDS," followed by the release of Act 1 in September, Act 2 serves as the final installment of the series. Shortly after its launch, the nine-track effort quickly went number 1 on Apple Music charts around the world. Clearly, his third Korean studio album has already proven to be his most successful project to date.
Taemin is more than the youngest member of SHINee, the legendary K-pop group that debuted under SM Entertainment in 2008, nor is he limited to the iconic "MOVE" dancer that set the K-pop industry aflame in 2017. His solo aura is almost unrecognizable from his role as a member of supergroup SuperM, his fourth debut across three generations. The common thread is that all of these eras are true to Taemin's greatest gift: range. He is malleable in a way that breeds experimentation, but doesn't adhere to standards. This is the reason Taemin has become a household name, and a muse to both idols and fans alike.
About an hour before Never Gonna Dance Again : Act 2 dropped on Monday evening in Korea, Taemin entered our Zoom call harboring a clear excitement in his tone. After working hard for so long, it's only natural to anticipate the world's response to your work, especially if every release is as risky and groundbreaking as his. Lead single "IDEA" screams arthouse and intensity, with featured vocals from legendary performer and labelmate BoA, who laced the track with her lines "Killing me" and "Killing me softly." Avant-garde fashion accompanies the tantalizing hook, and aesthetic reminiscent of both heaven and hell add to the visual prowess in the music video, elevating the narrative Taemin aims to tell and harboring a ferocity matched only by the sharp and fluid choreography.
"The title track 'IDEA' was inspired by the allegory of the cave (Plato's Cave). Instead of 'being trapped in a cave' and living in the shadow of the truth, I want to free myself from the darkness and embark on a journey of enlightenment where I discover a new ego, identity and meaning," Taemin explains, referencing Greek philosopher Plato's theory of ideas. "IDEA" is a follow up of "Criminal" from Act 1, which had an equalizing parallel that was haunting yet seductive. "IDEA" is just as visually demanding and hypnotic, but levels up from the previous title track.
Throughout the conversation, it becomes clear that Taemin's youthfulness has not begotten him despite his wisdom. The care with which he approaches talking about his music could be surprising given the mature vibes of his sound, but this duality should be expected from someone who forwent the typical teenage experience to pursue music professionally. There's a sweet charm in the way he expresses himself, and an eagerness to continue innovating as a result.
"I participated in the writing of three tracks: 'Heaven,' 'Think of You,' and 'Pansy.' I'm always writing and taking notes in my notebook when I have time between schedules, so a lot of the inspiration came from that." Taemin says, breaking down each track he worked on with a noticeable passion. Describing "Think of You" as a warm song that expresses honest and sincere messages for his fans, and "Heaven" as giving positive energy and strength, he goes on to talk about "Pansy," a song that holds a little extra weight. "The significance behind the flower is 'remember me.' I wanted to tell a message to my fans who have waited for me for a long time, because in between there are periods where I'm not working on my solo music. So for those fans who have been waiting patiently, I wanted to show that gratitude and how I'm very appreciative of that. I wrote the chorus part, and when I was writing it that day, the weather and my surroundings were the main inspiration."
Beyond nature, the flower serves a more sentimental value. "The pansy flower has a specific day, Pansy Day, and that's also the day of SHINee's debut, so it worked perfectly." Taemin also believes these three songs stand out the most compared to Act 1 due to their warmth and fuzziness, a bright contrast from the powerful and dark undertones heard previously.
Speaking of his creative process when working on new music, Taemin has a unique approach to finding inspiration: searching his mental state in the current time. "When I watch a movie, I'm not inspired by the movie itself, but the feelings that I have as I'm watching it. That's what plays the most important role." Looking back on recording for Never Gonna Dance Again, he adds, "I had that period where I was going through a slump of trying to create something new, so I wanted to make that experience artistic and useful and incorporate it into my album." He combines his real life thoughts with his signature drama, a method that can't be duplicated as it's unique to him.
For his involvement in Act 2, Taemin describes it as "writing a personal letter to my fans." He elaborates, "Rather than creating perfect lyrics or a perfect song, it was more about sincerity and delivering that comforting message and being very honest with my feelings." The feelings showcased are the most up-to-date represenation of Taemin's artistry, but even that's open to change. "I'm always thinking about what I'm good at, what are some things that other artists didn't try," he reflects. "I'm not an artist that's limited by genre. I'm not just an R&B or K-pop artist, but I'm one who likes to experiment with different genres and styles to diversify my portfolio." For Taemin, sharing his own thoughts and emotions is one of the biggest reasons he wanted to become a performer, and it's what steers him away from following what's trendy or high in demand.
Of course, this doesn't mean Taemin doesn't respect the other artists he's worked with. In fact, he treasures both his past and his present, and recognizes them as equally important to his current sound and image. "SHINee is a big part of who I am as an artist. For example, in one of the teaser photos for the new album, I'm wearing this military uniform outfit which alludes to SHINee's single 'Everybody.'" Fans immediately recognized the 2013-inspired getup, and it's just another treat for both Shawols and Taemin. He hasn't forgotten his roots, nor does he plan to even as he evolves.
"For the past 13 years, I've been spending a lot of time with them and creating music together as a group." It's only natural that this influences his career, and his Shawols are still his most fervent supporters even after such a long time. "With my solo career, I don't want fans to think that I'm throwing all that away. It's more about creating something new and different than what I've been showing in my past with the group. In the past years, I learned a lot, and I always had things that I wanted to try and experiment with. It's not about the end of SHINee or moving on, but a new beginning." His consideration of the fans' feelings doesn't negatively affect his progress, but proves how he hopes to continue growing with those who helped him get this far.
Sincerity is probably the most important message Taemin wants to send as he embarks on this new journey. "For a new beginning, something has to end. I want fans to know that this is not goodbye, it's not the end. I will continue to bring great music and show something new to the audience." What that may be, we'll just have to wait and see. But if Never Gonna Dance Again is any indicator, the future of soloist Taemin will continue to keep us guessing.
---
Ashlee Mitchell is a US-based freelance writer with a focus on Asian and Black pop culture. Her work can be found in Teen Vogue, i-D, Dazed and others. You can connect with Mitchell on her website and Instagram.
Share this article