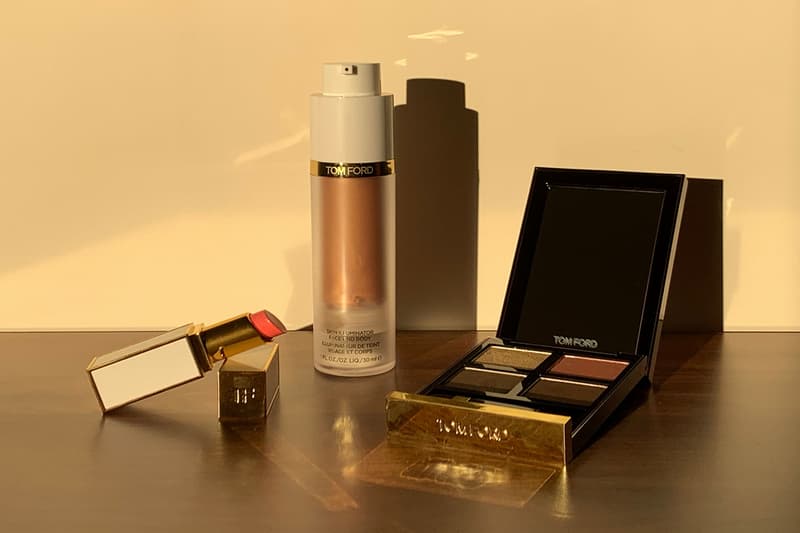 Beauty
Tom Ford Beauty's Soleil Collection Makes Me Look Sun-Kissed All Year Long
Our editor reviews the highlighter, eyeshadow palette and lipstick.
Tom Ford Beauty's Soleil Collection Makes Me Look Sun-Kissed All Year Long
Our editor reviews the highlighter, eyeshadow palette and lipstick.
2020 hasn't necessarily been the best year for makeup – ever since lockdown began, I've barely even touched my foundations or lipsticks. However, with the coronavirus pandemic continuing to impact most parts of the world, I've decided that wearing makeup at home can help add a bit of excitement to my WFH days. Over the last few months, I've been using products from Tom Ford Beauty's Soleil collection that were originally released for the summer, but versatile enough to work well for any season.
Similar to previous releases, this year's Soleil collection takes inspiration from the glimmering, warm colors of the summer sun. The Eye Color Quad palette returns in "26 VISIONAIRE," which features two dark brown shades, a shimmery gold color and a pink coral option. The Ultra-Shine Lip Color arrives in a peachy "DU CIEL" iteration that glides onto the lips with its creamy texture. Rounding off the collection is the Skin Illuminator, a highlighter that works on both the face and body.
If you've been seeking new makeup products to try, read on for my review of Tom Ford Beauty's eyeshadow palette, lipstick and highlighter.
Eyes
As someone who values convenience the most when it comes to beauty products, I've been a proud owner of several eyeshadow palettes. Usually, I go for shades that are easy to work with on any part of the face, so that I can finish my makeup in one go — meaning I'll need options that can replace eyeliner, blush, highlighter and eyeshadow. Although there are only four colors to work with from this palette, the selection pretty much satisfies all of my needs. I'll use the chocolate and taupe brown hues to add definition to my eyes, while the pink shade serves as a quick replacement for blush. The product comes with TF-branded brushes, making the palette perfect for carrying in my pouch for mid-day touchups.
Lips
With face coverings now having become a daily essential, wearing lipstick has been less of a priority for me, but I do enjoy trying out different products when I'm mask-free at home. The Ultra-Shine Lip Color has become a go-to for me thanks to its creamy, balm-like texture, which not only adds a bright tint but also hydration to the skin. The shade is more summer-friendly when applied on the lips, but can double as a blush for its pink, coral tone.
Face and Body
The Skin Illuminator is probably one of my favorites from Tom Ford Beauty's Soleil collection. The lightweight formula is designed to give the skin a natural, translucent glow. During the summer season, it works great on the body for a healthy, sun-kissed look. For the cooler days, I've been blending the product with a bit of foundation to create a subtle glowing effect. When I'm feeling extra lazy or in a rush, I'll use the tip of my fingers to dab a little bit of product onto my eyelids.
Share this article