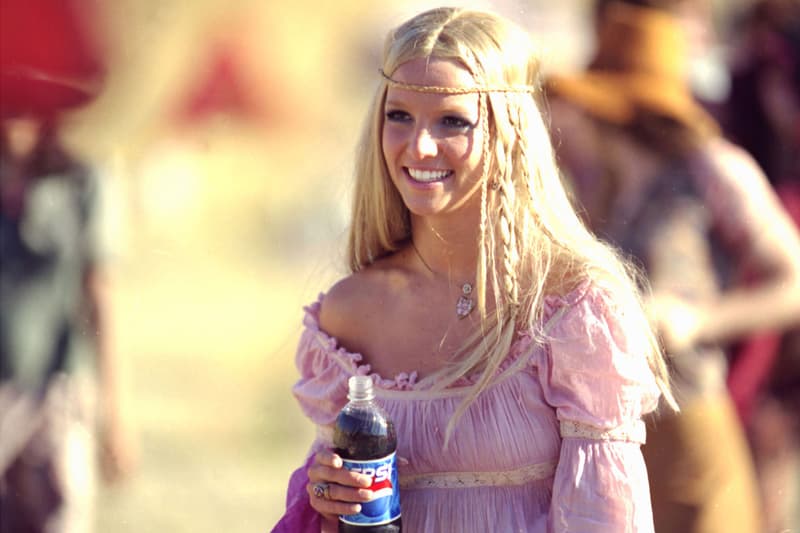 The Most Iconic Super Bowl Commercials of All Time
A trip down marketing memory lane.
One of the NFL's biggest days of the year, Super Bowl Sunday is also a hugely important opportunity for brands to debut new commercials to tens of millions of viewers. Last year, the blowout sports event saw the premiere of star-studded spots by Pop-Tarts (starring Queer Eye's Jonathan Van Ness), Doritos (Lil Nas X) and Mountain Dew (Bryan Cranston and Tracee Ellis Ross), setting high standards for this year's commercials. Already confirmed to air, new ads for Robinhood, M&Ms and Cheetos are set to make their TV debut this Sunday. Building anticipation for his halftime show, The Weeknd will even appear in a Pepsi commercial that pays homage to his hit "Blinding Lights."
In the lead up to the Super Bowl LV, we've revisited iconic game-time commercials over the years, from Apple's take on 1984 by George Orwell to Cindy Crawford's Pepsi endorsement to Budweiser's heart-warming Puppy Love. Keep scrolling to watch our favorite classic ads.
Hey Kid, Catch!, Coca-Cola (1979)
Spawning countless parodies over the years, Coke's commercial starring "Mean" Joe Greene depicts the former Pittsburgh Steelers player accept a bottle of the iconic soda from a young fan. After finishing the drink, Greene throws the boy his jersey and delivers the ad's slogan: "Hey Kid, Catch!" Created by agency McCann Erickson, the commercial won a Clio Award in 1979.
1984, Apple (1984)
Directed by Ridley Scott, 1984 incorporates more than a few references to George Orwell's dystopian novel of the same name — in fact, the author's estate deemed the commercial to be copyright infringement and sent a cease-and-desist to Apple after a few months after it aired. Athlete Anya Major portrays the ad's heroine, who hurls a hammer at a version of Big Brother (played by Doctor Who actor David Graham), effectively destroying him. "On January 24, Apple Computer will introduce Macintosh. And you'll see why 1984 won't be like 1984," a voiceover concludes.
New Can (Two Kids), Pepsi (1992)
One of supermodel Cindy Crawford's most memorable appearances, Pepsi's 1992 commercial was meant to promote the drink's newly designed can. The model pulls up to a gas station in a bright red Lamborghini and gulps down a Pepsi, much to the fascination of two young boys who ogle the new can instead of Crawford. The ad made such a cultural mark that Pepsi remade it — with an appearance by Crawford's son, Presley Gerber — for the 2018 Super Bowl.
Directed by record-breaking ad mogul Joe Pytka ("This Is Your Brain On Drugs" is among his achievements), Nike's Air Jordan VII inspired 1996 movie Space Jam. Icons in two distinct senses, Michael Jordan and Bugs Bunny sport the new sneakers and prevail over a group of competing players. Lola Bunny even makes a brief appearance in the 60-second spot.
The Showdown, McDonald's (1993)
Another Michael Jordan endorsement, The Showdown advertises the Big Mac with an epic shooting contest between Jordan and Larry Bird. "I think we're going to be here a while…I suggest you get a Big Mac," Jordan — who wears a colorfully '90s sweater — says as the two athletes go head to head.
Respect, Budweiser (2002)
A tribute to the victims of 9/11, Budweiser's Respect aired only once to avoid profiting from the sensitive subject. However, the ad continues to make an impression year after year on the anniversary of the tragedy. Currently, the first YouTube post of the commercial boasts over 22 million views. The somber clip, approved by then-Mayor Rudy Giuliani, sees a group of Budweiser's hallmark clydesdale horses visit Ground Zero and kneel at the landmark.
Now And Then, Pepsi (2002)
One year after appearing in her first Pepsi commercial, Britney Spears extended her endorsement of the beverage brand with a second spot. A series of ads-within-an-ad, Now And Then remakes old Pepsi commercials with Spears as the star. She even dresses as Robert Palmer in a take on the English singer's 1989 ad, a Pepsi-specific spoof of the "Simply Irresistible" music video. "It's probably one of my most proud pieces of work," Spears told PEOPLE in 2018.
eTrade Baby, eTrade (2008)
The first in a humorous yet unsettling series of commercials that aired until 2013, eTrade's original ad introduced the world to a talking baby, seated in front of a webcam, who spouted financial advice in a deep voice. The ad's low-res quality, ostensibly re-creating the surveillance-like effect of a webcam, imparts a distinctly creepy vibe. Despite its off-putting quality, the commercial achieved its goal: on the day after it aired, eTrade racked up more new accounts than on any other day in the company's history.
You're Not You When You're Hungry, Snickers (2010)
Snickers unveiled its now-iconic You're Not You When You're Hungry campaign in 2010 with a football-themed ad starring Betty White. White portrays an underperforming player, Mike, who gets tackled by opposition and is then berated by his fellow teammates ("you're playing like Betty White out there," one says). Mike then transforms back into himself after taking a bite of a Snickers bar.
Parisian Love, Google (2010)
One of Google's most inventive commercials, Parisian Love chronicles the budding relationship between an American study abroad student and a French girl through a series of online searches. Terms progress from "impress a French girl" to "jobs in Paris" to "churches in Paris" and ultimately ends with "how to assemble a crib," suggesting that Cupid's got nothing on Google.
The Force, Volkswagen (2011)
German automobile company Volkswagen achieved the most-watched commercial in Super Bowl history with The Force, at the time the brand's first Super Bowl ad in over a decade. Inspired by a photo of a child dressed in a Darth Vader mask at Burger King, the commercial features a young boy dressed as the Star Wars villain attempt to move objects using the Force. The boy's parents indulge his fantasy by remotely unlocking their new Volkswagen Passat with a handheld key remote.
Puppy Love, Budweiser (2014)
Budweiser's wholesome ad captured the hearts of viewers by not only chronicling the bond between a puppy and horse, but also the budding romance between a dog rescue owner and horse trainer. Puppy Love tugs at heartstrings as a Labrador retriever is separated time after time from his clydesdale friend. Eventually, rescue owner and horse trainer come together and allow the two animals to play together in a happily-ever-after conclusion.
Like A Girl, Always (2015)
Pad and tampon brand Always enlisted photographer and documentary maker Lauren Greenfield, the mind behind award-winning doc Queen of Versailles, for a commercial and larger campaign questioning what the phrase "like a girl" really means. Though soaring music renders the ad slightly cheesy, it makes an important point by asking boys to demonstrate what it means to "fight like a girl" and "run like a girl." "I mean, yeah, [I] insulted girls, but not my sister," a young boy says.
#EatLikeAndy, Burger King (2019)
Spurring frenzied speculation over whether Andy Warhol was really the blonde-haired figure in Burger King's latest ad, #EatLikeAndy recontextualizes a segment from Jørgen Leth's 1982 film, 66 Scenes From America. The four-and-a-half minute clip of Warhol himself casually eating a Whopper (yes, that's all he does) is shortened 45 seconds. #EatLikeAndy appears across the bottom of the screen, a simple conclusion to an ad whose reported intent was to pay homage by changing the original footage as little as possible.
The Cool Ranch feat. Lil Nas X and Sam Elliot, Doritos (2020)
Doritos' 2020 spot saw rapper Lil Nas X and A Star Is Born actor Sam Elliot compete in a cowboy dance-off for one coveted prize: a bag of Cool Ranch Doritos. Set to Old Town Road, the duo show off their best moves — though Elliot competes admirably, Lil Nas X wins. A cameo appearance by Billy Ray Cyrus ties the commercial together.
Fixed the Pretzel, Pop-Tarts (2020)
Drawing from the cheesy yet humorous format of infomercials, Pop-Tarts enlisted Jonathan Van Ness to play the part of a peppy "As Seen On TV" host extolling the virtues of the brand's pretzel toaster pastries. "Are you tired of pretzels not being Pop-Tarts toaster pastries? Are you struggs to snack?" the Queer Eye cast member asks. "Pop-Tarts fixed that for you," he announces, showing off the salty-sweet snack. The ad even ends with punchy infomercial-style graphics showing viewers how to win free Pop-Tarts merch.
As Good As The Original, Mountain Dew (2020)
Depending on who you ask, Mountain Dew either ruined or payed hilarious homage to The Shining with its 2020 commercial spoofing the classic horror film. Bryan Cranston replaces Jack Nicholson as Jack Torrance in a re-creation of the movie's iconic "Here's Johnny!" scene — "Here's Mountain Dew Zero!" Cranston exclaims. Tracee Ellis Ross, playing Shelley Duvall as Wendy Torrance, snaps out of her fearful screaming fit and grabs the bottle. "I am thirsty," she admits, and the ad cuts to a shot of lime green Mountain Dew spilling out from the Overlook Hotel elevator.
Loretta, Google (2020)
A commercial that brought viewers to tears, Loretta follows the true story of an 85-year-old man as he reminisces about his late wife, Loretta, with the help of Google Assistant. Asking the device to show him old photos and videos of Loretta, he instructs the device to take note of his wife's favorite places, things and sayings. "Remember, I'm the luckiest man in the world," he ends. According to a statement given to CNN, the ad was meant to show viewers how Google can "build products that help people in their daily lives."
Share this article