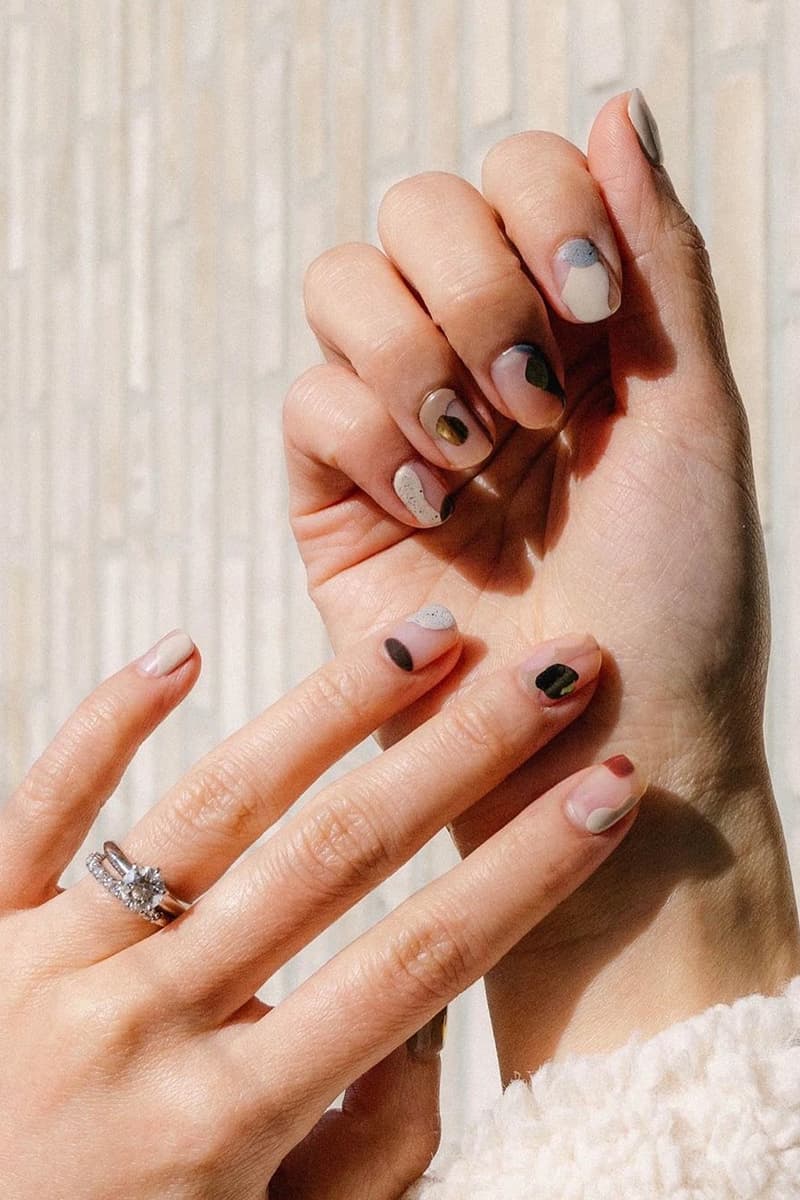 Here Are 11 Tips For Strengthening Your Hair and Nails
Experts share the dos and don'ts.
Many of us wish we could have strong hair and nails with a snap of a finger. While the thought of that may be nice, there's more that goes into it, and it involves your diet, lifestyle and general maintenance. Thankfully, there's light at the end of the tunnel. Because our hair, skin and nails are all part of one organ system (the integumentary system), strengthening one area is likely to benefit the others.
On our quest for luscious, strong tresses, we consulted with hair and scalp expert Philip B to see what we can avoid (and add) to our haircare routine. And when it comes to our claws, Deborah Lippmann, celebrity manicurist and nail polish brand founder, tells us all we need to know for strong, healthy nails. Keep scrolling for our tips.
What Causes Hair Damage?
Between hot tools and hair coloring, our hair goes through a lot. Here are some common hair-damaging culprits to avoid.
Ponytails and Buns
Philip B says that the simple act of putting your hair up in a too-tight bun or ponytail can be damaging. "This can cause breakage, as can securing it with an elastic that has a metal component (which can snag)," he says. "Another hair enemy is a rubber band — they pull too aggressively and can get tangled in your hair causing further breakage."
Hot Tools
Philip B explains how "serious damage can come from overuse or misuse of heated styling tools, which bake the moisture right out of your hair — or worse, scorch it." Moral of the story? Try to avoid using hot tools as much as possible.
Wet Hair Care
Because hair is made up of protein chains, those chains have weaker bonds when your hair is wet. Finger comb your hair (versus using a brush) or opt for a hairbrush that's specifically designed for use on wet hair like Tangle Teezer's Wet Detangling Brush.
Chemical Treatments
Philip B says that often one of the main culprits of hair damage are the products you use. "Bleach (i.e. highlights), perms and chemical straightening treatments can not only damage the hair, but it can fry it too."
How to Strengthen Your Hair
Precondition Your Hair Before Showering
Philip B recommends brushing your hair and scalp pre-shower while your hair is still dry. "Use a boar-bristle brush (versus plastic) to lift and carry the natural, nourishing oils on your scalp down to the ends, where that moisture is most needed," he says. Bonus: this also exfoliates the scalp.
Invest In Your Haircare Products
Many shampoos are a blend of water and detergents and many conditioners are heavy, waxy formulas that sit on top of your hair, dulling its shine and weighing it down. Philip B says to read product labels and seek out quality ingredients — think hyaluronic acid, sodium hyaluronate, amino acids, plants and botanicals, natural essential oils and minerals.
Featuring a blend of 11 L-Amino acids, this rich shampoo repairs hair at the cellular level and is ideal for chemically-treated strands.
At least once a week is recommended, but for severely damaged tresses, two to three times a week is ideal. "Your hair will drink what it needs and again replenish what the hair's been stripped of throughout the week," notes Philip B.
Damaged tresses will drink up this hydrating, strengthening deep conditioning mask that's infused with Keravis and argan oil.
Protect While Swimming
While it may not look the most glamorous, wearing a swim cap while swimming will protect your hair from chlorine-filled pools that can cause damage. "At a minimum, you should thoroughly wet your hair before going swimming," recommends Philip B. "If it's already wet, it can't absorb as much chlorine as dry hair would."
Reduce Heat Tool Usage
The less heat you use on your hair, the better. Opt for a nourishing dry shampoo to extend your style and maximize the time until you use hot tools again.
Be Ingredient-Conscious
Cheaper shampoo containing sodium lauryl sulfate (SLS) can strip your hair of its natural oils. Instead, look for hair-strengthening ingredients like shea butter (for moisture) and L-amino acid complex (for fortifying).
This quick solution for split ends provides much-needed nourishment and hydration in the form of argan oil, boabab extract and hydrolyzed quinoa.
Get Trims Regularly
"Hair tends to fray and break at the ends because that's where it's the driest (and furthest from the naturally nourishing oils on your scalp)," says Philip B. "Damage can travel up the hair shaft, so get regular trims to keep hair strong and healthy."
What Causes Nail Damage?
Strong, healthy nails can be difficult to come by, making it that much more crucial to know what actually causes them to look anything but perfect. Here are some things that contribute to nail damage.
Picking
Picking at your nails, cuticles and hangnails can contribute to nail damage. Instead, use clean nail trimmers to manage growth.
Housework
Lippmann warns against using the tips of your nails as tools around the house, and to always wear gloves when doing dishes or other housework in order to protect the luster and wear of your manicure.
Poor Polish Quality
Ingredients like formaldehyde, toluene, DBP, formaldehyde resin, camphor, ethyl tosylamide and xylene can be toxic and contribute to weak, damaged nails.
Improper Artificial Nail Removal
Lippmann says that "cured gel manicures can be quite damaging to nails, as the removal process is harsh and cause peeling, breakage and potentially permanent damage." Therefore, it's essential to take the proper steps to remove gel nails or acrylics.
How to Strengthen Your Nails
Look For Quality Polishes
Lippmann says to opt for nail polish brands that are at least 3-free (3-free, 4-free, 5-free, etc. refers to how many chemicals the polishes does not include). A 3-free polish will be free of formaldehyde, toluene and dibutyl phthalate.
This multitasking formula offers 10 nail treatment benefits, including correcting color, moisturizing, strengthening, priming, brightening and more.
Stay Hydrated
Like skin, your nails reflect how hydrated you are. "In addition to topical hydration, drinking water is imperative," says Lippmann. "It keeps the entire body healthy, including the cuticles and hands."
Moisturize Your Hands
"Make sure your moisturizers — such as cuticle oil, cuticle cream and hand cream — are accessible at all times so that you are regularly reapplying," says Lippmann. It's imperative to moisturize especially after washing your hands to prevent dry cuticles.
This cuticle-softening oil is made up of a 30% concentration of shea butter to both strengthen and hydrate.
Take Care of Cuticles
According to Lippmann, the key to strong nails is healthy cuticles. This involves consistent maintenance and daily moisturizing.
This formula contains hydrolyzed wheat protein and calcium for harder, stronger, healthier nails.
Image Credit

@laurenladnier
Share this article