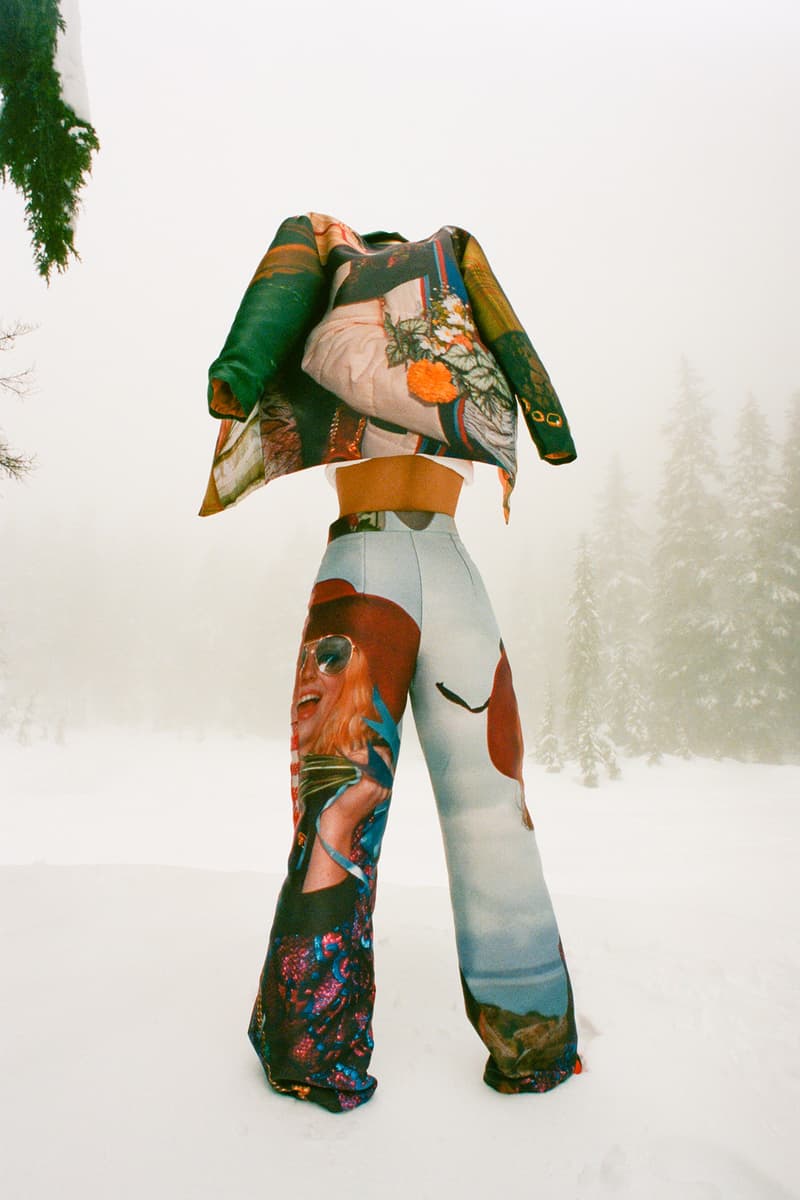 A New Wave of Sustainable Labels Are Upcycling to Save Our Planet
For these young designers, every day is Earth Day.
Fashion
A New Wave of Sustainable Labels Are Upcycling to Save Our Planet
For these young designers, every day is Earth Day.
It seems almost preordained that the 50th anniversary of Earth Day would fall this year, in 2020. The yearly event, celebrated around the world to demonstrate support for environmental protection, only becomes more relevant every passing year, and its cause is never as pressing as it is right now. Following the momentum of last year's Greta Thunberg-lead global climate strikes, scientists around the world declaring a "climate emergency," and the catastrophic bushfires in Australia and California, which reached their peak late last year and early this year, Earth Day 2020 is poised to be the most important iteration of the annual event to date.
The fashion industry is one of the world's most notorious contributors to planetary waste and pollution: the average American throws out 81 pounds of clothing each year, the creation of new synthetic materials produces a greenhouse gas 300 times more noxious than carbon dioxide, and textile factories are responsible for some of the most polluted rivers in the world. With all of this waste and the industry at-large slow to catch on to newer sustainable practices, a new generation of young designers is taking matters into its own hands by, well, recycling.
Similar to recycling, the principle of "upcycling" is to reuse discarded objects or materials to create something new. The fashion industry — admittedly — boasts some of the best discards (vintage or second-hand garb, luxe deadstock fabrics that had been overproduced). So instead of letting these valuable materials go to waste (read: end up in a landfill), a wave of eco-conscious designers are flipping them into covetable new creations — removing existing waste from the planet and reducing their own environmental impact in the process. In other words, brands from Kristin Mallison to Vinti Andrews are making upcycled clothing cool.
Originally from Detroit, Michigan, Kristin Mallison began designing clothing in high school as a form of self-expression, finding relief from the boredom of her surroundings in experimenting with her hair and her clothes. She moved to New York City at the age of 21 to pursue a degree in fashion design at Pratt Institute in Brooklyn, but it wasn't until after she graduated that she would discover the (unexpected) inspiration for her namesake label. "Post-graduation, I became quickly disenchanted by the wasteful, uninspiring fashion industry that met me. As a result, I segued into interior design." Mallison is inspired by the quality and longevity of interior designs. The construction techniques and fabrics used in objects like curtains or chairs, she says, are done with such a level of craftsmanship and care that they resist disposability. The goal is to translate this to her own fashion designs: "I want my clothing to last and I create with a mindfulness of our impact on the environment. Aesthetically, it's not so serious — everything I make is meant to be playful."
Mallison's signature look — her tapestried corsets — was stumbled upon by happenstance. "The specific era of Rococo and Baroque style depicted in the vintage tapestries I search for all started by accident when I found needlepoint tapestries featuring women wearing corsets and upholstery fabrics with these classic floral motifs, all at a thrift store in Brooklyn. I was so enamored with them and I thought it would echo the imagery well to make a garment similar to what they were wearing in the tapestry itself." It's this serendipitous spirit — the ability to reimagine and repurpose the objects or fabrics one stumbles upon — that informs Mallison's exuberant aesthetic.
It's a similar case for Vinti Tan of British label Vinti Andrews, who espouses that the creative possibilities of upcycling are, virtually, limitless. The designer initially began upcycling during college. As a student, cutting up '80s leather jackets was an inexpensive way to experiment with leather as a fabric. "They looked cool so I just carried on from there," he says. "Besides, by using upcycled garments, you can be very creative, as each vintage item you find is different. And, therefore, you create each piece differently, which is challenging and interesting."
Tan has been channeling this creativity especially during the current lockdowns in his native London. "Its given me time to discover new music, new art, and think about new ideas and revisit designs that were shelved due to lack of time," he says.
The process of upcycling is a passion project for designer Jamie Dawes of new Vancouver-based label Fyo͞ocher. She began upcycling over 10 years ago, "just for fun," she notes. "Trying to elevate or embellish a garment before I finally would decide to donate it. Trying to think of any way I could use a garment before discarding it." Over the years, Dawes became more interest in and adept at the process, until it became the focus of her final thesis, and finally, the ethos of her label. "I decided to take my love of thrifting and upcycling, and do a modern take on it," she says, "My main goal as a designer has always been to try to keep these pieces out of the landfill. I love the idea of reusing something that was overlooked and giving it a second chance."
Upcycling and using deadstock materials also grants each Fyo͞ocher design its uniqueness. In other words, that covet-ability factor. Dawes only sources enough material to make three to four pieces of a particular style. "We came across a few Gucci and Dior banners that are printed on fabric that were perfect for pants and a jacket. I make these one-of-a-kind pieces because I want people to have something that no one else will have."
So where do these vintage, second-hand and deadstock textiles come from? Mallison sources most of her whimsical fabrics from two platforms so ubiquitous and so digital — you've probably used them — that they seem an unexpected answer. "I source 99% of my fabrics from Etsy and Ebay," she says, "But I always purchase from within the U.S. in an effort to contribute to 'shopping locally.'"
Mallison's ability to source online has allowed her to keep creative during the current COVID-19 lockdown in her native New York. "I've always wanted an opportunity to dedicate myself completely to my creative work, so I've been treating the last several weeks as a challenge to see how far I can take things now that I'm not limited by the constraints of time."
Other sources for fabric are more conventional, but have produced some of Mallison's favorite finds. "One of my favorite upholster finds was a 1950s table runner that was six feet long," she says. "Along with this, I found a beautiful mid-century dining room chair at a used furniture shop in Bushwick that I took apart on my apartment stoop to use for corsets. I'm finally running out of the material now, and I've grown attached to it, so it makes me sad. But I know I'll find others that will give me the same feeling."
Tan of Vinti Andrews gets a bit more creative with his finds. Outside of the regular thrift stores, which he prefers as the money goes to a good cause, Tan also comes across new pieces-to-upcycle by swapping clothes with his friends or visiting house clearances.
Dawes of Fyo͞ocher sources exclusively from local businesses. Sometimes more conventionally, from second-hand garments or overruns from factories that have closed down, and sometimes more crafty, "I cold call businesses and ask to take unwanted materials off their hands." For Dawes, the process of sourcing is a labor of love, albeit laborious: "[Sourcing fabrics] alone is a full-time job. Sourcing materials that are right for the brand and that are still in great condition is always a challenge." But despite these obstacles, hers and Fyo͞ocher's principles are unwavering. "Of course it would be easier to just order hundreds of meters online, but that isn't what we stand for."
All of Dawes' hard work means that she hasn't completely felt the effects of lockdowns in her native Vancouver. "To be completely honest, I've been self-quarantining for months now," she laughs, "I've been working eight to nine hours a day to get this label up and ready for the launch. Keeping creative and busy isn't an issue for me right now. But I have been doing puzzles, yoga classes from my phone, going for long walks just to get a bit of real oxygen, and a whole lot of online window shopping."
So how are these practices contributing to a more sustainable fashion industry? Kristin Mallison gives us the numbers: "I haven't used new materials in about four years. Every piece of fabric I use is salvaged from some recycled source or another, and I am committed to continuing with this approach. Because I'm not consuming anything new, I feel like my practice is both mindful and fun. We all have our fair share of stresses, and the last thing I'm aiming to do is to put more stress on the well-being of the planet." Currently, Mallison has finished work on a one-of-a-kind, fifteen-piece capsule collection focused on sustainability for Urban Outfitters' "Urban Renewal Earth Day Initiative" that launches April 27.
For Tan of Vinti Andrews, the label's view of sustainability goes beyond clothing. "Our ethos has always been to be as environmentally-friendly as we can. To do more with less and to think about things a bit more. Our London store interior was completely renovated using recycled wood. The floor was made from cutting oak beams from an old garment factory that was demolished."
"I want Fyo͞ocher to speak to a generation that deeply cares about where their clothes come from," says Dawes. When launching her label, she had to reconcile her love of design with her contradictory feelings about the oversaturated fashion industry. "How do I do what I love without creating any more waste?" she says, "That's why sustainability is our main focus. All our garments are made from 100% upcycled or deadstock materials. Our goal is to reduce textile waste at a regional level then move global. We as consumers can change the fashion industry with every purchase. However it's the people producing the garments that need to make the change first."
When asked about the future of sustainability within the fashion industry, the three designers are, for the most part, optimistic. "With a lot of major brands backing out of fashion week this past February, I think we were already starting to see a glimmer of hope for fashion to start slowing down," says Mallison, "But then for COVID-19 to happen after that shift… I think the world as a whole will have no choice but to start to think about these topics with more urgency."
"It's already started," explains Tan, who foretells a two-pronged process. "The first being the innovations made within the textile industry. Circular fashion, like reusing cotton fibers to make denim, or biotech fabrics like seaweed-based jerseys. The second part is more localized: how fashion is consumed and promoted. Something like the fashion in Japan, where true vintage and handwork is highly valued, reworking garments to create something new."
Dawes' answer is the most effusive of all: "Right now we are in the middle of a fashion revolution. Consumers are finally making an impact with their buying habits one garment at a time. People want to know where their product comes from and the story behind it. Large fast fashion houses are going out of business and small sustainable companies are taking over. The fashion industry as a whole is scrambling to try to keep up with these small sustainable businesses. They're struggling to stay relevant and grasping to hold onto their once oblivious target markets. These changes we are seeing are just the beginning. It's a hopeful glimpse into the direction that we must take together."
---
Zoë Kendall is a writer and editor specializing in fashion and culture.
---
Share this article