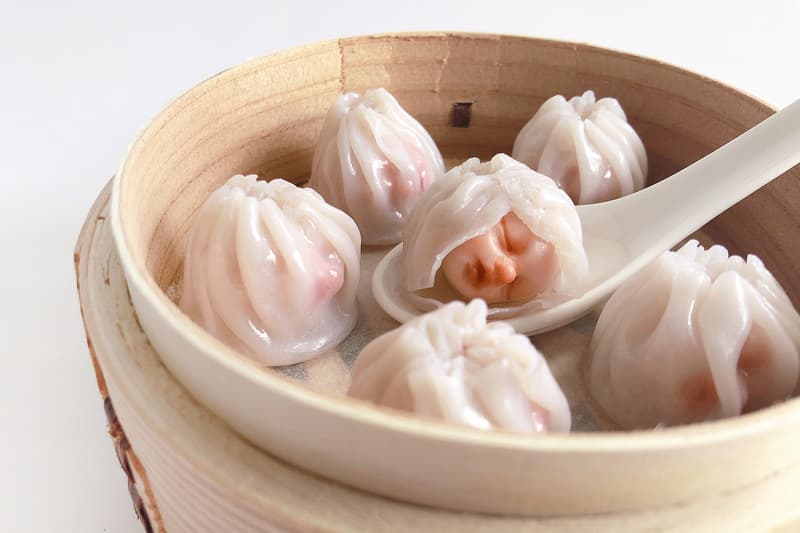 1 of 2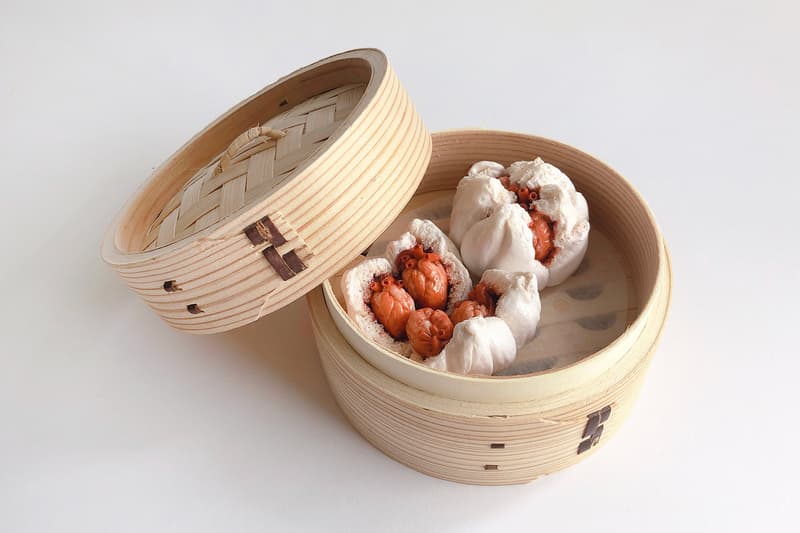 2 of 2
Art
Meet QimmyShimmy, the Artist Creating Dim Sum Sculptures With Miniature Baby Heads
Singaporean creative Qixuan Lim takes us inside her surreal world.
Meet QimmyShimmy, the Artist Creating Dim Sum Sculptures With Miniature Baby Heads
Singaporean creative Qixuan Lim takes us inside her surreal world.
Hours of endless scrolling on Instagram can sometimes lead us to discovering inspiring works by artists around the world. Singapore native Qixuan Lim, who goes by QimmyShimmy online, is a 28-year-old creative known for her striking sculptures of macaron-shaped baby faces and dumplings filled with miniature human heads. Creepy yet strangely captivating and cute, her three-dimensional artworks will have you mesmerized.
With a large following on social media, QimmyShimmy has shown her works in cities from Tokyo and Los Angeles, to Melbourne and London. You'd think that making these sculptures would be her main gig, but the creative actually works a day job as an information designer, and crafts the 3D pieces during her free time at her home studio.
Inspired by the Surrealist movement, QimmyShimmy explores contrasting ideas of sweetness versus horror and dream versus reality, translating these concept into a fusion of human body parts and food, such as dumplings and sushi. It is not surprising, then, that her creations often divide social media users.
We caught up with the QimmyShimmy to talk about her creative process, the most memorable comment she has ever received about her work, and how she's coping with uncertain times as an artist. Continue reading for our full interview with the creative.
When did you first start creating sculptures and how did you decide on making realistic figures your signature style?
I was experimenting with many different kinds of art forms growing up, but I was never really able to find my personal style until I discovered sculpting. Before that, I illustrated a lot more as I have always been into pop-surrealism and looked up to painters like Mark Ryden who primarily painted. But eventually, I moved into sculpting because the medium helped me bring my ideas into a new dimension and reality.
Can you briefly describe how your sculptures are made and talk about the materials you use for creating them? How long does it typically take for you to complete a piece of art?
I use polymer clay, which is an oven-baked clay. They are quite clean and easy to work with, and are suitable for smaller-scale works. I usually take a few days to a week on a sculpture, but it really depends. The actual execution usually takes only a few hours, but it is the conceptualizing, experimenting and understanding of materials to perfect a piece that really takes up most of the time.
What are the messages behind your artwork?
I have no fixed answer for this because I work rather intuitively and playfully. I pick out objects from the everyday, and find ways to create an element of surprise. My works have always been about finding the balance between sweetness and horror, and between dream-state and reality. I am a huge fan of surrealistic art, which is described to be the "juxtaposition of uncommon imagery." I like working with the familiarity of everyday objects and finding ways to break that reality. Of course, some people read a lot more into my works, which I find much more interesting than my own intent. After all, I would rather people be able to interpret and see my works in their own ways.
What are some of the most memorable or interesting comments you've ever received on your work?
This is a tough question to answer. I have had many interesting comments on my work because of how active I am on Instagram, where I mainly post about my works. There is a huge spectrum, ranging from some that are really sweet and encouraging, to the ones that can be quite hurtful along the lines of "this is not art" and "people like you need help." People also use images of my art to make memes and generate fake news, which I often just laugh off, because what can we really do about the Internet, right?
But I think one of the most memorable comment I've ever received was from a girl (who has consented to share this story) who told me that my art really helped her in getting over her abortion. She broke down when she saw my work but at the end of it all, she was able to confront a reality that she was in denial of and was thankful for that. It was a difficult and delicate issue to talk about, but it was a deeply humbling experience for me as I have never thought that my work will ever have such an impact on an individual.
A lot of your pieces are a combination of miniature human body parts and food. What is the connection between the two?
I try to achieve that push-and-pull effect when someone encounters my work and finds it captivating yet repulsive. The reason why I work often with food motifs is because food image already presents that particular tension. Food evokes desire because of the image culture propagated by the advertising and the media and has been made to appeal to all our senses for centuries. And yet, food gets gross quite easily. We get repulsed when food is rotten, raw, bloody and it reminds us of death. So, when is food beautiful and when is it not? Working with food motifs allows me to play with the familiarity and existing relationships we have with food, which I find expansive and endlessly fascinating.
Which artists are the most influential in your idea development process?
The Surrealism movement and the low-brow, pop-surrealism artists have definitely inspired me a great deal in my growth as an artist. Since I started my creative journey back in school, I was never really interested in rendering reality. I was drawn to works that were more playful, illustrative and carefree – the sort that toys with reality and defies logic. As a result, I was naturally drawn to Surrealism, Magical Realism and Symbolism. I look up to many pop-surrealist artists like Mark Ryden, Nicoletta Ceccoli and Ray Caesar.
Other than 3D sculptures, what are some mediums you enjoy working with?
I started out with illustrating and painting before discovering sculpting, so those are mediums I really like working with as well. I do want to try out more mediums though when time allows, and without the pressure to be good or proficient at it. I think the pressure to be good at something just takes away the fun of actually making something and I miss that.
When it comes to your artwork, what are some things you wish to explore in the future?
I am still brewing some ideas and possibilities, but I am really excited about where my creations can take me. I am in the talks to work with some new partners to make a bigger and more interactive show, and many people have been pressing me to go into collectibles. I am constantly struggling with where I want to take my art, whether I want to be strict about my art just being one-off works sold through galleries, or will I venture into other more accessible forms. There are merits in both, but it helps to be sure.
Can you tell us about your work-from-home setup? What has changed over the past few months with the ongoing situation?
I have always worked on my art at home, so nothing really changed. I have an extendable table that I pull out every time I have to work on more pieces, but being Singaporean, I am very efficient with the use of space. If I ever decide to go full-time into art, then it will be an absolute dream to have my own little pink studio in an old beautiful shophouse. A girl can only dream.
What are the pros and cons of working from home that you've experienced during this time?
Not going to the office every day is a little strange, but the introvert in me is celebrating all the extra hours I have to myself. Staying home to work is definitely more productive in terms of working hours (less waiting and traveling time), but I can see how it could have negative effects in the long run. I think a huge part of my work is from seeking inspiration from the experiences and little strange surprises I get from the "outside world," and not having all of that is making me feel a little bored and stuck. It would be nice to head out again.
What do you think is the most ideal way to deal with these uncertain times as an artist?
To quote one of my favorite writers, Neil Gaiman, just "make good art." I think in these unprecedented times, a lot of us have turned to our favorite films, music and books for comfort. There is no denying that art, in its many forms, provides comfort and human connection. So as artists, just never stop making.
Share this article