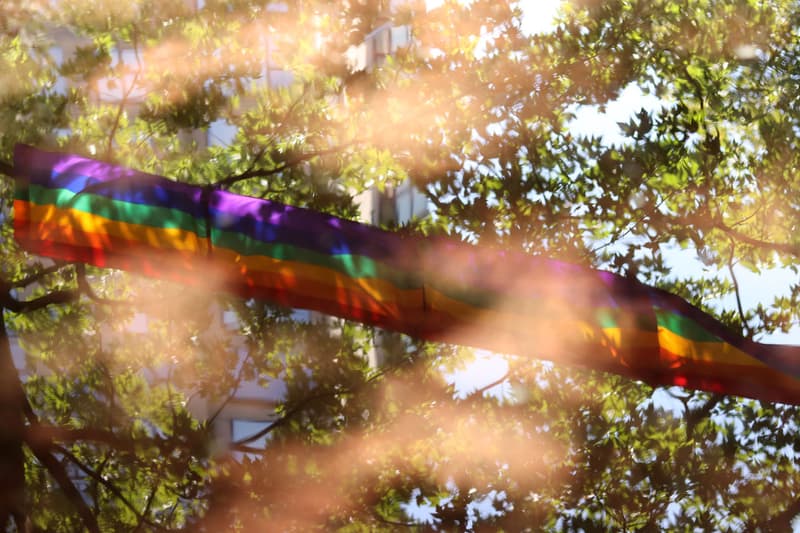 Culture
13 Virtual Events to Celebrate the 50th Anniversary of Pride Month
Attend online speeches, performances and broadcasts.
13 Virtual Events to Celebrate the 50th Anniversary of Pride Month
Attend online speeches, performances and broadcasts.
This year, Pride Month in the United States celebrates its 50th anniversary, marking a tremendous milestone since the very first Pride march held in New York City on June 28, 1970. Over the next several weeks, the LGBTQ+ community and its allies will reflect on the progress made since the 1969 Stonewall Riots and the gay liberation movement, largely led by Black drag queen Marsha P. Johnson — a figure we must acknowledge as Black Lives Matter protests take place around the world.
Pride organizers around the country are shifting this year's celebrations to a virtual format as the coronavirus pandemic continues to loom over the nation. Adapting to the health crisis, cities will host livestreams, digital parties and more in lieu of in-person parades and gatherings.
From kick-off celebrations to broadcasts to youth proms, keep scrolling for the best virtual Pride events taking place this year.
While you're here, learn more about how COVID-19 is uniquely affecting the LGBTQ+ community.
Date: June 4, 8 p.m. EST
New Alternatives, a New York City organization helping homeless LGBTQ+ youth transition out of the shelter system, is hosting a virtual Pride kick-off party featuring performances by Broadway, television, film, dance and opera stars. Over 15 figures in the performing arts community — including Tituss Burgess of The Unbreakable Kimmy Schmidt, Alex Newell of Glee and Angela Birchett of The Color Purple – are set to appear during the celebration, which will livestream on the New Alternatives Facebook page. All donations to the event will benefit New Alternatives.
Date: June 5, 12 p.m. EST
Boston Pride is kicking things off with its traditional rainbow flag raising at City Hall. The city's elected officials will speak about what Pride Month means to the local community, followed with performances by the Boston Gay Men's Chorus and award-winning singer and actor Davron S. Monroe. Check the Boston Pride website for a livestream link closer to the day of the event.
Date: June 11, Time TBD
Brooklyn Pride will host a virtual bingo game that participants can play for prizes. The organization has yet to announce further details, so keep an eye on Brooklyn Pride's official Instagram account.
Date: June 13, 7:30 p.m. – 9 p.m. PST
Los Angeles station ABC7 will air a 90-minute primetime special honoring the journey and evolution of Pride, featuring special guest host Raven-Symoné. Prominent figures in the gay community including Hayley Kiyoko, Leslie Jordan, Carson Kressley and Lance Bass are among celebrities who will make an appearance.
Date: June 18, 7 p.m. EST
Celebrity baker Keith Holland will host a Zoom panel discussion with several LGBTQ+ entrepreneurs about being Black and queer in America. Topics up for discussion include police brutality, mental health and cancel culture, all pertinent and timely subjects.
Date: June 18 — 28
HBO will host its first-ever digital Pride celebration taking place over several days. Daily events, all free to attend, include a virtual drag brunch, queer comedy night and musical performances by headliners Janelle Monàe and Kim Petras. Sign up for all events at the Human By Orientation website.
Date: June 19 — 21, 7 p.m. EST
A three-day digital drag festival, Pride 2020 Dragfest will feature performances from over 100 of the country's best drag queens including a bevy of Rupaul's Drag Race competitors. Expect to see shows by Jiggly Caliente, Honey Davenport, Alexis Michelle and recent Season 12 cast members Heidi N' Closet, Jan Sport and Nicky Doll. The virtual extravaganza will livestream through the NYC Pride and GLAAD Facebook pages.
Date: June 24 — 26, 2 p.m. – 7 p.m. PST
Leading LGBTQ+ non-profit the It Gets Better Project has organized a three-day schedule of performances and appearances by talent including actor and activist Peppermint, viral singer Rebecca Black and comedian Nick Lehmann. Tune into It Gets Better Project's YouTube, Twitch and Facebook to stream the extravaganza.
Date: June 27, 7 p.m. — June 28, 6:59 p.m. EST
Uniting the LGBTQ+ community around the world, Global Pride has organized a 24-hour-long broadcast of speeches, performances and film from Pride celebrations across Africa, Europe, Asia and the Americas. The event has announced its first few speakers and performers — including Prince Manvendra Singh Gohil (India's first openly gay royal), Olivia Newton-John and drag queen Pabllo Vittar — and will continue to post updates on its official Facebook page and Instagram. Global Pride will stream at the Global Pride website and on YouTube (link to be announced).
Date: June 27, 5 p.m. – 11 p.m. PST
Seattle LGBTQ+ association Lambert House is hosting a Pride and prom celebration open to queer youth and allies ages 13 to 22. Held on two platforms, Discord and Minecraft Java Edition, the event requires registration to verify identity via a dedicated Google Doc. Once registered, participants can look forward to group Minecraft games and competitions, as well as special activities on Discord.
Date: June 27, 1 p.m. – 9 p.m. PST and June 28, 2 p.m. – 7 p.m. PST
Instead of its usual parade, San Francisco Pride will air live and pre-recorded appearances from LGBTQ+ celebrities, politicians and entertainers. Expect to see speeches, drag and dance performances and DJ sets. Keep an eye on the San Francisco Pride website for details to come.
Date: June 28, 12 p.m – 2 p.m. EST
This year, NYC Pride will celebrate the LGBTQ+ community along with frontline workers fighting the coronavirus pandemic in a two-hour-long program that will air on ABC. Celebrities including Janelle Monáe, Billy Porter and Margaret Cho are among those confirmed for special performances.
Date: TBD
Though details have yet to be announced, Dallas Pride will hold its annual celebration, The Pride of Texas, on a digital platform. Watch the Dallas Pride website for updates.
---
Share this article