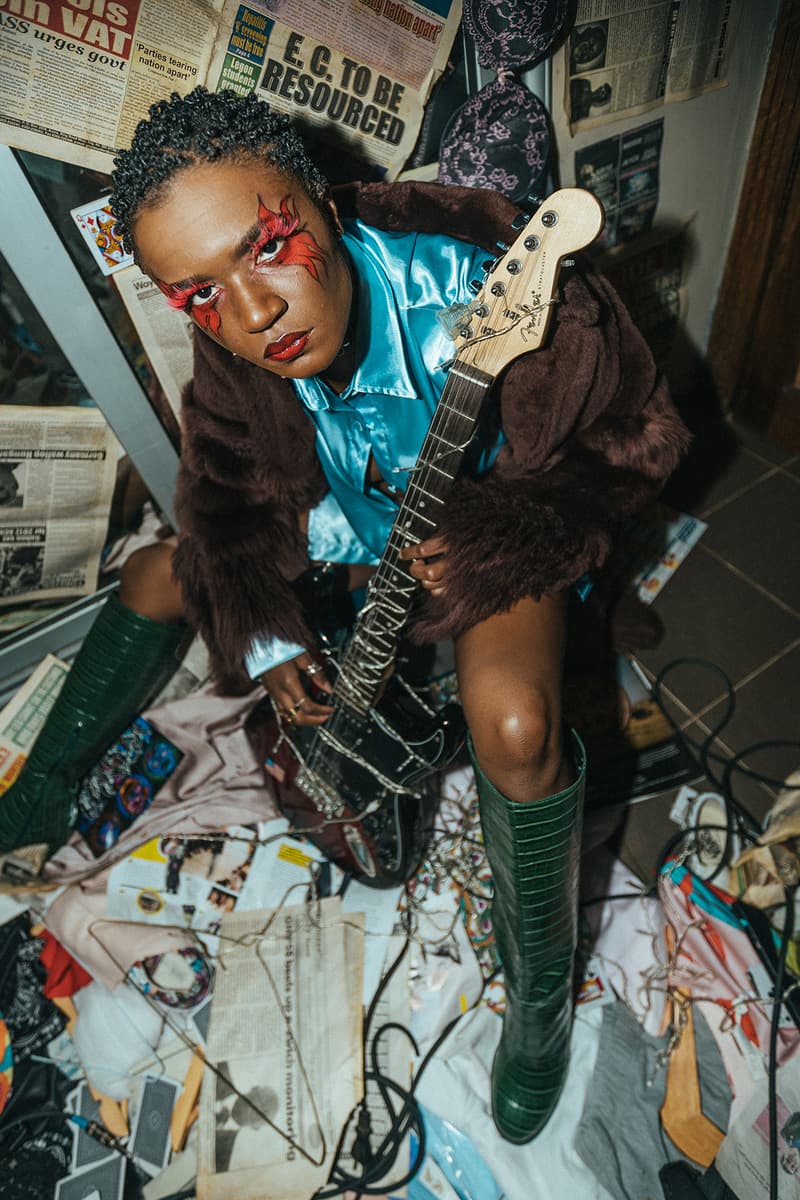 Amaarae on Finding Confidence and Her New Single "FANCY"
The Ghanaian-American artist talks her latest track off upcoming project, 'The Angel You Don't Know.'
Music
Amaarae on Finding Confidence and Her New Single "FANCY"
The Ghanaian-American artist talks her latest track off upcoming project, 'The Angel You Don't Know.'
When Amaarae (born Ama Serwah Genfi) released her dreamy Passionfruit Summers EP in 2017, one thing was certain. The Ghanaian-American artist was going to remain unapologetically true to herself through every emotion presented in her music. Amaarae's lyrical ability, coupled with her low-toned sultry vocals, entice listeners into her world as she glides through different genres — from the breezy feels of dancehall, to the chill aura of lo-fi rap. You experience this on records such as "Fluid," "LIKE IT" and "LEAVE ME ALONE." This doesn't change even as she assists fellow new wave Ghanaian and Nigerian artists like Odunsi (The Engine), Santi, Kojey Radical and Rvdical The Kid.
Now three years since Passionfruit Summers dropped, Amaarae is set to take on a new form in her upcoming project, The Angel You Don't Know. "The project sonically is all about really having so much fun and just finding new ways to express ourselves," she said of the project. "When you listen to it, you go through so many different moods and energies. It's all about finding the different parts of yourself, even the darkest. It's just trying to understand and accept that the human experience is ever-evolving, and you just have to embrace the angel that you don't know."
We spoke to Amaarae about her new single "FANCY," what it feels like to be releasing music at this time, as well as everything that makes her feel truly fancy. Read the full interview below.
The world seems to be in a really strange place right now. How are you holding up?
I think I'm just trying to, you know, maintain focus and keep my head up as much as I can. Even though I'm working, I still try to take out a lot of time to make sure I'm energized, refreshed and prioritizing my alone time — 'cause it's been a really crazy year.
To be releasing music or just putting art into the world in these times, I feel like it's frustrating due to all the restrictions. It's a really poignant time. I think that artists who are still moving forward with their projects, even changing the way they communicate the art just to fit with the times to offer people hope, are really resilient. I'm just trying my best to contribute in the best way possible to add some positivity into the world.
Did you record "FANCY" and The Angel You Don't Know during all of this?
I actually started recording the project around October, November last year. I was still recording in January and February, but I added a couple of new additions in the last three months — those were just minor changes and additions. Most of the work was done early this year and late last year.
What was the process and inspiration behind "FANCY"?
When I started recording this project, all of my music before that were mostly love songs or sexy type records. Then I was like, you know what, I want to get into a zone where I'm just talking my sh*t, and I just want to make women feel powerful. I want to make them feel alive.
When the producer KZ started working on this record, he was in his room for hours and then he came out and he's like, "Yo, I have something for you, come listen to this." He played the record for me and I was like "Yo, this is that shit! That's exactly the kind of message that I want to communicate." Even when I finished writing the record, instantly, we knew it was one of the special songs on the project.
Its video is pretty edgy. What influenced that?
It's a lot of things. I art directed it and at the time, I was looking at a lot of runway fashion. I was looking at a lot of masks, bondage-wear and sh*t like that. So I thought to myself, when people hear the word "fancy," they're going to imagine a bunch of girls dolled up in a traditional sense. Then I was like, "Nah, f*ck that. I want it to be a bunch of girls actually just raising hell and pulling some wild sh*t." I just wanted to put African music in a punk/rock space. In a full-fledged rockstar phase.
The best way I felt to do that was through the visuals, because I felt people respond to visuals best. It was an all-female cast. My friend was the stunt driver and she killed it. Like racing the car up and down, doing stunts, it was just about b*tches going wild and when girls see the video, I want them to be like, "Yeah, let's go out. Let's f*ck sh*t up tonight."
Let's talk a bit about your style. Who are some of your style icons?
I'd say Kelis is my number one style icon. Kelis was the first alternative Black girl and she was the first Black girl with color in her hair. I loved seeing her when I was younger, just being so cool and so edgy. She used to do the crazy colors, so that was my inspiration, my motivation.
At number two, when it comes to my visuals, I always go to Missy Elliott for style references. She always has such incredible looks in her videos. For "FANCY," she inspired two of the looks.
I like Lenny Kravitz as well. I think one thing I really like about him is he was also like the first alternative Black guy. He just has this very laid-back rockstar edge about him — he doesn't try too hard. He's just naturally a supernova.
Streetwear in Africa is slowly becoming more recognizable. What are some of your favorite African streetwear brands?
I love Free The Youth. They are a Ghanaian-owned collective and friends of mine. I kind of got to see when they started their collective. Free The Youth is one of my favorite streetwear brands. Also Tokyo James.
What makes you feel your fanciest?
I feel my fanciest when I get my hair done, put on a nice outfit and I go out and spend money that I've rightfully earned. That's what makes me feel fancy.
To feel fancy on the outside, it's often important for our minds to be in the right place as well. What is your typical mental wellness routine?
It's two things for me. When I need to get in a good space, I put on music and I dance like crazy. I think it's one of the most interesting forms of release and expression. By the time I'm finished, I feel so light and so free. Another thing that I really, really like to do is watch certain TV shows. I'll watch Modern Family because it's so brilliant. It makes me feel so warm inside. It makes me feel so safe, like the world is okay. I like to watch Entourage and Californication too. Those are my top three shows for when I'm going through it, especially Modern Family.
Yes. Modern Family does bring a lot of joy and peace.
Exactly. This whole quarantine, I think I've watched it eight times and I'm still going to rewatch it, just cause you need an escape from time to time and it provides the best escape. Money also brings me joy. It's just knowing that my bank account is cool. I can spend my money the way that I want to without having to think twice. Yeah, money really brings me joy. I say this all the time. That financial freedom is everything.
For young women especially, confidence tends to be a huge issue because we live in a world with beauty standards that punish those outside the spectrum. What are some of the things you do when you need a confidence boost?
I think my confidence boost really comes from within. I don't do anything external to build my confidence, because If that external source is no longer there, then how do you fill your spirit? I literally give myself pep talks when I'm in a space where I need confidence. And even if I need to take some alone time to just be sad for a day, or just a couple of hours, I'd take it.
What advice would you give young women who might be dealing with a lack of confidence due to body image issues?
That's a tough one because I still deal with confidence and body image issues. But I would say, as young women, you need to understand that the standards of beauty around us are often warped and we actually don't know what's true and what's not, so you should enjoy the gifts that God gave you. Whatever ways that you want to change or build yourself, just make sure that it's healthy and beneficial to you. I think that's the most important, you know. Just find your confidence in the healthiest ways possible.
---
Ify Obi is a freelance writer who specializes in the intersections of art, music, fashion, technology and culture. Read more of Ify's writings here.
Photographer

Yussif Al Jabaar
Photography Assistant

Emmanuel Duah, Esther Bilson
Creative

Yussif Al Jabaar, Amaarae
Make-Up

Bibii Jones
---
Share this article