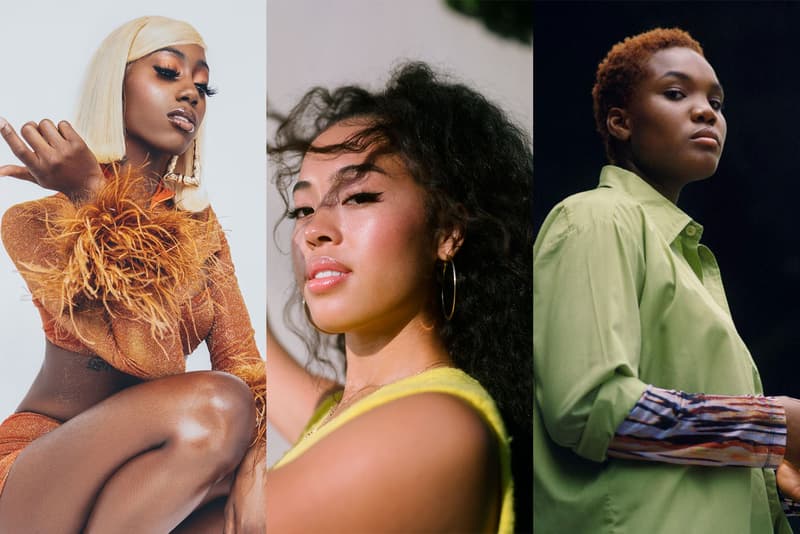 Music
The Top 10 Artists To Watch in 2021
Flo Milli, Joyce Wrice, Arlo Parks and more emerging musicians you need to know.
The Top 10 Artists To Watch in 2021
Flo Milli, Joyce Wrice, Arlo Parks and more emerging musicians you need to know.
2021 is officially here, and as music fans, we are eager for new tunes from our favorite artists — including ones who are poised to have their breakout moment this year. From Los Angeles-based indie R&B songstress Joyce Wrice, whose debut album is due out soon, to rapper and RCA Records signee Flo Milli, best known for her smash hit single "Beef FloMix," we have rounded up the top 10 up-and-coming musicians to look out for in 2021.
Continue reading for the full list, and while you're at it, check out the 20 best albums and songs that got us through 2020.
Singer and songwriter Ambré began her musical journey at 17 years old when she met producer Erick Bardales back in 2014. The contemporary R&B singer made her debut via her 2015 mixtape Wanderlust. The project caught the attention of Kehlani, who later invited Ambré to open for her 2015 You Should Be Here tour. After dropping a number of independent projects, Ambré signed with Roc Nation in 2019. In the same year, she released her first 10-track EP, Pulp.
Listen: Spotify | Apple Music
West Londoner Arlo Parks entered the music scene in 2018 when she released her single "Cola" via Beatnik Records. Following the success of "Cola," Parks signed with Transgressive Records in 2019 and dropped her four-track debut EP Super Sad Generation that same year. Since then, the indie-pop artist has performed at The Great Escape, the Glastonbury Festival and the Latitude Festival. She also supported Jordan Rakei during the UK leg of his 2019 tour. Her debut album Collapsed In Sunbeams will be out on January 29.
Listen: Spotify | Apple Music
Born and raised in Guernsey, a small island between England and France, Claudia Valentina grew up loving the art of singing and dancing. At the young age of 10, Valentina got her first break by landing a role in the Billy Elliot musical. After living in London for a year, Valentina moved to Los Angeles with her mother to pursue her music career. With pop being her forte, the songstress collaborated with some of the best producers in the industry like Johan Carlsson, before working on her self-titled EP that released last October.
Listen: Spotify | Apple Music
Elena Rose graduated with a degree in journalism in Venezuela but decided to go after her dream of becoming a singer when she migrated to the U.S. at 19 years old. The Latina artist began her music venture by performing at local bars. After nights of hard work, Rose was given the chance to work with other talents like Ricky Martin, as well as Becky G and rapper Myke Towers on "Dollar." Last May, the songstress dropped her debut single "Sandunga," along with a follow-up track "Fenomenal" that same month.
Listen: Spotify | Apple Music
Flo Milli rose to fame with her TikTok-viral single "Beef FloMix," a freestyle over Playboi Carti and Ethereal's instrumental version of "Beef." In 2019, the rapper and songwriter released a professionally produced version of "Beef FloMix" — the song currently boasts 64 million streams on Spotify. Since then, Milli has dropped her first-ever mixtape, Ho, Why Is You Here?, and landed an exclusive global co-publishing deal with Pulse Music. Other standout tracks from the RCA Records signee include "In the Party," "My Attitude," "Not Friendly" and "Eat It Up."
Listen: Spotify | Apple Music
Since her SoundCloud days, independent artist Joyce Wrice has been making waves in the world of R&B with her soothing vocals. Coming from a Japanese and African-American background, the songstress incorporates elements from both her cultures into her work. From her 2016 EP Stay Around, to her team-up with emerging artist UMI on "That's On You (Japanese Remix)," to her latest track "So So Sick," Wrice has continuously shown her artistic growth in her music. Look out for her debut album that is set to release in 2021.
Listen: Spotify | Apple Music
With SoundCloud, Kaash Paige had already gained a large local fan base in Dallas during her high school days. After having been reached out by multiple record labels, Paige decided to go with Se Lavi Productions and Def Jam Recordings in 2019. In less than two years, the young artist has dropped a chart-topping hit, "Love Songs," and her debut EP Parked Car Convos. Paige has also collaborated with 6lack on her "Love Songs" remix, and appeared on Don Toliver's "Euphoria" with Travis Scott. Last August, the artist introduced fans to her first full-length album, Teenage Fever.
Listen: Spotify | Apple Music
Hailing from Walthamstow, Olivia Dean has a talent for writing songs about the triumphs and tribulations of a relationship. "Password Change," her single off her first EP Ok Love You Bye, made it to BBC Radio 1's Introducing Playlist in 2019. The track was written based on an argument the singer had with her boyfriend, while they were watching the England vs. Tunisia game at the pub. Dean has produced more singles over the course of 2019 and 2020. Her second EP, What Am I Gonna Do On Sundays?, was released in December.
Listen: Spotify | Apple Music
Savannah Ré has been perfecting her sound ever since entering the Toronto R&B scene. Having worked with Babyface, Normani, Daniel Caesar and WondaGurl in the past, Ré eventually signed with Grammy-winning producer Boi-1da under his imprint with Universal Music Canada in 2018. After years of growing her network and honing her craft, Ré launched her nine-track EP Opia last November.
Listen: Spotify | Apple Music
Tierra Umi Wilson, professionally known as UMI, grew up in a musical household. The Seattle-born, LA-based musician is known for her soulful vocals and moving lyrics. During her time as a student at the University of Southern California in 2018, the songstress released her four-track debut EP Interlude. That same year, UMI produced "Remember Me," her most-listened project to date. Following Interlude, the talent has put out three more EPs: Balance, Love Language and Introspection.
Listen: Spotify | Apple Music
Share this article