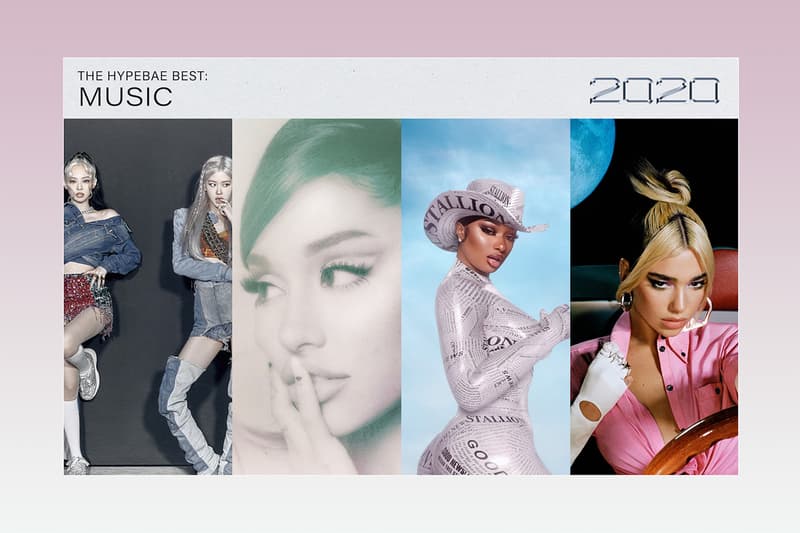 Music
The HYPEBAE Best: The Top Albums and Songs of 2020
A look back at the music that got us through this year.
The HYPEBAE Best: The Top Albums and Songs of 2020
A look back at the music that got us through this year.
Amid these trying times, music was one of the few things that offered entertainment and kept us feeling inspired this year. While numerous tours and festivals had to be canceled under health regulations, artists continued to delight fans from afar by delivering chart-topping hits. From Ariana Grande's hotly anticipated positions album and Victoria Monét's debut project JAGUAR, to Megan Thee Stallion's "Savage" remix featuring Beyoncé and BLACKPINK's viral track "How You Like That," this year was filled with a number of unforgettable music releases.
As 2020 comes to a close, HYPEBAE editors have compiled a list of the best albums and songs we've had at the top of our playlists this year. Read on to discover our favorites.
While you're at it, check out the other categories of The HYPEBAE Best 2020.
ALBUMS AND MUSIC PROJECTS 
Ariana Grande's positions is another testament to the princess of pop's diverse sound. Taking a break from her emotional, soulful ballads, Grande gets in touch with her sensual side on "34+35," "nasty," "my hair" and "positions." Featuring collaborations with Doja Cat, The Weeknd and Ty Dolla $ign, the album sees the artist tearing down her walls and opening up to love and new beginnings. Tying the 14-track project together is "pov," which illustrates Grande's relationship with her now-fiancé, Dalton Gomez.
Listen: Spotify | Apple Music
Based on the music on The Lion King: The Gift, Beyoncé's visual album Black Is King was written, directed and executive produced by Queen Bey herself. With cutting-edge choreography, impeccable styling by Zerina Akers, as well as star-studded cameos from Jay-Z, Kelly Rowland, Naomi Campbell, Lupita Nyong'o and Tina Knowles, the Disney+ musical film is a cinematic celebration of the Black experience. The masterpiece took an entire year to film, and was shot in various locations around the world including New York, Los Angeles, London, Belgium, South Africa and West Africa.
Watch: Disney+
Since making their debut in 2016 with the mini-album, Square One, BLACKPINK has been on their meteoric ascension to the top of not only K-pop, but also of the global music industry. After taking the world by storm with their Coachella performance in 2019, the four-piece group returned with a record-breaking release this October. Marking their first full-length project, BLACKPINK's THE ALBUM consists of eight tracks characterized by their addicting beats and captivating vocals of members Rosé, Jennie, Jisoo and Lisa. With features from Selena Gomez and Cardi B, the girl band demonstrates their ability to create music that appeal to an international audience.
Listen: Spotify | Apple Music
Chloe and Halle Bailey are among a new generation of R&B artists that are redefining the genre and pushing the sound forward. Following their 2018 record The Kids Are Alright, the sister duo and Parkwood Entertainment signee released their sophomore studio album Ungodly Hour in June. Inspired by '90s music and early '00s production, Chloe x Halle explore the themes of love and regret while showcasing their artistic growth on standout tracks "Do It," "Forgive Me" and "Ungodly Hour."
Listen: Spotify | Apple Music
Despite the unfortunate premature leak of their second record, City Girls' City on Lock did not disappoint. Yung Miami and JT tapped a few artists for their project's trap anthems, including Doja Cat for "Pussy Talk" and Lil Baby for "Flewed Out." On "Jobs," one of the catchiest songs on the album, the hip hop duo drops lyrically empowering bars about independence and success.
Listen: Spotify | Apple Music
The second studio album from Dua Lipa, Future Nostalgia was inspired by the artist's childhood memories and the music that she enjoyed during that time of her life. Packed with disco club-inspired synths and funk bass beats, the singer revives retro-pop on hit singles "Don't Start Now," "Physical," "Hallucinate," "Levitating" and more. Sticking to the '80s and '90s theme, the chorus of standout track "Break My Heart" bears resemblance to INXS' "Need You Tonight" — interestingly enough, Lipa explained in an interview that the likeness was originally unintentional.
Listen: Spotify | Apple Music
An intimate look at the highs and lows of her life over the past few years, Kehlani's It Was Good Until It Wasn't explores the themes of isolation, love, as well as the artist's previous relationships. Most importantly, the project demonstrates the songstress' strength and her ability to be vulnerable in her music. Featuring 15 tracks and collaborations with Jhené Aiko, Masego, Lucky Daye and James Blake, the album symbolizes Kehlani's growth since SweetSexySavage.
Listen: Spotify | Apple Music
Following the release of a slew of popular hits including "Savage" and "Girls in the Hood," Megan Thee Stallion dropped her first full-length record Good News in November. One of hip hop's most talked about albums this year, the project showcases Megan's lyrical creativity and unmatched charisma. On top of that, the album features an exciting list of guest appearances from Beyoncé, SZA, City Girls, DaBaby, Big Sean and more. Released as the third single from the album, "Body" instantly spurred a social media trend, thanks to the song's memorable chorus and TikTok-worthy dance routine.
Listen: Spotify | Apple Music
The follow-up to her 2017 EP RINA, Japanese-British pop artist Rina Sawayama's nu-metal, R&B eponymous debut album confronts the microaggressions that she has faced since she was young. In just under 45 minutes, Sawayama unapologetically expresses her side of the story, as she dives deep into what "belonging" truly means and analyzes the context of two opposing cultures.
Listen: Spotify | Apple Music
Victoria Monét has come a long way since her songwriting debut in 2010. Having opened for Fifth Harmony on their tour and penned songs for Ariana Grande's Grammy-nominated album thank u, next, Monét has had the opportunity to work with some of the industry's biggest names. However, it is Monét's debut project JAGUAR that truly reflects her sound and vision as a solo artist. The release features "Moment," a seductive song about lust, and "Experience," a collaborative effort with Khalid and SG Lewis that celebrates Black joy and love.
Listen: Spotify | Apple Music
SONGS
BLACKPINK went on a year-long hiatus from music and returned with a bang back in June with "How You Like That." Reminiscent of "DDU-DU DDU-DU" and "Kill This Love," the song features the girl group's distinct vocals, with catchy rap verses complementing electro beats and powerful bass notes.
Easily one of our most-played songs this year, sex-positive anthem "WAP" sees rap powerhouses Cardi B and Megan Thee Stallion joining forces to deliver empowering lyrics. The two are even seen doing the most in their steamy music video, which features guest stars Normani, Rosalía and Kylie Jenner.
Lifted off the Fine Line album, Harry Styles' "Watermelon Sugar" is a bop that takes us back to pre-COVID, mask-free summer days. Styles' signature husky yet soothing vocals are backed up by a blend of mixed beats, as well as electric and acoustic guitar.
A treat for both Little Monsters and Arianators, "Rain On Me" sees Lady Gaga and Ariana Grande linking up for an upbeat, dance-inducing tune. Boasting a harmonious mix of electronica, pop and disco, the hit single has earned the artists a Grammy nomination for Best Pop Duo/Group Performance.
When Megan Thee Stallion's "Savage" dropped earlier this year, the song quickly went viral on TikTok as it became a trending dance challenge during lockdown. A surprise remix of the track, featuring the one and only Beyoncé, was released in April. Adding to the infectious attitude of the Houston Hottie's song, Queen Bey delivers two exceptional verses on the special release, while Megan raps: "I'm a savage, yeah/Classy, bougie, ratchet, yeah/Sassy, moody, nasty, huh."
In true Hot Girl Meg fashion, "Body" empowers listeners to own their sexuality: "Look at how I bodied that, ate it up and gave it back/Yeah, you look good, but they still wanna know where Megan at/Saucy like a barbecue but you won't get your baby back/See me in that dress and he feel like he almost tasted that." Much like "Savage," the latest single of the rapper has become one of social media's favorite tracks to dance to in 2020.
The lead single for Saweetie's upcoming debut album Pretty B*tch Music, "Tap In" is a mood-lifting track that samples rapper Too $hort's 2006 hit, "Blow the Whistle." The release was accompanied by a music video, featuring the California-based rapper showing off her high energy dance moves on an iced-out basketball court.
Following the release of her 2019 album, Ugh, those feels again, Snoh Aalegra returned with her soulful ballad "DYING 4 YOUR LOVE" in July. On the P2J-produced track, Aalegra sings her heart out against a bass-driven instrumental background.
Marking SZA's first new release as a sole lead artist since her 2017 album CTRL, "Hit Different" released in September along with a music video directed by the R&B artist herself. A joint effort with Ty Dolla $ign, the track sees the two contemplating on a dysfunctional relationship.
The Weeknd's '80s disco-inspired "Blinding Lights" features moody synths and Abel's soothing vocals. Focusing on the theme of love and romance, Abel sings: "And I said I'm blinded by the lights/No, I can't sleep until I feel your touch/I said I'm drowning in the night/When I'm like this, you're the one I trust."
Image Credit

Yg Entertainment, Republic Records, 300 Entertainment, Warner Records
Share this article