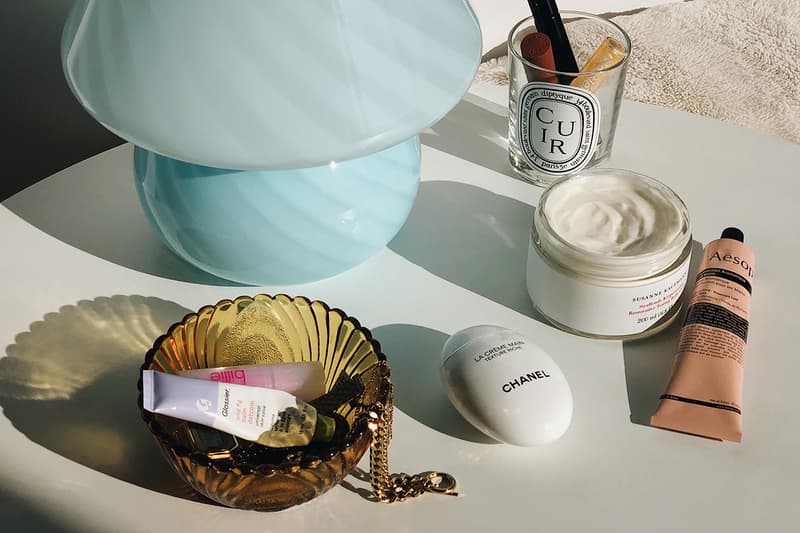 Beauty
Our Favorite Beauty Products of January 2021
HYPEBAE editors break down new additions to their skincare and makeup routines.
Our Favorite Beauty Products of January 2021
HYPEBAE editors break down new additions to their skincare and makeup routines.
Between game-changing skincare treatments and exciting new makeup launches, at HYPEBAE, our editors test out a bunch of products every month to find and share with you our latest beauty favorites. To start the year off right, for January, we're focusing on nourishing and mood-lifting products that are helping us get through the winter lockdown — from contour sticks that make it quick and easy to get ready for a Zoom call, to a hydrating body cream that delivers skin-firming benefits, to a gorgeous Parisian bar soap that fills your shower with a luxe, mind-soothing scent. Read on for all the beauty gems we've been loving this month.
Artis, the beauty brand known for its uniquely shaped makeup brushes, ventures into makeup with its new Hyperblend Pro Finishing Pens, contouring sticks that add dimension without using colored pigments. When applied to the face, four pens — Gloss, Light, Matte and Shadow — reflect and absorb light, resulting in an effortlessly chiseled face. – Alexandra Pauly, Associate Editor
A good lip balm is hard to come by. However, Drunk Elephant was able to prove me wrong. Since using the Lippe Balm, my lips have been starting to look more plump and nourished. Infused with avocado and mongongo oil, the product helps reduce fine lines and wrinkles, and gives firmness back to the lips. I typically apply this overnight so that all of the dead skin peels away the next morning. – Pauline De Leon, Associate Editor
A luxurious addition to my body care routine, this Susanne Kaufmann body cream is formulated specifically to improve metabolism of the skin and to encourage the production of collagen, giving the skin a toned and youthful appearance after repeated use. I've been alternating between the cream and a body oil for a few weeks, and together they have really helped keep my skin feeling soft and moisturized, even in the heart of winter. There's a subtle, warm and calming scent to the product that makes it perfect to use before bed. – Teresa Lam, Features Editor
For anyone who misses wearing lip color, the Super Salve lip balm from Billie is a great option to put on at home, especially when you want to look refreshed for video conferences. "Fig" gives my lips a juicy shine and a wash of deep purple that is sheer and buildable. Most importantly, the formula featuring sunflower and avocado oils will leave your lips feeling hydrated. – Teresa Lam, Features Editor
I'm not exaggerating when I say that I would like to soak my entire body in this B-Hydra Intensive Serum from Drunk Elephant. My skin has struggled in the London winter, and this product has helped bring hydration and glow back to my previously dull complexion. It pairs perfectly with any other moisturizer and SPF+ on top. Although it is pricey at $54 USD, a little goes a long way and it will last you throughout the whole season. – Tora Northman, Editor
Like I mentioned, my skin struggles in the winter and this mask from Dr. Barbara Sturm feels like a mousse of everything my complexion needs. It's gentle, hydrating and can be used frequently, or when your skin needs a bit of a boost. Wearing it for 15 minutes makes my skin feel bouncy and rejuvenated, which is needed when it is dry and sensitive, making the $122 USD price tag feel worth it. – Tora Northman, Editor
With a minimal packaging that I love, this pore mask has been my favorite over the past few weeks. Like many, I've been experiencing self-isolation that almost seems never-ending, so taking care of myself has been key to feeling better both externally and internally. Unlike any other masks I've used, OTZI's Dough Therapy Pore Treatment Mask has a very unique consistency. It's like a pudding with a texture so bouncy that I have to pick off a piece of the mask using both my index finger and thumb. For a spa-like experience, I like to smear the product onto my face and neck before showering, and wash it off with a gentle massaging motion. Once finished, my skin feels tightened and smoother than ever. – YeEun Kim, Associate Editor
To be honest, I don't even know where to begin because ORRIS' soaps are currently the absolute highlight of my shower routine and there are too many things I need to gush about. To begin, the scent — there is nothing like it. I've been using "Le Nomade," which boasts an intense woody fragrance thanks to notes of cedarwood and cypress. It is then finished with sheep's milk and turmeric, which has anti-inflammatory properties that have been a godsend during these drier winter months. I find myself constantly smelling my arm after I shower because I can't get enough of the soap's perfume, and since the bar itself is package-free, my entire bathroom is also filled by its fragrance throughout the day.
For those who are looking to fill their beauty regimens with more sustainable options, make ORRIS your next purchase. The cruelty-free, cold-process soaps are handcrafted in small batches in Paris, enriched with premium oils, butters and botanicals that infuse aromatherapy into effective skincare. Of course, it also doesn't hurt that ORRIS' soap bars are ridiculously chic — there is no better way to elevate your bathroom space than with a responsibly made, artisanal Parisian soap. – Zarah Cheng, Editor-in-Chief
Share this article