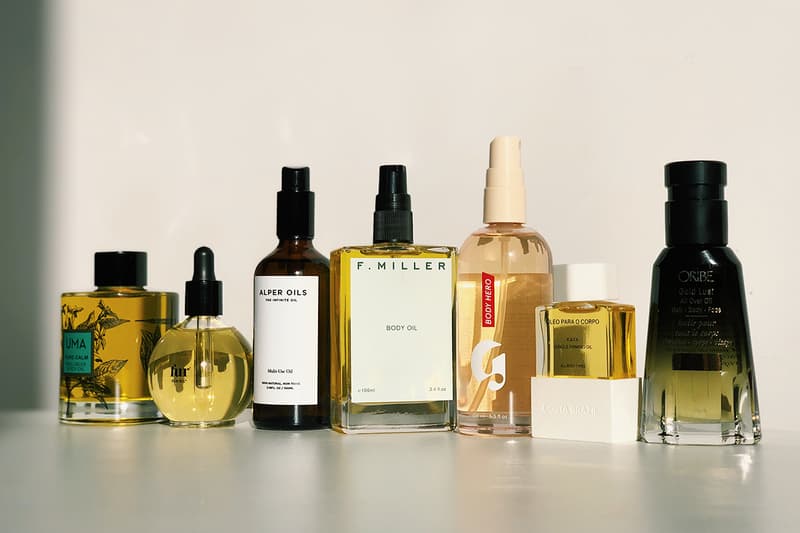 Beauty
10 Body Oils To Leave Your Skin Feeling Soft and Hydrated, Any Time of the Year
Achieve smooth, glowing skin with these nourishing formulas.
10 Body Oils To Leave Your Skin Feeling Soft and Hydrated, Any Time of the Year
Achieve smooth, glowing skin with these nourishing formulas.
There's a reason why body oils are becoming increasingly popular in the beauty sphere: with skin being the largest organ in the human body, it only makes sense that we take great care of it from head to toe, maintaining healthy skin with facial treatments as well as skincare products for the neck down. Known for its ability to deliver long-lasting moisture that often lasts up to 24 hours, body oils are the perfect addition to your nightly routine, especially when your skin is parched. With continued use, expect to have super-soft, hydrated and radiant skin all year long.
HYPEBAE talk to the founders of three beauty brands, including F. Miller, Alper Oils and Costa Brazil, to understand exactly the benefits of body oils and the different ways of using them. Read on for expert tips on how to apply body oils and a roundup of the best ones to shop.
How Are Body Oils Different From Body Lotions and Creams?
Although body lotions and creams contain oils, they usually have a higher percentage of water compared to body oils. "Lotions and creams help soothe dehydrated skin by delivering water-based moisture beneath the surface. They typically don't last as long and require a lot more product in terms of application," Fran Miller, founder of skincare brand F. Miller, explains.
On the contrary, with body oils being rich in active ingredients, they are able to absorb deeply into the skin and restore the moisture barrier. "Oils ultimately act as a protective moisturizing layer, locking in hydration for longer-lasting results," Miller tells us.
What's more, Alana and Maddie Alper of Montréal's Alper Oils point out that when a product is water-based, "It will have a preservative in it so that bacteria doesn't form." While there are many natural preservatives on the market, the sister duo notes that this is something to look out for when shopping for lotions.
The Skincare Benefits of Body Oils
In addition to their nourishing and moisturizing qualities, body oils are loved for a number of other amazing skincare benefits — from soothing inflammation (such as eczema), to rejuvenating dull skin, to reducing the appearance of stretch marks. The Alper sisters state that body oils can help lighten scarring or pigmentation. "They're also packed with antioxidants, nutrients and essential fatty acids that fortify skin from the outside in," Miller adds
Are Body Oils Suitable for All Skin Types?
While body oils are commonly thought of as something ideal for tackling dry and dehydrated skin, they are great for all skin types. Francisco Costa, founder of sustainable beauty line Costa Brazil, tells us that it all depends on the balance of oils used: "Oils, in general, each have a different molecular weight. We made sure to use a balance of extremely light (dry) oils along with richer, more emollient oils to create a product that instantly absorbs into the skin." He elaborates, "Our body oils are dermatologist-tested and are good for all skin types."
Both Miller and the Alper sisters note that body oils can be specifically formulated and tailored to skin concerns you're looking to target. "While drier skin types can handle richer oil blends, acne-prone skin types should look for gently clarifying or lighter, non-comedogenic oils that won't contribute to clogged pores (i.e. stay away from coconut oil)," Miller explains. "Sensitive skin types will always benefit from calming, healing oils that are dense in protective nutrients — just be careful to avoid artificial fragrance and high essential oil concentrations."
Can Body Oils Be Used All Year Round?
While body oils are effective in delivering moisture and soothing dry, itchy, flaky skin in winter, they are equally beneficial to use during other times of the year. "In the summer, using our Body Oil gives your skin a brilliant glow. And in the winter, if you are in a drier climate, you'll find it immediately sinks into the skin," Costa says. Apart from leaving a natural, dewy glow on bare summer skin, according to Miller, body oils can help protect the skin from dryness caused by air conditioning and sun exposure during the warmer months.
How To Use Body Oils
The best and easiest way to use a body oil is to apply it all over slightly damp skin after a shower. "When your skin is damp, it penetrates and absorbs easily into the skin," the Alper sisters explain. Furthermore, the co-founders enjoy applying body oil before bed for the aromatherapy benefits of essential oils. Miller agrees, adding that a self-massage treatment with a body oil can help one "de-stress, wind down and create a nice pre-sleep ritual."
Miller offers another great tip for utilizing the product: "I personally love adding a few pumps of body oil directly into the tub as a bath oil for super-soft skin and aromatherapy." If you use a dry brush, Miller recommends applying your oil with the brush in circular motions to help boost circulation. A truly multi-purpose product, body oils can even be used in your hair to "nourish and smooth down flyaways," according to Costa.
The Best Body Oils for Soft, Glowing Skin
For those looking to incorporate a body oil into their wellness and skincare routine, here are 10 of the best options on the market you can find online.
Blended with olive oil, jojoba oil and other skin-soothing ingredients like lavender, patchouli and rose geranium, Alper Oils' The Infinite Oil not only hydrates the skin, but also helps heal inflammation, pigmentation and scarring. The multi-use oil can even be used as a haircare product to strengthen your tresses and promote thickness.
"The cold-pressed oils found in our Óleo Para O Corpo are highly nutritious," Costa speaks of the luxurious formula. "We are literally feeding the skin essential vitamins, nutrients and minerals. The combination of our Jungle Complex along with Murumuru Butter and Brazil Nut, Tucuma Oil, Patua, Pequi and Buriti Oils not only deeply moisturize skin while nourishing its lipid barrier, but also help improve tone and firmness and protect against environmental stressors."
Like giving your skin a full glass of water, this beautiful oil from F. Miller combines moisture-restoring ingredients such as sunflower seed oil and rosehip oil to provide instant hydration to the deepest layers of the skin. Use the nutrient-rich formula consistently to achieve a healthy glow and improved elasticity.
While the Fur Oil is designed to help soften body hair and prevent ingrowns, the product doubles as a body oil and can be used on the face and anywhere from the neck down. A formula that does it all, it also works as a cuticle softener, scalp conditioner and even a calming bath oil.
For an easy, no-mess application, look no further than Glossier's Body Hero Dry-Touch Oil Mist. Packaged in a convenient spritz bottle, the product is formulated with antioxidant-rich sunflower seed oil and grapeseed oil to deeply nourish the skin. The oil's subtle neroli scent makes it all the more enjoyable to use.
Another spray-on mist, Kiehl's lightweight body oil absorbs quickly into the skin and leaves it with a creamy scent of vanilla and almond. With a non-greasy texture, the dry oil is ideal for daily use after shower.
From model Miranda Kerr's beauty line KORA Organics, the Noni Glow Body Oil is a hydrating body treatment that keeps dryness at bay and helps improve skin tone and texture. The formula features noni, a superfood rich in antioxidants, vitamins and minerals, as well as rosehip and sunflower seed oils.
Haircare brand Oribe has developed a multi-purpose oil that can be applied to the hair, face and body for a boost of moisture. With a blend of natural oils, such as grapeseed and olive fruit oils, the product is ultra-nourishing on the skin. To use it as a treatment for distressed hair, simply leave the oil in your tresses overnight.
To achieve youthful, glowing skin, look to Tata Harper's Revitalizing Body Oil. Packed with essential vitamins, minerals and nutrients, this skincare gem effectively moisturizes the skin, leaving it feeling soft and velvety smooth. The founder of the green beauty company also recommends using the oil as a scalp and hair treatment before shampooing.
With a mix of essential oils including chamomile, sandalwood and lavender, the UMA Pure Calm Wellness Body Oil is a great product to help relieve stress and promote relaxation after a long day. The fast-absorbing, antioxidant-rich blend will make your skin look supple and radiant without feeling heavy or sticky.
Share this article