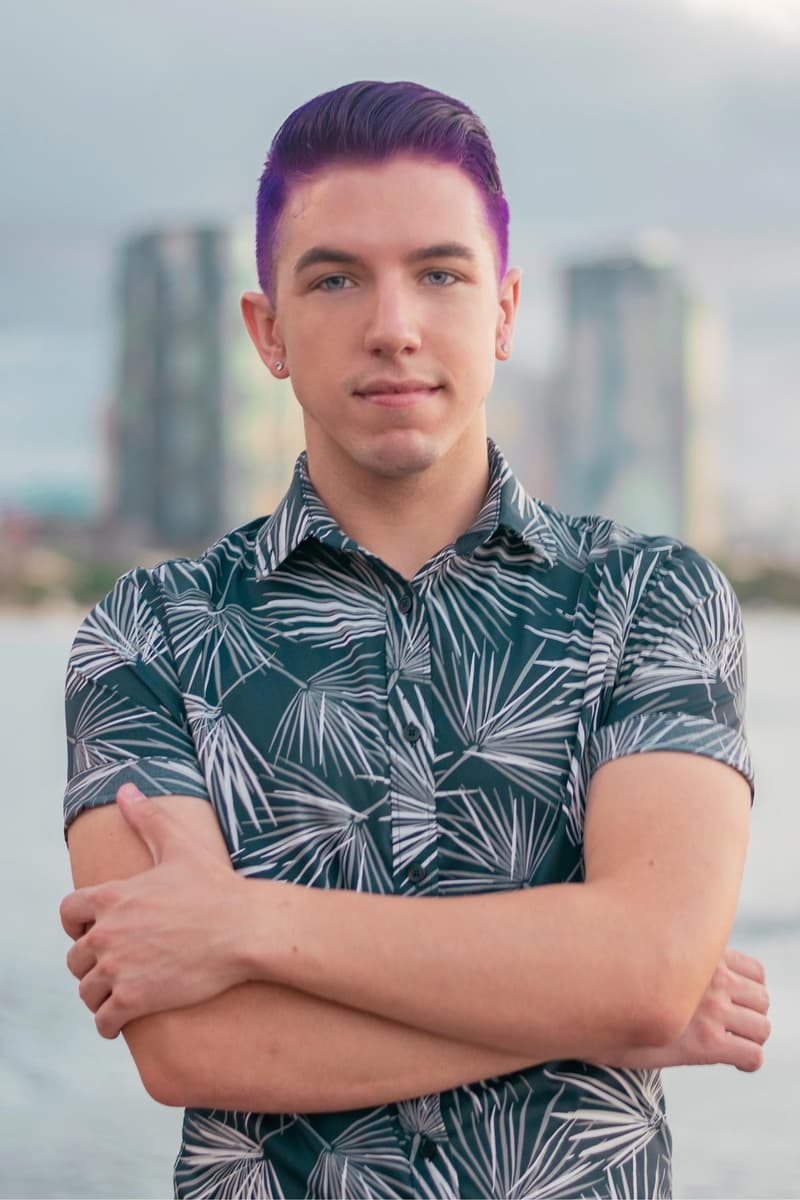 Skinfluencer Hyram Yarbro Optimizes Your Winter Skincare Routine
The beauty guru shares his recommendations for your best face yet.
Beauty
Skinfluencer Hyram Yarbro Optimizes Your Winter Skincare Routine
The beauty guru shares his recommendations for your best face yet.
Hyram Yarbro, the 24-year-old skincare influencer – skinfluencer, if you will — taking over TikTok and YouTube with his endearingly hardheaded beauty advice, is notoriously discerning when it comes to recommending products. The New York Times-described "Gen Z whisperer" (Yarbro prefers to call himself a freelance skincare specialist),  bases his practice on the mantra "ingredients don't lie," a refreshing deviation from an influencer market in which hype and celebrity rule all. His YouTube channel, which boasts over 4 million subscribers, is home to videos in which he critiques the efficacy of celebrity skincare routines (the rich and famous do not always know best) and reveals the lesser-known downsides of major brands such as St. Ives, which has polarized beauty-conscious netizens over its apricot scrub. Even Fenty Skin, which we all assumed would be flawless (because, well, Rihanna), isn't immune to Yarbro's astute observations. The dermatological whiz points out — somewhat delicately, it seems, for fear of upsetting Rih's dedicated fans — that Fenty Skin is formulated with fragrance, an irritant for some skin types.
Now that the new year is officially upon us, it's prime time to rethink our skincare routines. Quarantined indoors with more time to consider self-care, why not weed out those ineffective products you can't bear to throw out, maybe because you spent way too much money on them? (It is worth noting that Yarbro often favors brands that err on the affordable side, endorsing drugstore mainstays such as CeraVe over pricier options.) Winter, in particular, poses an ideal opportunity to revitalize our medicine cabinets — you might notice that cold weather exacerbates dry, flaky skin and increases the frequency of breakouts, necessitating a seasonal skincare overhaul.
In 2021, we're taking Yarbro's ingredients-driven approach to heart. We asked the skinfluencer to share his expertise on building winter skincare routines suited to all skin types — dry, combination and oily. Read on for his product recommendations, as well as ingredients to look for and avoid.
How do you personally adjust your skincare routine in the transition from spring-summer to fall-winter?
I have combination skin and during the winter, my cheeks tend to dry out more. To combat the dryness, I use heavier moisturizers at night for my skin to soak up as much hydration and moisture as possible, while using lightweight moisturizers to prevent excess humidity and oiliness throughout the day.
Dry skin becomes a common issue during the winter months. What are some effective moisturizing ingredients to prevent dryness on the face and body? 
Finding good sealants to seal in the hydration are best! Ingredients like squalane or sunflower seed oil, or even a beneficial silicone like dimethicone will help to properly protect and seal the skin during the rough winter months.
Are there any ingredients those with dry skin should avoid?
Avoid SD alcohol, witch hazel, drying treatments, clays and clay masks.
Can you recommend a few hero products for dry skin types?
The SkinFix Lipid-Peptide Cream and the Biossance Omega Repair Cream are some of my favorites, along with the First Aid Beauty Ultra Repair Cream.
Dry air can also cause more frequent breakouts for oily and acne-prone skin. What ingredients should people with those skin types opt for, and what should they avoid?
Look for salicylic acid at low concentrations in richer, hydrating formulas to ensure your skin doesn't overly dry out. Niacinamide is always an amazing ingredient to look for to prevent breakouts and lift dark spots. Avoid high concentrations of SD alcohol, sulfates and drying treatments.
Can you recommend a few specific products for oily and acne-prone skin?
The Paula's Choice 2% BHA Solution is amazing, as well as the iUnik Tea Tree Relief Serum to help clear and prevent breakouts.
How can those with combination skin deal with the effects of winter weather? 
Make sure to use two different moisturizers that are each suited for your specific skin areas. If you have dryness in some areas and oiliness in others, you won't want to use one singular moisturizer [on] each.
In your opinion, what is the most underrated skincare product? 
Sunscreen. Everyone knows they should be using it to prevent types of irritation such as sun damage yet I often find that people neglect it the most, which leads to long term skin issues.
Share this article