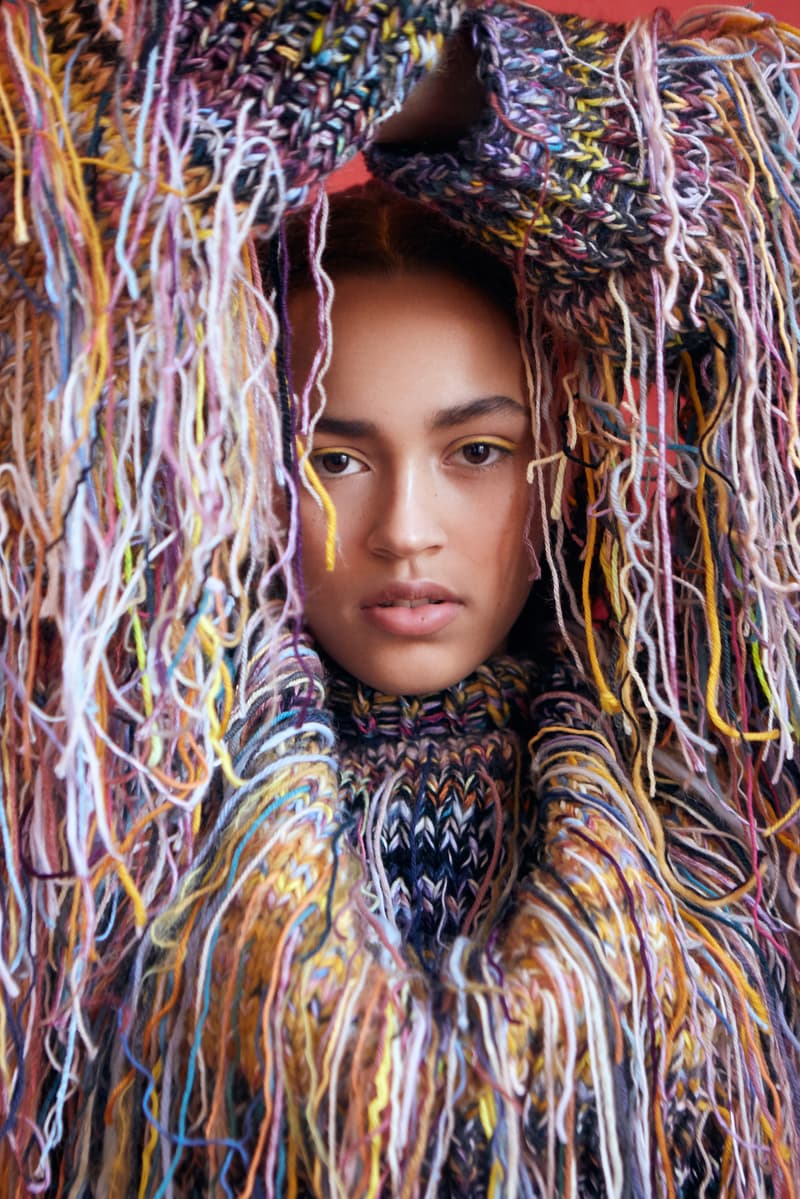 NiTH Studios Is the Future of Knitwear
Read our interview with founders Nico and Thelma.
If you're into knitwear, you'll love NiTH Studios. The Copenhagen-based knitting duo consists of Nico Glad Golden and Thelma Steimann, who met after university and decided to start a brand that centered around hand-knitted pieces that they crafted themselves. Officially launching in January 2020, the label has amassed a loyal audience of influencers and knitwear-enthusiasts, and is only continuing to grow. Through focusing on craftsmanship and sustainability, NiTH Studios is cementing itself as the future of knitwear.
We had the chance to speak to the founding duo to hear all about how Nico and Thelma met, their design process and how long each piece takes to make. Keep reading below for our full interview, and make sure to check out the Instagram page here as well as the website.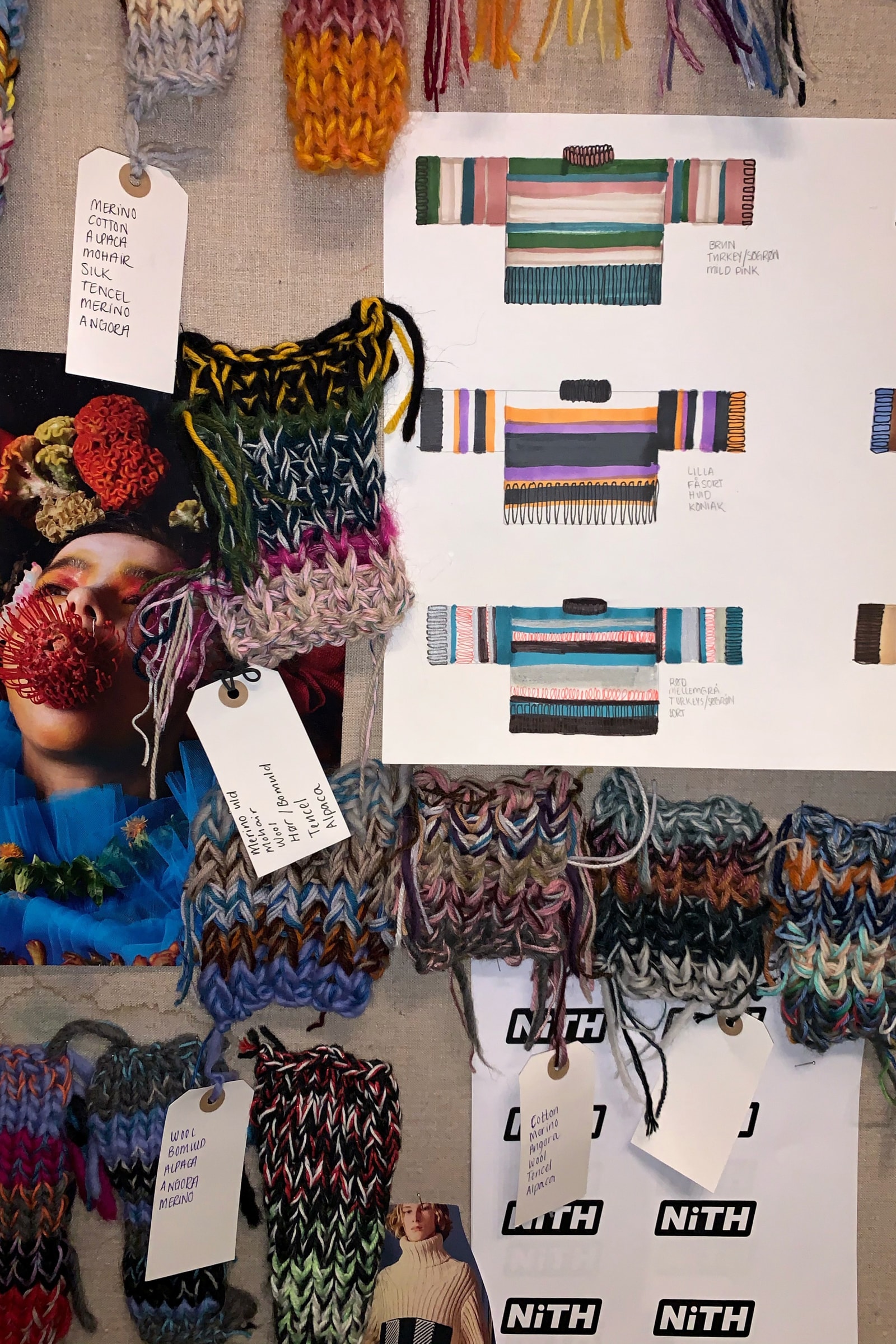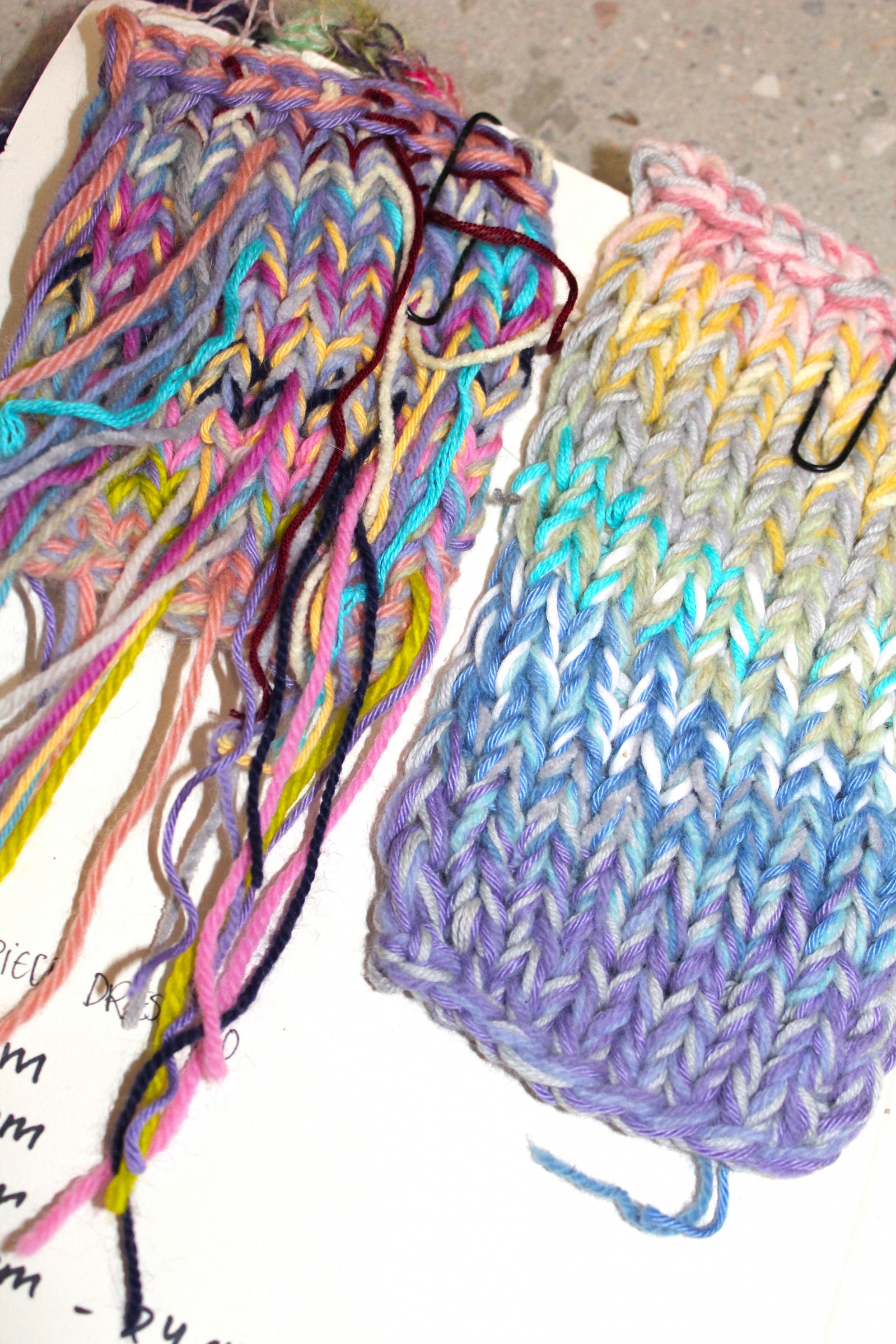 How did you first get into knitting? Where did the interest start?
Both of us started knitting at a very early age. Thelma grew up in Iceland, where almost everyone learns it from a very early age. Nico grew up knitting in Denmark and the interest for knitting resurfaced whilst he was studying.
How did you two meet?
There's actually a bit of a funny story attached to this. We found each other through KEA (Copenhagen School of Design and Technology). As a well known artistic knitter from Iceland, Thelma graduated in 2018, and the following year when I was doing my bachelors degree a teacher suggested I contact her with my graduation collection. This was the start of our friendship and also our business career.
How did NiTH Studios get started? What are your backgrounds in fashion?
Thelma has worked for several fashion brands in Iceland as a buyer and in sales, and has been doing showpieces and knitted creations for several Danish brands. I worked as a stylist for several big clients throughout the last couple of years and as a TV host for Danish Broadcast. After meeting in 2019, we spent a year talking about our love for sustainability and creative dreams and thus the idea for NiTH studio was born. Our official launch was January 2020 with a presentation and pop-up shop during Copenhagen Fashion Week, and after this we've been working hard on creating what we feel is the next in knitwear.
What does the process behind creating a garment look like? How many hours are put into each piece?
The creative process is an important and crucial step for us. It's in the design process that we experiment, investigate and test new colors and materials and collect inspiration for upcoming drops. We value the tactile and analogous way of working, where you have the material in your hands – Very old school.
Thelma is technically skilled in terms of developing the "recipe," and then a sample is often made, which we then approve together. Our designs are time consuming both in terms of designing and producing. It takes about 45 hours to knit a hoodie sweater. In contrast, it takes about an hour and a half to knit a balaclava. But again, it depends a lot on how advanced the sweater is and what knitting needles you knit with. Our designs must be well thought out and well-executed. Hand knitting is a time consuming craft, but we love it.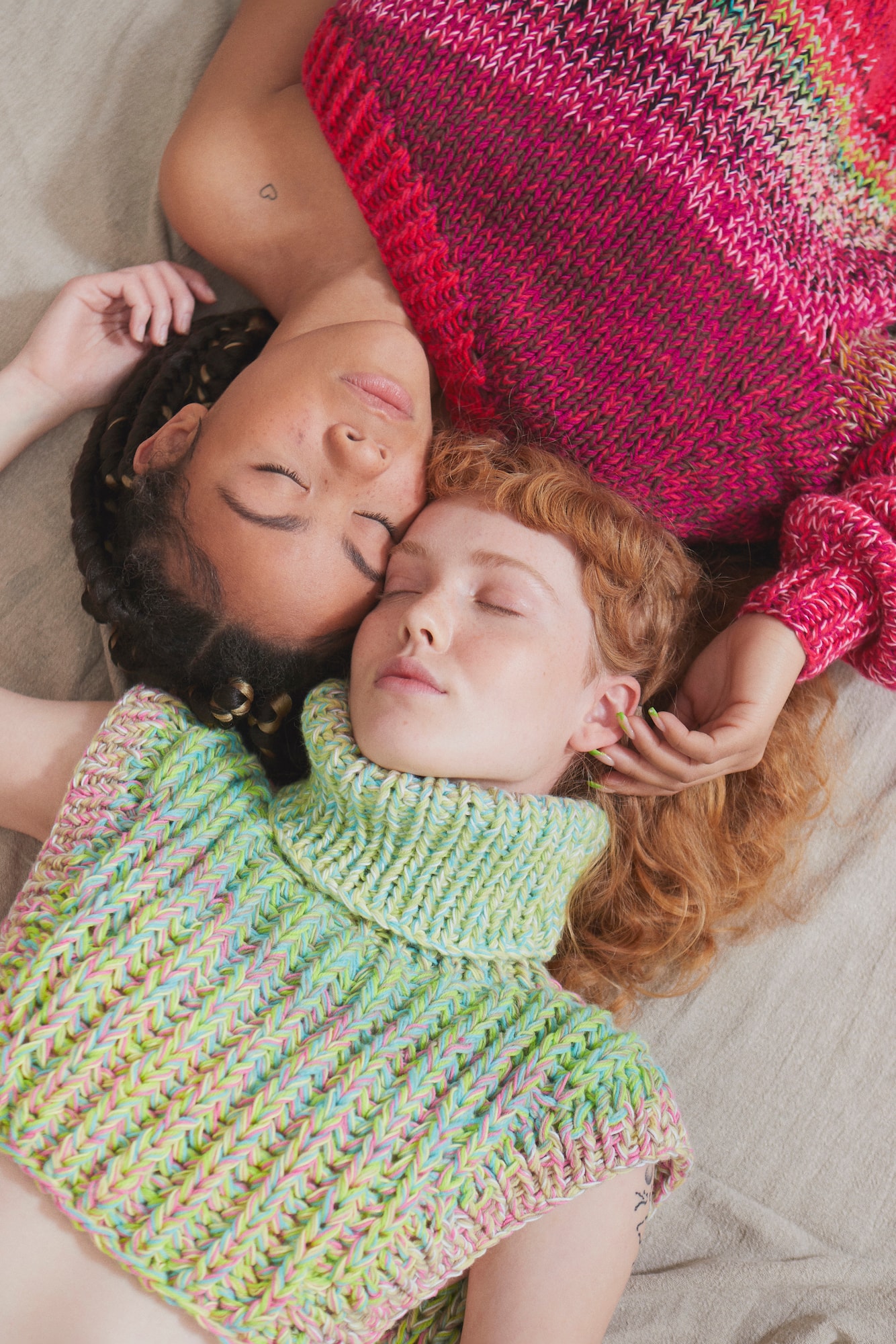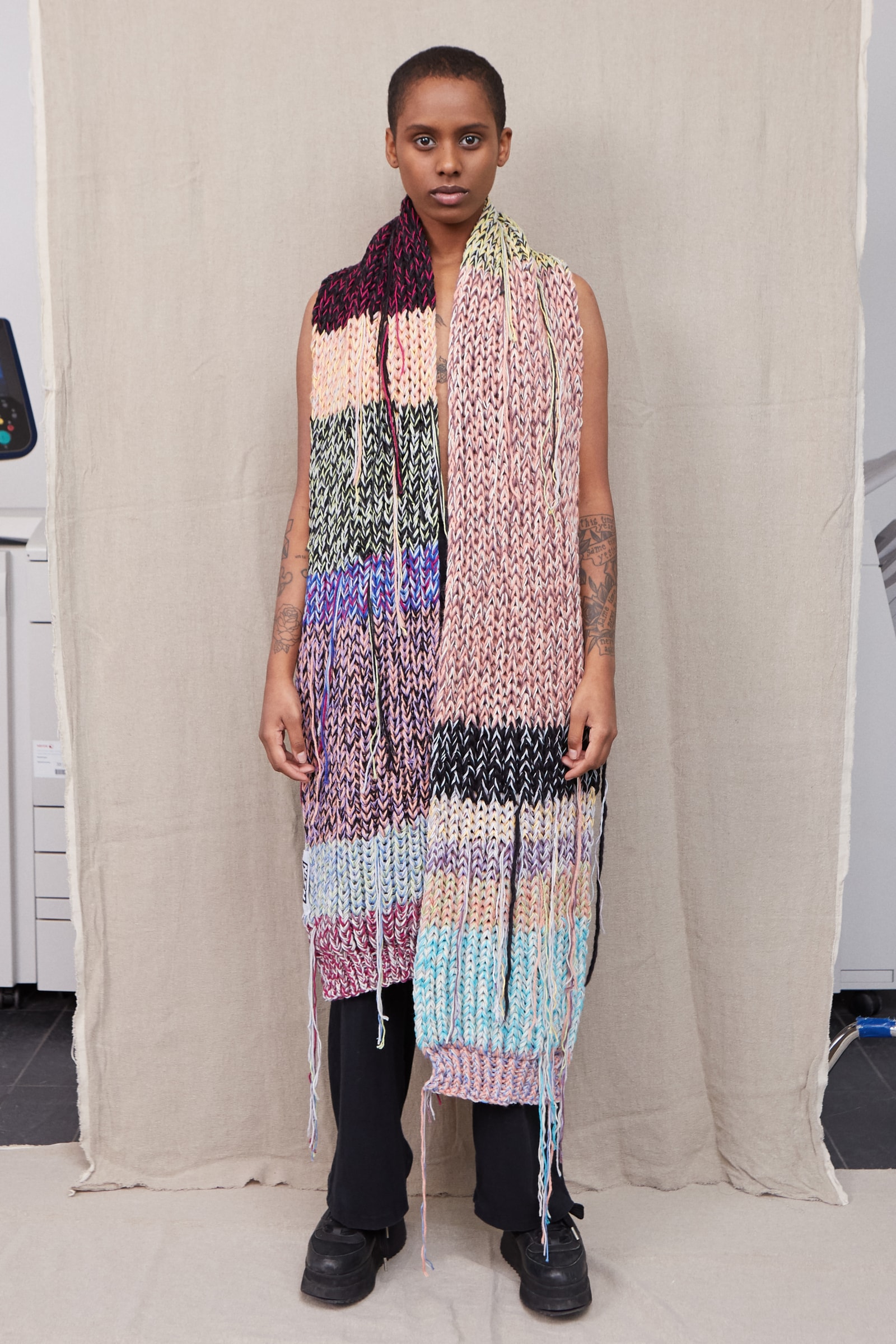 How has social media helped you grow the brand?
Instagram has been an important contributor and platform for us to exhibit and promote ourselves. We have tried to be very transparent with how we work from the start with our followers, and at the same time produce inspiring content on an ongoing basis. By using our amazing friends and hand picking our favorite influencers, we have been featured and shared on many different platforms. We love our #nithpeople, and the storytelling they bring to our brand. In these times we're so amazed and grateful for all the love we're getting online.
What is your vision for the brand? Where do you see it in five years?
Our vision is to combat and reduce over-consumption and over-production by offering durable and hand-made knit designs that last season after season in high craftsmanship quality. At NiTH studio we only use recyclable resources and deadstock yarns to reduce our climate footprint and do our bit to make the world a better place for future generations.
In five years we dream to create a community of older knitters that we will engage with through already established knitting communities. It's a dream we've had since we started to give back to the community that taught us about the craft. We also wish to further develop our storytelling and transparency to make sure that the craftsmanship and creation process will always be as important as the final product.
View this post on Instagram
What has been the biggest challenge for you so far?
Starting a business is hard in itself. It requires you to dedicate yourself 100% and put a lot of work and hours into creating a brand. It is important to take risks, be courageous and be ready for a change. Right now we knit all our products in-house, which can be challenging at times when it's extra busy.
What advice would you give to people looking to pick up knitting? Where do you start?
It's really just about throwing yourself into it. Don't be afraid to make mistakes. As soon as you can knit and purl stitches, you can actually knit everything. We have both learned it from our grandparents and otherwise, YouTube is your best friend these days.
What is your favourite piece you've created?
We are very proud of all our styles, but we especially love the UMA Balaclava. It was developed a year and a half ago, and because of our use of eclectic color combinations, it's definitely our bestseller. We're proud to say that we tapped into a trend just as we saw its inception, and now you see it everywhere and in many different versions. The most important thing for us is that craftsmanship and durable designs are back in fashion – we love that.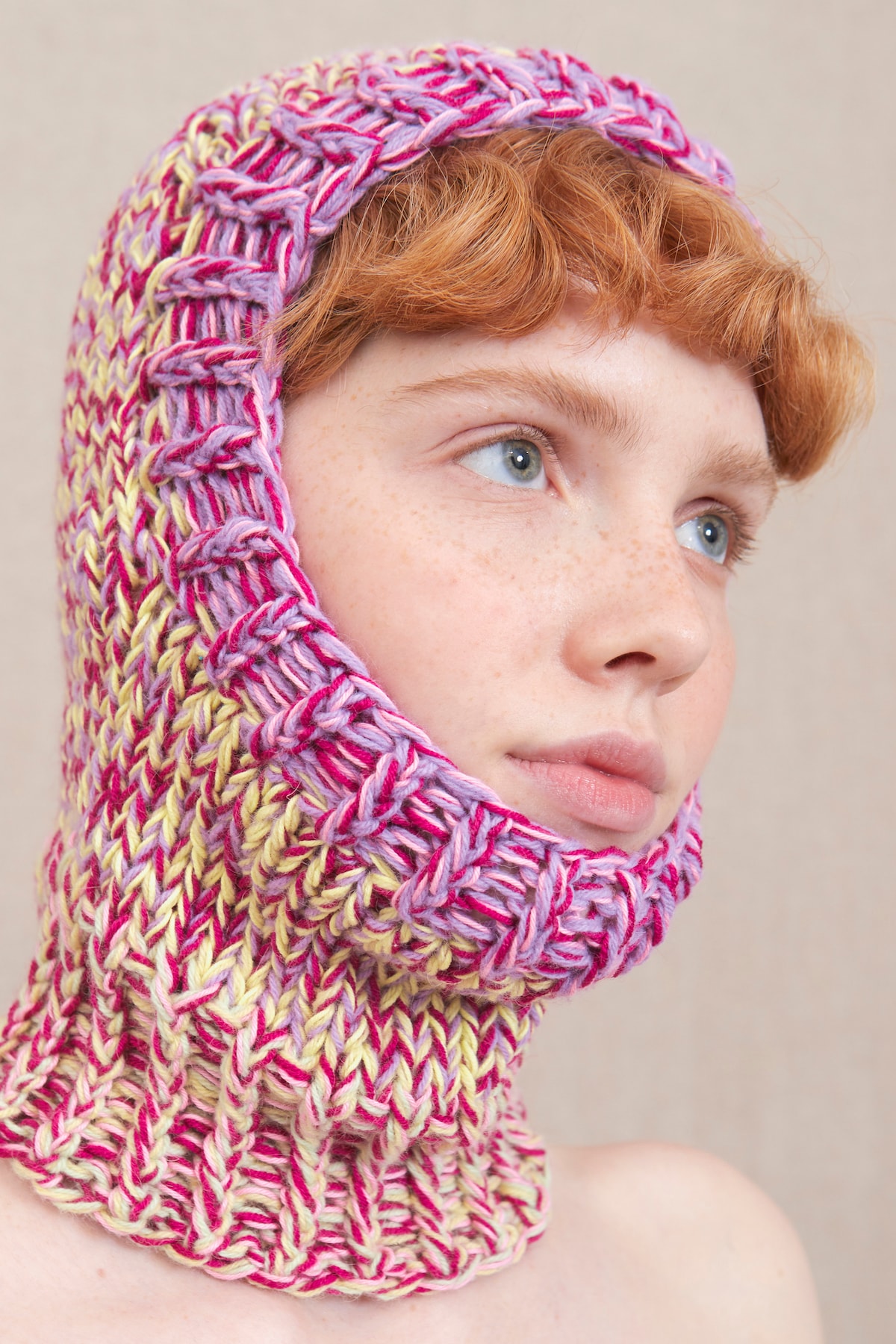 Share this article