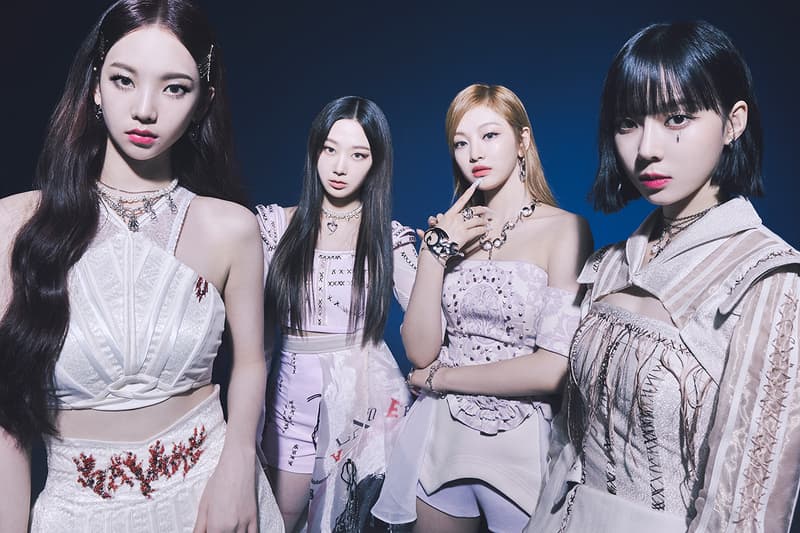 Music
With 'Savage,' aespa Delivers Next-Level Energy and Versatility
The girl group is creating K-pop for galaxies ahead.
With 'Savage,' aespa Delivers Next-Level Energy and Versatility
The girl group is creating K-pop for galaxies ahead.
"Gorgeous, who you think about? Too hot, who you think about? Fabulous, who you think about?" Versatile, who you think about? It better be aespa.
Having the abilities to sing, dance, rap, act, know another language or two and most importantly, be in the know and familiar with trends, are what make upcoming acts in the industry, "it." And aespa delivers all of that and more.
The youngest girl group from SM Entertainment, the company behind female powerhouses BoA, Girls' Generation and Red Velvet, has garnered the attention of fans and the industry for their neo-futuristic agenda and unique use of AI avatars. Since their group's formation, KARINA, GISELLE, WINTER and NINGNING have collectively pushed the boundaries of a new generation of K-pop. With their own vocabulary that features terms like "naevis", "KWANGYA" and "Black Mamba," aespa has created their metaverse within their label's SMCU, short for SM Culture Universe. Combining "æ" for "avatar and experience" and "aspect," and you get aespa, as the group moves effortlessly between real and virtual realms. If the last couple of sentences have confused you, just know that aespa is the trendsetting group that's literally ahead of our time but is living in the now. If you aren't already a fan, you'll want to join the quartet to explore their worldview.
Despite having only debuted last November, aespa's list of achievements and endorsements — including becoming Givenchy's brand ambassadors — have made them one of the most exciting groups of fourth generation K-pop. Their 2020 debut single "Black Mamba," characterized by its electronic dance-pop sounds, has opened the eyes and ears of fans to a new world of K-pop. By the time they released their second single "Next Level" this spring, aespa had confidently created their own sound that could almost be described as "celestial pop."
Although their brand is made for galaxies ahead, the four-piece ensemble embodies the Gen Z spirit for being proactive in the present. From creating their own AI avatars, to having the knowledge of trends, especially ones on TikTok, the members are savvy at connecting with their audience, all while showing charismatic and carefree attitudes in their performances.
Surpassing a record of 400,000 physical pre-orders before its release, the quartet's first mini album Savage dropped on October 5 with a lead single of the same name, welcoming a new era of aespa.
"We have a new level of confidence," the group's leader KARINA tells HYPEBAE in an intimate virtual roundtable discussion. "To summarize, it's like a new chapter [of confidence] for us. And we're very excited to be able to share this as well as the different kinds of content and performances we have in mind with you guys."
She's right. The teasers and previews for Savage were far from next level — no pun intended — compared to their past releases, and the content on the six-track EP is as versatile as it gets, showcasing the quartet's ability to tackle different sounds. Exploring the genres of trap on "Savage," dance-pop on "I'll Make You Cry" and "ICONIC," dream pop on "Lucid Dream," and deep house with synthwave on "YEPPI YEPPI", Savage screams range. "There's music for everybody, no matter what your music taste is," KARINA concludes.
GISELLE describes the lead single as "a trap style song where you can feel a strong sense of attack centered on heavy drums and bass sounds. Following 'Black Mamba' and 'Next Level,' this song continues the story that takes place in our unique worldview where we head to KWANGYA and confront Black Mamba with the help of naevis. New characters are introduced, further expanding our worldview."
Reflecting on the metaverse aspect of aespa's brand, KARINA discusses how much their æ avatars took part in this comeback. "We utilized the 'metaverse' genre to express this unique worldview and its related content in a realistic way that's also dynamic and entertaining. Since 'Savage' is also based on our worldview, we incorporated CG and animation to draw the viewers into our story."
aespa set the tone for their visuals by presenting three sets of looks that reflect the various versions of the album: Hallucination Quest, P.O.S and SYNK DIVE. Already having quite the young femme fatale image, the members channel neo-majestic warriors wearing earth- to dark-toned dresses, patterned suits and one pieces — think the Matrix-inspired outfit on NINGNING, or the wavy blue suit on GISELLE. With a new stylist who came on board for this comeback, the quartet describe their Savage-era fashion to be eccentrically detailed, as the getups communicate their individual interpretations of modern girl power.
"In terms of concept, the looks from the first teaser are a personal favorite of mine. They not only suit the song "Savage," but if you look very closely, little details in the patterns of the clothes give off a powerful female warrior vibe that is feminine but not too delicate," WINTER explains.
When asked who their real-life fashion influences are, GISELLE gives a shout-out to the group's stylist for helping them express themselves in their outfits better.
"Our stylist has really picked up on our tastes in big and small details by the kind of energy we give off, and [has incorporated it] into our outfits. If you look really closely, [the looks] portray each and everyone of us as individuals," GISELLE says. "Rather than looking up to someone as a role model, I [know clearly the type of fashion] that I like, and our stylist improves how an outfit looks on us and gives us advice."
Following the "Next Level" hype, which saw many in the K-pop industry and on TikTok participating in the dance challenge, the group has not only presented a new dance challenge for "Savage," but also launched a number of interactive filters on Instagram.
"These days, people are very tech-savvy," aespa's youngest member NINGNING tells us. "We just finished filming our 'Savage' TikTok challenge, and we hope fans can participate in it. We also created an Instagram filter called 'SYNK DIVE' where a 3D mask, like the ones in our teaser images, appears when your face is detected [by the camera]."
Savage is now out on streaming platforms including Spotify and Apple Music.
---
Lai Frances is a social media producer by day, and a freelance multimedia journalist and host by night. Though she often covers entertainment, pop culture and music, Lai is always on the lookout for when and what the next PEACEMINUSONE x Nike sneaker drop by G-Dragon will be. You can find Lai on Twitter and Instagram.
Share this article