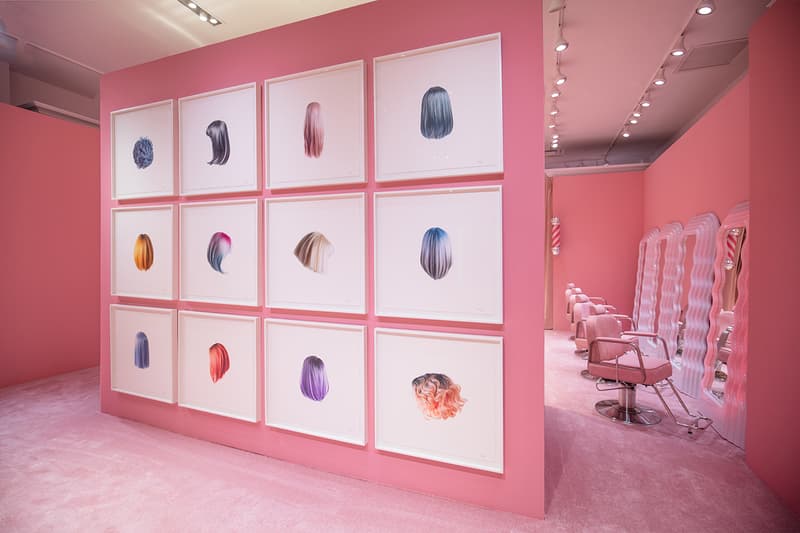 Art
Cj Hendry Presents "Blonde," an Exhibition Disguised as an All-Pink Chocolate Shop
The New York-based artist unpacks her new show featuring photorealistic drawings of wigs.
Cj Hendry Presents "Blonde," an Exhibition Disguised as an All-Pink Chocolate Shop
The New York-based artist unpacks her new show featuring photorealistic drawings of wigs.
In many ways, Cj Hendry's "Blonde," the Australian artist's eighth solo show opening at New York's Brookfield Place this Friday, can be described as intricately layered. On a surface level, her new collection of hyperrealistic drawings, this time depicting wigs in a variety of styles and a rainbow array of colors, are meticulously layered with different shades of colored pencils to achieve lifelike form and texture. But as an artist whose work has become progressively conceptual over the years (think: "STRAYA," which explores, irreverently and cleverly, slang from Down Under; or the "Copyright Infringement" treasure hunt series that sends art fans into a frenzy), Hendry wants to play with even more layered ideas — from the theme of the show to the actual exhibition space.
At its core, "Blonde" is about transformation and celebrates the power of wigs as not just an adornment, but also armor for the wearer. Fittingly, the exhibition's venue is imagined as a retro barbershop, decked out with pink swivel salon chairs and those totally Instagrammable Ultrafragola mirrors by Ettore Sottsass, while the walls are lined with peachy, coral wigs. Upon entrance, visitors will be given a wig out of 200 different styles, to take home or to don while browsing the exhibition. That's just half of the show space, though, as the two-part presentation serves up something more (or should we say, something sweeter) than just that.
Taking into consideration the retail nature of the location, Hendry dreams up a chocolate shop with sweets manufacurer Tony's Chocolonely. With special-edition chocolate bars available for purchase — aptly named Toffee Braids (dark milk pretzel toffee), Hazel Roots (milk hazelnut), Platinum Blonde (white raspberry popping candy), Bottle Brunette (milk caramel sea salt), Black Beach Waves (dark chocolate almond sea salt) and Caramel Highlights (caramel sea salt), priced at $10 USD each — the pop-up confectionery makes up the front of the exhibition space, disguising the gallery area in the back. 100% of the chocolate sales will be donated to the Ali Forney Center, an organization that supports LGBTQ+ youth in NYC.
HYPEBAE spoke to Hendry just days before the show launches, about the making of her latest project as well as what's next for her.
"Blonde" opens December 10 and will be on view through December 12, from 10 a.m. to 6 p.m. The exhibition is free.
Cj Hendry "Blonde" Exhibit
Brookfield Place,
230 Vesey Street,
New York, NY 10281
When we spoke back in 2017 at your "Complimentary Colors" show in Hong Kong, you said it was simultaneously exciting and challenging to create the series with color. Now, four years later, and many more vibrant collections later, what still excites you about working with color, specifically in relation to "Blonde"?
What I find interesting about color in relation to "Blonde" is layering colors to be able to create the color that you're after. When it comes to colored pencils, it's not like paint where the possibilities are endless. We [work with] thin layers, and that's very indicative of what hair is like anyway — it's layered in a way. I've actually found that as my practice has grown, I've really been perfecting my coloring skills and utensils, and now I'm really excited about building bigger concepts. You know, like these exhibitions, we're getting better at it as a team. I think that's really exciting.
Are you seriously considering going back to black and white in the near future?
Yes, I think so. For the exhibition in London next year, I'm thinking of doing the entire series in black and white. Why not?
In addition to them being conceptual and experiential, your shows offer a welcoming atmosphere and an almost playful feel that invite everyone to come and enjoy art, even those who'd typically feel intimidated by the art world. Is it your goal, or is it an unconscious decision, to make art accessible to more people?
It's very unconscious. This sounds a bit weird, but I have not been consciously thinking of other people when I'm creating art. I'm purely thinking of the concept. I think maybe I just have a simple brain, and maybe it just translates simply, which is fine. … I just care about the concept. People will come and experience [a show] in different ways. And I think because my default is kitsch, in a way, that's kind of how it always ends up. I don't mean for it to happen.
But then there's an "if you know, you know" element to your work as well, like how you designed a speakeasy chocolate shop that disguises the "Blonde" exhibition. As someone who has been consistently active on social media in terms of sharing your creative process, how do you see the connection between you and those who follow or support your work?
As someone who's contributed a lot on social media, I don't like to bash people over their head [with what I've done in the past], or expect them to feel and think [a certain way.] Like you said, if people have been with me on my journey for years, they'll see my growth and the progression of my ideas — they get more elaborate, more energy, more time and more resources. I think people can see that very clearly. For people who may be joining for the first time, they may be a bit confused. But I also don't spend much time going back and explaining how I got here — I'm just like, this is where I'm at. If they take the time or even be interested, people will go and figure that out — or they won't. I am also a big believer in "what you've done in the past is irrelevant." You've just got to keep doing great things and impress people constantly moving forward. Most people aren't going to take the time to go back and understand how much I've grown, so I just need to continue to put on a great show.
You've mentioned before that "Blonde" has been a concept in the making for two years. Could you pinpoint the moment that gave you the inspiration to create a show about wigs?
I think it was earlier this year. For so long, I had an itch, and when I kept itching it and kept coming back to the concept, I felt like I just needed to get this itch done and out so I can keep moving on. … I just needed to pull the trigger. Otherwise, I'm going to get very frustrated. It's just an idea that has interested me for so long.
What's the most fun part about designing the show space for "Blonde"?
[It was fun] to actually build it and make it come together. … You can sit there and conceptualize [the design] all day long, but when it actually comes into reality, you're like, "Okay, the wall has to go here." Or, "No, that has to be 6 inches to the right." I think that's where the fun really comes in, because you really get to bring it to life. Sometimes, it's like, "Oh my God, it was so much better in my head." Or I'm like, "This looks awful. We need to change it really quickly." It's very much thinking on the fly. Or sometimes, it comes out better than what I thought in my head. I don't do storyboards — I don't even know how to do that, so it's very much just straight from my head. We order everything and no one [on my team] really knows what it's going to look like to build [the exhibition space], which is super weird and frightening. It's always a risk, but that's the most exciting part.
View this post on Instagram
What inspired you to collaborate with Tony's Chocolonely?
All ideas of "Blonde," obviously, are like wigs, hairdressing, barbershop and that type of thing. But we're essentially doing this exhibition in a retail shopping center, and I was very conscious of that. I don't want it to be so obvious when people are just walking by. … I kind of want it to look like a retail space in the front — and I thought it'd be interesting to [create] a speakeasy, so the front would be completely unrelated to the back. When people are walking past, [they may think it's] a chocolate shop. And if they choose to come in and buy chocolate, that's great. And then, they may be like, "What's going on in the back?" You really can't see any of the back from the front, which I find interesting.
I've been a huge fan of Tony's for many years. It's quite cultish in Australia actually — I found out about Tony's from a few of my Australian friends years ago. They are a very mission-based chocolate company as well, which I really like. I thought it would be a great opportunity to build this speakeasy chocolate shop as the front [of the exhibition]. We reached out [to Tony's Chocolonely], and it turned out they knew what it is that I did. It's really seamless and smooth to work together. [We had] one or two conversations, and it was a done deal — that never happens. How fortunate I am to be in a position where some people may know what it is that I do? I'm really grateful for that. So yes, it's a long-winded way of saying it's unrelated to the back part of the exhibition, but I really want people to walk past the chocolate shop.
View this post on Instagram
The underlying theme of "Blonde" is transformation. As an artist, how would you say you have transformed or evolved throughout your creative journey?
That is a really good question, and one I don't really know how to answer, because I don't spend much time thinking about it. Actually, if I'm going answer it off the fly now, I think … I have grown in concept. I think when I first started, I was very focused on the technical side of my practice with the drawing. And whilst that's still a very big part of my practice, and [being able to draw quietly] is where I get a lot of the meditative parts of my personality, I really get a lot of joy in building and leaning into a concept, and taking it all the way. I think that's how I've grown — getting more conceptual in my ideas, and not so technical.
Apart from your upcoming London exhibition "Epilogue," do you have plans on showing your work in other cities?
We always talk about Montréal, that'd be awesome. And LA — I still haven't done one in LA. I really [want to have a show in] Paris. I can't speak French and I don't spend much time there, but I think that'd be fascinating. … Anywhere where the storytelling makes sense and is appropriate, to be honest. Oh and Mexico — I have a love affair with Mexico. I really, really love it. I really want to do [a show] there.
Share this article