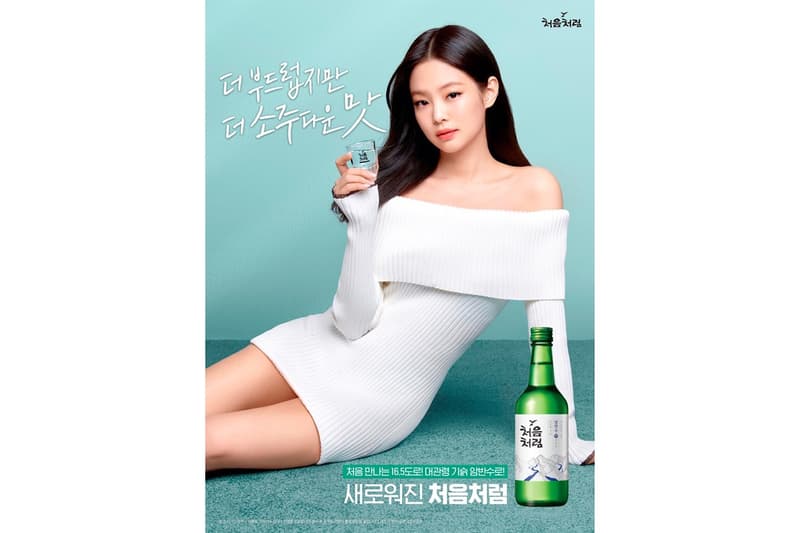 Food
BLACKPINK's Jennie Stars in Her First-Ever Ad for Chum-Churum Soju
Korea's favorite soju brand has received a makeover.
BLACKPINK's Jennie Stars in Her First-Ever Ad for Chum-Churum Soju
Korea's favorite soju brand has received a makeover.
BLACKPINK's Jennie is making moves by becoming the face of Lotte Chilsung's soju brand Chum-Churum. Along with the images of the K-pop star modeling with the alcoholic beverage, the accompanying visual features clear blue skies and green mountains that reflect the freshness of the soju.
Originally marketed as a man's drink with male models, soju used to be known for drinking after a hard day's work back in the '80s, due to its high alcohol content of 25 percent or more, as per BBC. Gradually over time, the alcohol percentage decreased to 19.5 percent. As a result, companies started to reach out to female models instead, to reflect a softer and more appealing image of soju. By 1998, actress Lee Young-ae became the first female soju endorser, followed by top stars like Lee Hyori, Suzy Bae and more. Today, modeling for a soju brand is considered a milestone for a female star.
Lotte Chilsung's latest partnership with Jennie marks the start of the company's rebranding. In addition to Chum-Churum's reworked bottle design, which comes with an illustration of white mountains with water flowing through streams, Lotte Chilsung has decided to lower the alcohol percentage from 16.9 percent to 16.5 percent since its release in 2006.
Watch the full Chum-Churum Soju ad below starring BLACKPINK's Jennie. While you're here, don't forget to check out her YouTube channel.
We discourage irresponsible and/or underage drinking. Drink responsibly and legally.
View this post on Instagram
View this post on Instagram
View this post on Instagram
View this post on Instagram
Share this article