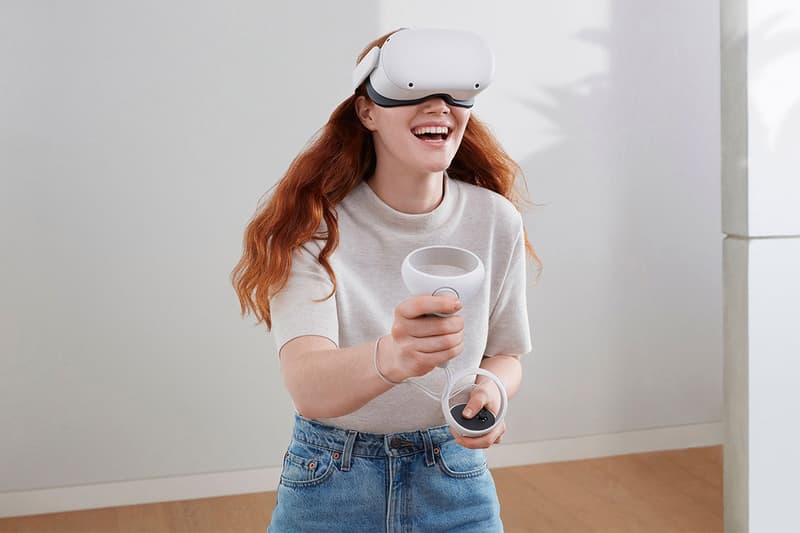 Home
16 Last-Minute Valentine's Day Gifts Sure To Impress Your Special Someone
Surprise your better half with our editors' top picks.
16 Last-Minute Valentine's Day Gifts Sure To Impress Your Special Someone
Surprise your better half with our editors' top picks.
With Valentine's Day quickly approaching, those who are celebrating are probably getting creative with at-home date ideas and searching for the perfect gift for their significant other. For any last-minute shoppers out there, HYPEBAE and HYPEBEAST editors are here to help ease the process by sharing unique gift ideas at every price point. From a customizable leather lipstick case, to a salon-worthy hair dryer, to a VR headset that takes gaming to a new level, read on for 16 gifts that will make a sweet surprise for your partner.
While you are here, peep 10 lingerie sets guaranteed to make you feel good and confident this V-Day.
HYPEBAE Recommends:
Bode's corduroy pillows are customizable, making them a perfect gift for someone special. Shoppers can provide image references for hand-drawn graphics on the front and back of the pillow, an opportunity to incorporate your partner's favorite things into its design.
For those looking to reach deeper into their wallets to make that special statement, Dyson's well-loved hair dryer is an investment for your partner — and the household. Packed with the same cutting-edge technology that pioneered its vacuums, the hair dryer is engineered to protect hair with four precise heat settings, promising to increase shine by up to 132% and decrease frizz by up to 61%.
Perfect for wearing together and as separates, Sleeper's ruby red two-piece silk set features a flattering ruched top with adjustable bow straps and a pair of relaxed shorts. This will make the perfect gift for your loved one if they've been looking to add new pieces to their loungewear wardrobe.
A makeup gift sure to impress any beauty fanatic, the La Bouche Rouge Paris lipstick comes packaged in a luxurious leather case, available in colors from beige to red to suit different moods. The design is infinitely refillable and what's more, you can have a heart symbol or your partner's initials engraved on the case when ordering it from the brand's website, making it a sweet memento that they can keep forever.
Nothing says "I love you" like a good pair of shoes, and if you really want to tell your partner they have your heart, do it with a pair of Amina Muaddi's. The Fiona is a simple mule silhouette with a manageable heel at 10 cm, in Amina's signature "Martini Glass" design, that is easy to wear and goes with everything. If there's one thing to splurge on, it is a gift for your partner, so get those nice heels and don't look back.
If you've ever smelled this perfume by Frédéric Malle, you won't be able to forget how perfect it is. Boasting notes of bitter orange, cardamom, pink pepper, hay and cedar, Bigarade Concentrée is a scent your partner would want to wear all year long. The fragrance is packaged in a luxe bottle, making it an ideal gift for your loved one this Valentine's Day.
Sure, lingerie is great to spice things up. But when you're living together in lockdown and are looking to treat your partner to a luxurious gift that they can wear everyday and lounge in when they only want to eat ice cream and watch eight hours straight of Netflix, then Comme Si's silk update on their hallmark La Boxer Classica is the better way to go.
For the partner that has everything, this Seth Bogart ceramic Matchbook, handmade in California, is the perfect useless gift. Each piece is playful, unique and something anyone is unlikely to have — not to mention a great art piece from the multidisciplinary artist-musician.
Homesick? As in literally sick of home? Perhaps this refurbished full-size aircraft trolley, crafted new and is fully functional, will help relieve that just a little bit. SkyArt will also apply custom artwork according to your specifications — fly away with me?
With quarantine continuing into 2021, it can be challenging to find the motivation to keep one's body moving. For this reason, combined with our love for gaming, we feel that the Oculus Quest 2 would make a great gift that virtually gets your partner (and yourself) out of the house.
Winter is not quite over yet and these doublet "McDonald's" socks would make such a great addition to indoor life — it's fun, comes with great packaging, and keeps your loved one warm. A unique and practical gift that anyone would treasure.
We are big fans of the artist Futura and this coffee table book is a nice collection of his works. It's also a safe choice if you're unsure about your partner's apparel or sneaker size, as the book would make an excellent addition to any home.
Gift-giving is about what the recipient likes and the gift's symbolic meaning. If your partner is a mid-century design and/or a street fashion enthusiast, you will see tears of joy when they unpack this Modernica rocking chair, which also comes in street art collaborative versions.
Chrome Hearts has launched a lot of unusual but interesting accessories over the years, like this Dice Keychain — a really lovely piece, and one of the "perfect" gifts to us. The only shortcoming may be its price, but that's what wish lists are for, right?
Furniture and design are great vehicles for understanding each other in a relationship. We really like NEW TENDENCY and how it offers a variety of colors and textures, satisfying both contemporary and mid-century modern lovers.
2021 is as good a time as any to upgrade your home computer setup. The new Razer Tomahawk arrives in ATX and mini-ITX options, excellent options for that 4K gaming experience, or even improving that home theatre setup for crystal clear couple time.
Share this article