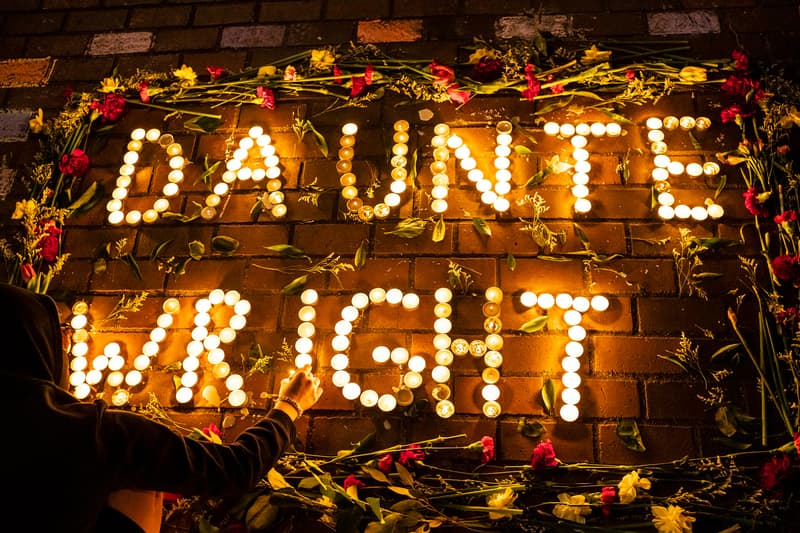 Culture
How To Stand in Solidarity With Daunte Wright's Family
Ways to take action in the wake of yet another police-involved murder.
How To Stand in Solidarity With Daunte Wright's Family
Ways to take action in the wake of yet another police-involved murder.
On April 11, Minnesota police officer Kim Potter shot and killed Daunte Wright, a 20-year-old Black man, during a routine traffic stop. Police chief Tim Gannon claimed Wright was pulled over for an expired vehicle registration, but Wright's mother, Katie, told reporters he was stopped for having air fresheners hanging from his rearview mirror. Minnesota law prohibits drivers from suspending anything to their rearview mirrors, a rule that the ACLU says is often used as an excuse to target people of color.
Wright is yet another Black man to die at the hands of police. Just 10 miles away from Brooklyn Center, the site of Wright's death, ex-officer Derek Chauvin is on trial for the murder of George Floyd. Potter, who resigned this morning, characterized Sunday's deadly encounter as an accident, as she intended to use her taser on Wright instead of firing her gun. However, this version of events is questionable, considering Potter is a seasoned officer who has worked with the police department since 1995. (In addition, tasers and pistols are distinctly different from each other in both look and feel.)
In the wake of Wright's death, protestors are holding demonstrations and vigils in Brooklyn Center and the wider Minneapolis area. Wright's aunt set up a fundraiser to help pay for his burial costs, and organizers are working with the mother of his son, Chyna Whitaker, to collect donations for the soon-to-be two-year-old.
If you're looking to ways to stand in solidarity with Wright's mourning family, as well as Minneapolis protestors, keep reading for places to donate and ways to assist Black Lives Matter efforts in Minnesota.
If you're in need of mental health support, check out our roundup of 10 resources for the POC and Black community.
The ACLU's Minnesota chapter works to reform the criminal justice system and hold police accountable for instances of misconduct. You can report officer misconduct at the ACLU website, as well as donate and become an ACLU member.
Black Immigrant Collective is a Black-led organization, based in Minnesota, that provides mutual aid support and legal defense to Black immigrants. The initiative issues crucial resources including rent and bill assistance, groceries, immigration attorneys and translation services to those in need.
Brooklyn Center Community Schools is offering free meals, medical supplies, personal care products and more to anyone in need (not just students and families) due to store closures in the area. They are also accepting donations of food, water, menstrual care products and other essential items.
Community organizer Paige Ingram launched a GoFundMe for families impacted by police brutality, as well as protestors on the front lines. Funds will help purchase PPE, medical supplies and food for Brooklyn Center residents participating in resistance efforts, and those who live by the Brooklyn Center police building. "Brooklyn Center is a Black city — we have a Black mayor, and a Black city manager. Yet, the police department is overwhelmingly white and does not live in the area. The entire police precinct is surrounded by apartment buildings that are filled with Black families," Ingram writes on the fundraiser's page.
Wright's aunt, Kelly Bryant, has set up a GoFundMe to help pay for his funeral and burial, as well as mental health and grief counseling for his family. Money will also support Wright's infant son, Daunte Wright Jr.
Minnesota activists Zora and Zedé of Holistic Heaux are working with the mother of Wright's son, Chyna Whitaker, to secure resources for the child. She has requested items including diapers, baby clothes for 18 to 24-month-olds, groceries and monetary donations. This is Whitaker's only fundraiser — be wary of anyone else claiming to be in contact with her.
The Minnesota Freedom Fund pays bail for those who cannot afford it, works to abolish the cash bail system and advocates for decarceration. The organization has committed to posting bail for protestors arrested in Minnesota.
Founded in 1940 by former Supreme Court Justice Thurgood Marshall, the NAACP Legal Defense and Education Fund works to achieve racial justice through litigation and scholarship funds for Black students.
Voice for Racial Justice is a Minnesota-based organization that organizes communities of color in the state. Their work includes leadership training, policy development and education equity.
Share this article