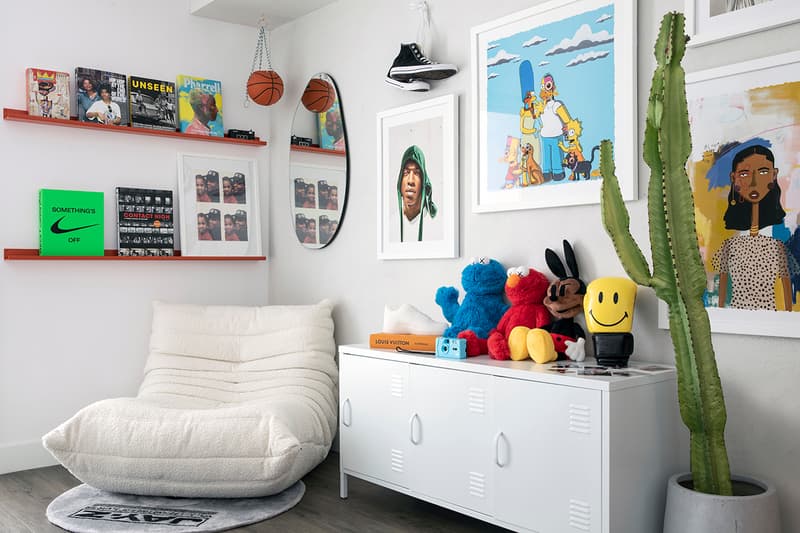 Home
How This 104-Square-Foot Space Gets Transformed Into a Dream Home Office
Designer Victoria Adesanmi shares her decorating tips for small spaces.
How This 104-Square-Foot Space Gets Transformed Into a Dream Home Office
Designer Victoria Adesanmi shares her decorating tips for small spaces.
Decorating a small home office comes with its own set of challenges, but designer Victoria Adesanmi shows us that there's still room for personality through the strategic placement of furniture and homeware items.
The Los Angeles-based creative, who has built a career in design with her work at adidas, branches out into interior design with her new venture, a multidisciplinary design studio called Aesthetics Studios. For her first project, Adesanmi is tasked with revamping a 104-square-foot mezzanine in a Culver City loft, transforming it into a WFH station that doubles as a lounge area for entertaining guests.
Black artists and artwork that celebrates Black people take center stage in the space, with its walls lined with framed prints by photographer Adrian Octavius Walker, artist Cristina Martinez and more. Reflecting the client's appreciation of pop culture, streetwear and fashion, accent objects like the KAWS x Sesame Street plush toys, Original Rose basketball planter, Sean Brown's cult-loved CD-shaped rug and a Super Mario arcade machine add a heady dose of playfulness and color to the narrow mezzanine.
We spoke to Adesanmi about how she planned for this makeover project, her decor-sourcing tips as well as what she hopes for her design studio.
Tell us a bit about your background in design.
Growing up, I've always been super creative and passionate about interiors, architecture, fashion and music, but I wasn't sure how to apply my skill set. I graduated from North Carolina State University with a bachelor's degree in Industrial Design and a minor in Textile Technology. Upon graduation, I was certain that I wanted to work in high fashion, but to my surprise, I ended up working in the sportswear industry instead. I've had a successful career at adidas as a color and material designer for over six years. Since joining the brand, I've been fortunate enough to influence footwear products for some of the most coveted collaborations to date with notable athletes and artists. However, I've always had a passion for interior design, including residential, commercial, experiential and stage design.
This year, I decided to take a leap of faith to bet on myself and finally launched Aesthetics Studios, a multi-disciplinary design studio I created based in Los Angeles that focuses on interior design, creative direction and objects through storytelling and re-imagination. I truly believe every space you encounter should tell a story, and I am excited to take the knowledge I've acquired over the years to bring these stories and spaces to life through my studio.
What did the mezzanine originally look like? And what were your client's main priorities for this makeover project?
When I first met with my client for our design consultation, I couldn't help but notice that the mezzanine had a dark-colored accent wall with little to no artwork. In addition to that, she had a desk as she uses the mezzanine as an office. A large couch also took up the majority of the space, since it's only 104-square-foot. She wanted me to create something unexpected and veer outside of her comfort zone, as she tends to gravitate towards neutral tones. Not only was it her priority to do something different, but it's also important for her to continue utilizing her mezzanine as an office space with the ability to host a couple of guests if necessary. Throughout the design process, I ensured I met my client's priorities, but I also wanted to exceed her expectations by defying the rules of a small space.
View this post on Instagram
What serves as the main inspiration for this space? 
As an interior designer, first and foremost, my goal is to reimagine every space I design to evoke an emotion that tells a story. For this mezzanine in particular, I wanted to reimagine what Black joy could look like, as I wanted this space to feel both playful and vibrant, yet mature. Knowing that furniture would be limited due to the small square footage, I relied heavily on artwork from Black artists and artwork that is representative of Black people. Since I knew that my client would utilize most of her time here due to working from home, and with empathy being at the forefront of my design process, I wanted to design a space where she would feel both safe and seen.
I created a faux cement plaster and finish accent gallery wall to brighten up the space. The gallery wall features Adrian Octavius Walker's Black Virgin Mary photograph from the We Matter series, Cristina Martinez's Bloom Now watercolor print and Al-Baseer Holly's Family Goals print. In addition, I chose for the space the Ozzy The BFF plush toy by Rello, a contemporary, self-taught Black artist based in Chicago.
I wanted to add a personal touch to the space as well, so we incorporated my client's good friend Lizi Phoenix's Angel print. My client also loves photography, so it was only fitting that we printed her photographs as polaroids placed on the locker, alongside the different film cameras and photography books.
What were the biggest challenges of this project?
Due to the pandemic, furniture delivery times have been delayed more than ever. I had to keep this in mind while sourcing items for my client and prioritizing which items were worth the wait. However, the biggest challenge was designing for a small space.
Knowing that the mezzanine was only 104-square-foot, I knew that my furniture options would be limited. I didn't want the space to feel crowded, so I wanted to ensure that every item of furniture served a purpose. It was important that there's ample storage to prevent any clutter, so I selected a white, three-door locker for my client to store any of her necessary items. I also sourced a couch and stool, so she can host a couple guests in the space.
Since the mezzanine is part of an apartment rather than a house, while designing the space, I took into account that any design enhancements would be temporary. Typically, it's challenging to use a lot of color in a small space. However, I leaned into my color and material background and pushed the boundaries through artwork and decor. To optimize this area, I also made use of vertical space for artwork and shelving. Additionally, I used a wall mirror from Amazon to reflect the natural light in the mezzanine to make it feel larger.
What's something special that you can tell us about the sourcing of the decor objects?
The best part about sourcing items for my clients is discovering new artists and small businesses, and using these projects to put them on. There's nothing I love more than convincing my client to purchase a furniture item or a decor object that I know is dope. Surprisingly, I happen to stumble across many new artists and small businesses via Instagram. It was this particular project where I came across both Rello and Cölle. I'm a big fan of Sean Brown, so I was excited to finally source his handmade CD rug. My client loves JAY-Z, so this rug was the perfect touch.
What other projects are you hoping for Aesthetics Studios to explore in the future?
Wow, so many things. As a multidisciplinary designer, for the first time in my life, I can finally execute all the creative ideas that I've dreamed of through my design studio. My ultimate dream is for Aesthetics Studios to be a household name for all things design. I'm super passionate about travel, so I'd love to design hotels both domestically and internationally. I'm also a huge fan of music, so building out stages and experiences for artists is definitely a goal of mine. I also hope to design new homes from the ground up and influence every detail of these spaces. Lastly, I'm fascinated by furniture and objects, so I also plan to design my own homeware line.
Overall, I plan on continuing to expand my clientele and work with more creatives, executives, entertainers and cultural change-makers to help them create spaces of belonging. The possibilities are truly endless, and I'm ready to tap in and explore all that God has in store for me.
Share this article