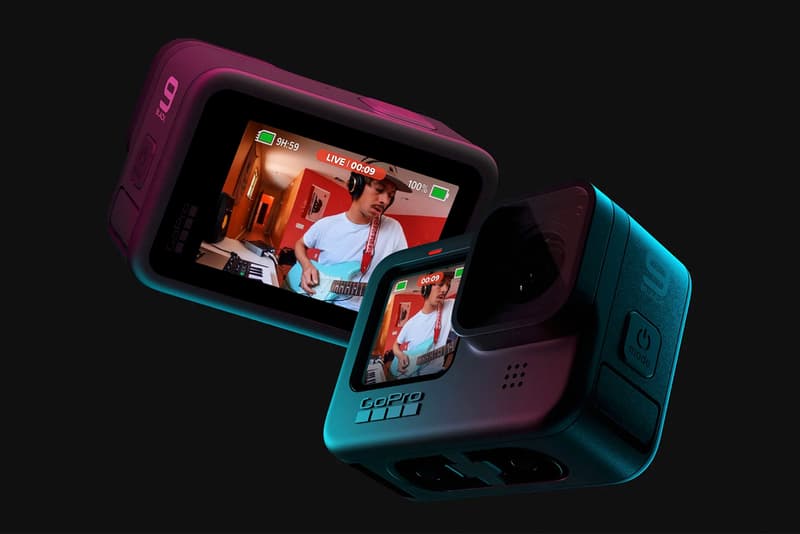 Tech
6 Best Action Cameras To Capture Your Outdoor Adventures
Picks from GoPro, DJI, Canon and more.
6 Best Action Cameras To Capture Your Outdoor Adventures
Picks from GoPro, DJI, Canon and more.
With cities opening back up, an action camera is an ideal device to document all your outdoor adventures this summer. If you're looking to diversify your camera collection by investing in the gadget, below, we've compiled some of the best action cameras on the market right now. From GoPro's latest Hero 9 Black featuring its first front-facing color display, to DJI's dustproof, shockproof, waterproof and freeze-proof Osmo, scroll down to discover the different models.
To hone your photography skills, here are the best point-and-shoot film cameras to consider for your next trip.
Canon's IVY Rec comes in a compact design with a built-in clip, allowing you to attach it to your backpack, belt and other items you carry on a daily basis. Featuring a 13.0-megapixel sensor and full HD 1080p video of up to 60 fps, the device is waterproof and shockproof, and is equipped with Bluetooth and Wi-Fi, making it easy to transfer your content straight to your phone or tablet via the Canon Mini Cam app.
The DJI Osmo features a 1.4-inch display on the front and a 2.25-inch touchscreen on the back. You can easily view both screens in direct sunlight, thanks to their brightness levels measuring at 750 nits. For adrenaline junkies who love to document their adventures, the action camera is dust-proof and shockproof even when dropped up from five feet (1.5 meters), waterproof down to 36 feet (11 meters) without a case, and freeze-proof down to 14°F (-10°C). In terms of image and video quality, the Osmo comes with a 12-megapixel 1/2.3-inch sensor and can shoot 4K video.
You can create four quick-toggle shooting modes on the sleekly designed OCLU Action Camera with eight different options: LiveCut, Video, Photo, Burst, Loop Record, Multi Photo, Time Lapse and Motion Record. For extra protection and better image and video quality, equip the device with the OcShell, a case made of hydrophobic coated flat glass that repels water to capture clear footage to depths of up to 165 feet (50 meters).
The GoPro lineup has grown since the launch of its very first model back in 2004. For its eighth iteration, the camera features HyperSmooth 2.0 stabilization, delivering gimbal-like stability. Other updates include four lens options (Narrow, distortion-free Linear, Wide and SuperView), 14 voice commands like "GoPro, start recording" or "GoPro, turn on," as well as TimeWarp 2.0 for stable time-lapse videos. Additionally, the Hero 8 Black is waterproof up to 33 feet (10 meters) and can go down to depths of 196 feet (59 meters) with a waterproof case.
Available in seven editions, the Insta360 ONE R is an interchangeable lens action camera that offers next-level stabilization. Now upgraded with horizon leveling for the 4K Mod and 1-Inch Mod, the Horizon Lock keeps footage balanced when shooting in Pro video mode at 30fps. The model has also been updated with loop recording, while the 4K Mod and 1-Inch Mod boast a new frame rate option of 4K 50fps.
The Hero 9's extra edge is GoPro's first front-facing color display. Featuring a larger touch screen on the back, the camera can shoot 5K video and 20-megapixel images with the new SuperPhoto function. Elsewhere, you can capture your adventures with the ultra-wide detachable lens called the Max Lens Mod. Meanwhile, GoPro has produced its most advanced stabilization ever, HyperSmooth 3.0, which comes with in-camera horizon leveling.
Share this article