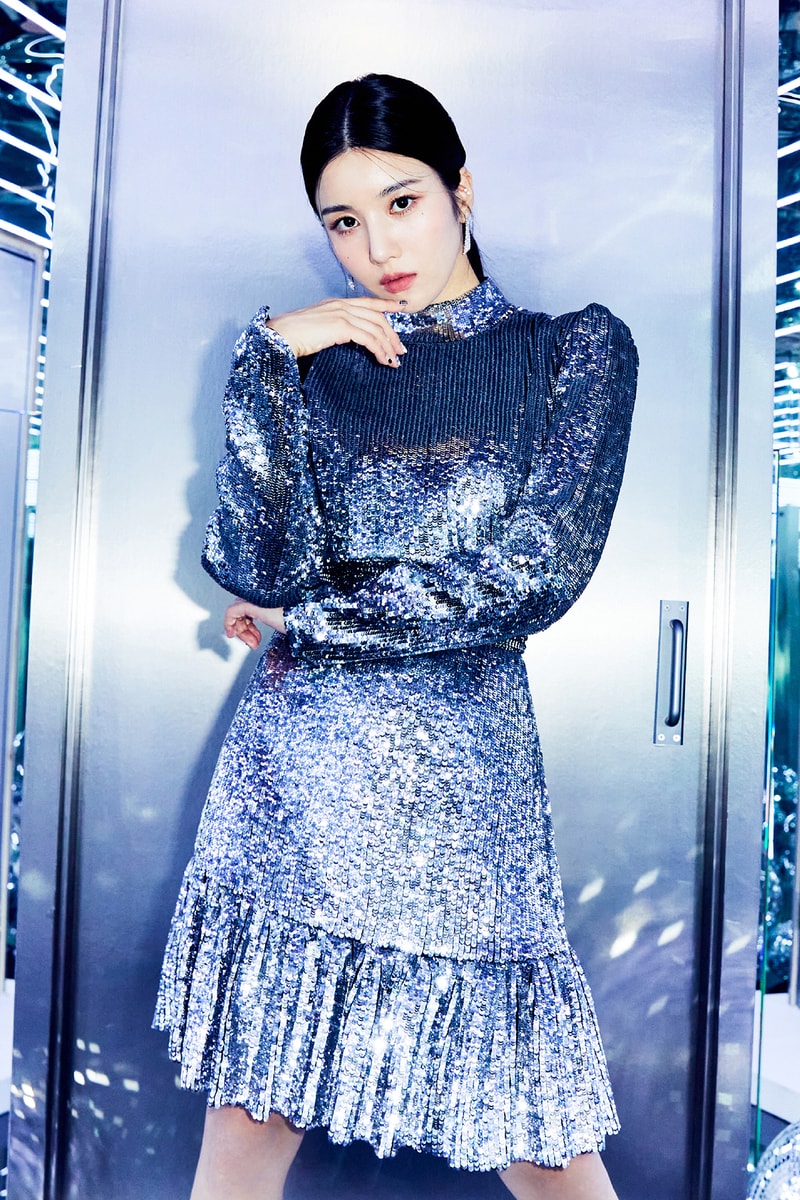 With 'Open,' Kwon Eun Bi Steps Into Her Own Spotlight
The IZ*ONE member talks HYPEBAE through her solo debut.
Music
With 'Open,' Kwon Eun Bi Steps Into Her Own Spotlight
The IZ*ONE member talks HYPEBAE through her solo debut.
Kwon Eun Bi never thought about being a solo artist. As a child, she wanted to become a kindergarten teacher. But as she admired singers like BoA performing on TV, a dream started to bloom. "My heart would beat faster while watching them, and that's when I knew that I wanted to take this road," she told us over Zoom from Seoul, South Korea. However, for Kwon, "taking this road" had always meant debuting as part of a group, not carrying her own artistry alone.
A K-pop triple threat known for her singing and dancing abilities as well as her visuals, Kwon first debuted in 2014 as a member of girl group Ye-A. After the group's short-lived trajectory, she competed against 95 other trainees on the survival show Produce 48 in 2018, ultimately earning a spot in the 12-member group IZ*ONE as the leader. But IZ*ONE had a set date for disbandment. When the group's contract expired this April, it prompted Kwon to open a door into the unknown.
"When IZ*ONE disbanded, my company asked me how I felt about going on as a solo singer, and I wanted to [take up] the challenge," Kwon revealed. The 25-year-old is confident, yet sweet, with a crystalline voice that fits the English translation of her name Eun Bi (and her Instagram handle), silver rain. "I've been feeling very happy from the support and love I've been getting from a lot of people," she shared.
Kwon's debut EP, aptly named Open, came out on August 24. The cover art features various clones of the singer standing in front of a white door while being surrounded by golden butterflies — a portal to a metamorphic beginning. On the jazzy, playful single "Door," which she co-wrote the lyrics for, Kwon said, "When I first received the title track, I was contemplating how to unravel that story. That's how I got to thinking, 'What if I could transform [by walking] through a door?'"
That transformation is better shown in the music video for her title track, where Kwon travels through lavish sets inspired by Alice in Wonderland. Hopping in and out of those secret worlds, the singer discovers a new side of herself and her talents. "We put a lot of effort into the choreography. The dance scenes are very extravagant like musicals," she explained during her online media showcase.
Kwon believes that possessing multiple abilities as a solo artist is of utmost importance. "When I was in a group, if I was lacking in some parts, I had the other members to help fill it in," she admitted. "But because I'm alone [as a soloist], I think that I need that versatility to perform on stage." According to the singer, that's also one of the main differences between being a solo artist and a member of a group. "When I was in a group, there was more variety, it was more colorful. But now, being on stage alone, I have to think about the different expressions, dances and whatnot that I have to express by myself."
Although Kwon feels happy with this moment in her life, being on her own has its challenges. She is a person who enjoys being in the company of others. "First of all, the time spent on hair and makeup is a lot shorter," she chuckled. "But sometimes, I feel lonely and bored. And when it's time for celebrating, or when someone congratulates me, I feel even more lonely and miss my members."
Adapting to life without IZ*ONE members is one of the biggest challenges in Kwon's career, the other being waiting to debut as an artist when she was still a trainee. "I was very happy when I was going into IZ*ONE, and I wanted to do it really well," she reflected. "As the date for the group to disband [was approaching], I thought every day about what I would be able to do when it ended. I cried a lot." But if there's one thing Kwon learned through her years of experience, it's that she needs to "hold strong to survive." And that after surviving it all, "I will be able to succeed," she said.
To overcome the hardships, Kwon holds onto the things that inspire her, like writing songs. "When I create my own music, I'm able to tell my own story, that's what I like about it," she spoke passionately. "Recently, I wrote a song for my company's [Woollim Entertainment] group Rocket Punch, and I was very proud of myself for that." She also holds credits for a few IZ*ONE tracks, as well as "Door" and the b-side "Rain" off her debut EP. "I plan on continuing to write music for other artists. I would love to write a whole album one day," she said as an excited smile formed on her face.
Kwon's curiosity and will to experiment are pillars that will sustain the next steps of her unfolding road. Her favorite track on Open, for instance, is the whimsical, indie-leaning "Blue Eyes." "I like it because it's dreamy, and I haven't done many songs in that style," she noted. "I heard from fans that they like the new, fresh vocal style on that song."
While she doesn't feel like she has established her own identity, Kwon believes that it will come naturally as she continues to perform. "I don't necessarily think of myself as an artist yet, and I don't know when I will achieve that. I don't really know myself that well," Kwon expressed. "But I think I'm on my way. I think I opened the door to it."
---
Tássia Assis is a freelance writer covering culture and music, with a focus on K-pop. You can read more of her work here or follow her on Twitter.
---
Share this article