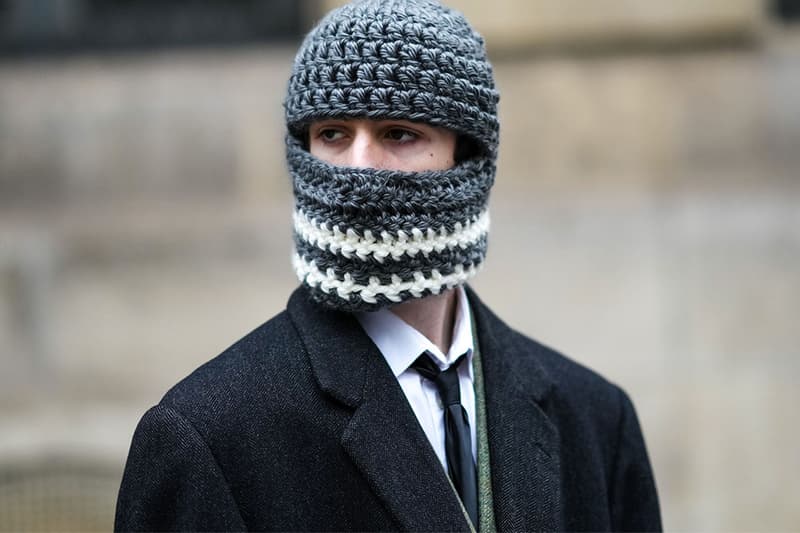 Fashion
TikTok Debates If Balaclavas Appropriate Muslim Culture
The latest street style trend is receiving backlash.
TikTok Debates If Balaclavas Appropriate Muslim Culture
The latest street style trend is receiving backlash.
Since Kim Kardashian's infamous 2021 Met Gala look, where she donned an all-black face-covering Balenciaga catsuit, the balaclava has become the It-girl winter fashion statement. Gaining popularity amongst celebrities and fashion enthusiasts alike, the head-warming accessory is everywhere this season.
The latest trend is starting to create backlash as many see the viral headgear as a white-washed version of the hijab, a religious head covering some Muslim women choose to wear. TikTok user @laurenblackborow posted a now highly criticized video, demonstrating how to turn a scarf into a balaclava, to which many responded that she was just showing her audience how to make a hijab. On Twitter, user @umvlkheir wrote, "Didn't they call hijabs and niqabs oppressive and ugly, now everyone wants to wear a balaclava. Funny how that works."
While it's worth noting that Prada has been including the balaclava in its designs since the 2000s, the recent chokehold the accessory has on the fashion world is unprecedented and cannot be disentangled from the violence Muslim women have experienced for choosing to cover their heads. Often scapegoated as a tool of oppression by the Western gaze, it is ironic that head coverings have now become trendy. In a TikTok video with over 200,000 likes, user @malihannes says, "If you're a Black, young man, it's called a hood and you can get murdered by the cops. If you're a Muslim woman, you can get 'hate-crimed."'
While it seems the winter accessory is here to stay as it offers a practical solution to the pandemic's mask requirements, it is important to consider the privilege that comes with wearing the garment.
Share this article