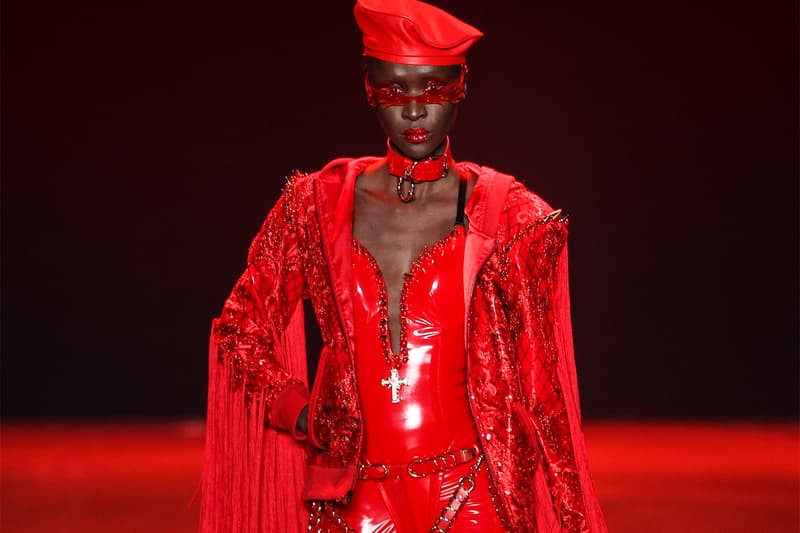 Fashion
A Look Back at The Blonds' 10+ Years on the Runway
From struggling artists to a New York Fashion Week star.
A Look Back at The Blonds' 10+ Years on the Runway
From struggling artists to a New York Fashion Week star.
The iconic fashion duo, The Blonds, have been dominating the industry for over a decade now. From seductive looks to domme-inspired fashion, it's safe to say the connection between founders Phillipe and David Blond is a perfect match for the runway. The two met on the night of Phillipe's prom, when he ditched the event to sneak into The Roxy in New York City. There, Phillipe met his future partner in crime, David, who was also a struggling NYC artist at the time. Together, the two hustlers combined their love of glam and rockstar life to create The Blonds.
During their 2016 interview for StyleCulture.tv, the power couple shared details of their relationship and the God/Goddess feel of their brand's 10th anniversary collection. When asked who they would be if they were Gods, Phillipe cleverly replied, "Aphrodite," the goddess of sexual love and beauty. David said, "I think I'd probably be Zeus, that's the only way I'd be able to keep control." Phillipe playfully agreed and boldly shared, "Yeah, he knows how to strike that lightning."
From The Blonds' runway shows, you can see that the duo have found the perfect flow and channeled it into a life of glam. Since the brand's launch in 2007, Phillipe and David's creations have continued to be luxe and over the top. Driven by their love of music and theatre, they've even created collections inspired by Disney villains and Moulin Rouge.
Whether it be jeweled catsuits and corsets or opulent evening gowns, each of The Blonds' designs highlights a different perspective of glam. One attendee of the brand's fashion show in 2016 called the presentation "the social event of the season." Over the years, Phillipe and David's pieces of art have been worn and celebrated by icons like Beyoncé and Rihanna, numerous times.
The Blonds is scheduled to close New York Fashion Week Fall/Winter 2022 on February 16 evening. Ahead of the upcoming presentation, indulge in our top five favorite runway moments from the brand.
MADE Fashion Week Fall/Winter 2014
Mercedes Benz Fashion Week Fall/Winter 2015
New York Fashion Week Fall/Winter 2017
New York Fashion Week Fall/Winter 2018
The Blonds x Moulin Rouge 2019
Share this article