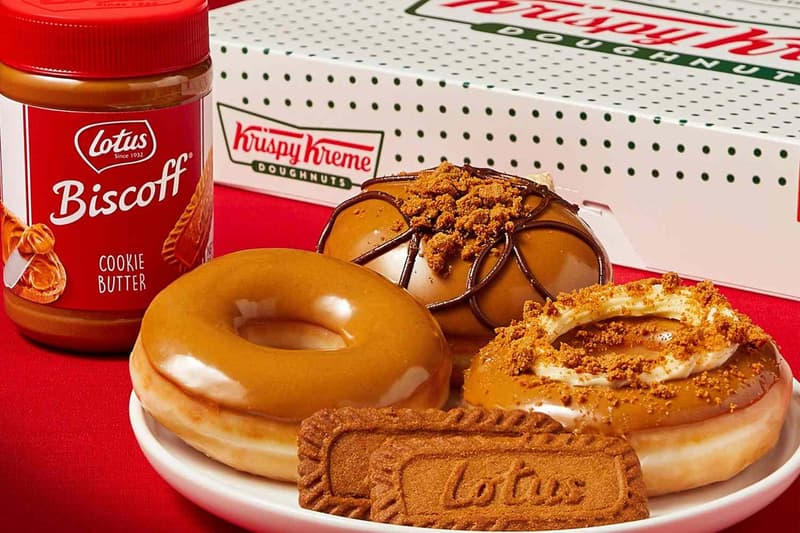 Culture
Krispy Kreme and Biscoff's New Donuts Are a Cookie Butter Kreme-Filled Dream
Topped with Biscoff Cookie Butter icing.
Krispy Kreme and Biscoff's New Donuts Are a Cookie Butter Kreme-Filled Dream
Topped with Biscoff Cookie Butter icing.
Krispy Kreme has joined forces with Biscoff for a range of three new donuts.
Offering an updated twist on Krispy Kreme's signature Original Glazed donut, the first new addition replaces the classic glaze with a Biscoff Cookie Butter icing. Next up is the Biscoff Cookie Butter Cheesecake Donut — which is a mouthful in more ways than one — and merges the Original Glazed donut with Cookie Butter icing and cream cheese buttercream, topped with smashed Biscoff cookies.
Rounding out the new selection is the Biscoff Cookie Butter Kreme-Filled Donut, which sees Biscoff Cookie Butter Kreme fill the inside of the regular shell donut. The donut is then dipped in Cookie Butter and dark chocolate icing, as if that wasn't enough.
"Our donuts made with Lotus Biscoff are popular around the world and it's definitely time for our U.S. fans to get a taste," Krispy Kreme's Global Chief Brand Officer, Dave Skena, said in a press release. "Both donut and cookie lovers will be amazed by this delicious combination," he added.
The new Krispy Kreme and Biscoff menu items are available now at select stores. What's more, customers who purchase any of the new range will also be offered a complimentary packet of Biscoff cookies, while stocks last of course.
---
Share this article