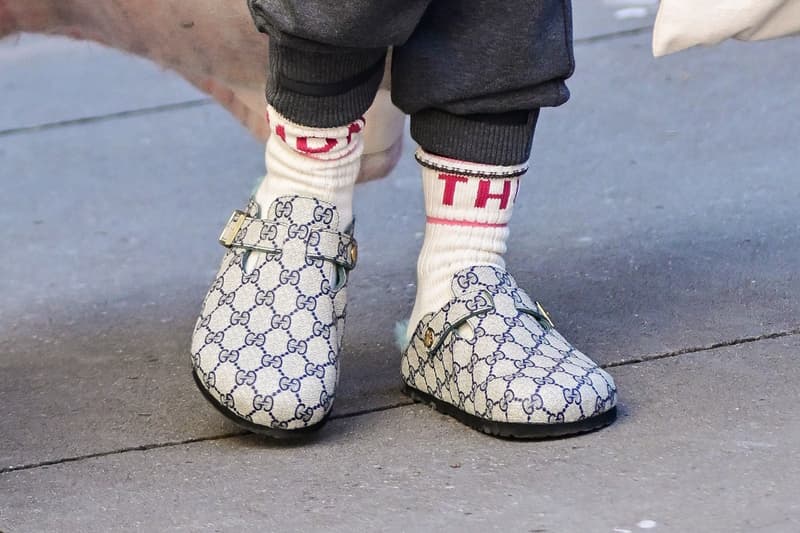 Footwear
A Gucci x Birkenstock Collaboration Could Be Coming Soon
Spotted on the set of 'Sex and the City.'
A Gucci x Birkenstock Collaboration Could Be Coming Soon
Spotted on the set of 'Sex and the City.'
A new Gucci and Birkenstock collaboration has been spotted on the streets of New York City, specifically, on the set of season two of Sex and the City.
Rumors of the collaboration began to surface after paparazzi shots of Sarah Jessica Parker were seen doing the rounds on social media and already — the internet cannot get enough.
The new clog appears to be an updated version of Birkenstock's Boston silhouette, which rose to fame back in 2022, adorned in Gucci's signature monogram print. Bradshaw was seen sporting the chunky clogs alongside a tie-dye shirt, vibrant colored cardigan and slim-fit grey sweatpants while walking down the streets of New York City.
While the pap shots seem to have sent the fashion world into a frenzy, it's actually not a surprising move for either party. For Birkenstock, recent collaborations have included the likes of Dior and Manolo Blahnik, while Gucci recently joined forces with London-based streetwear label, Palace, and workwear brand, Dickies.
As expected, release info for the forthcoming silhouette has been kept pretty under wraps, but we expect to hear more details pretty soon.
In the meantime, take a look at the latest from Jimmy Choo and Sailor Moon.
---
Share this article