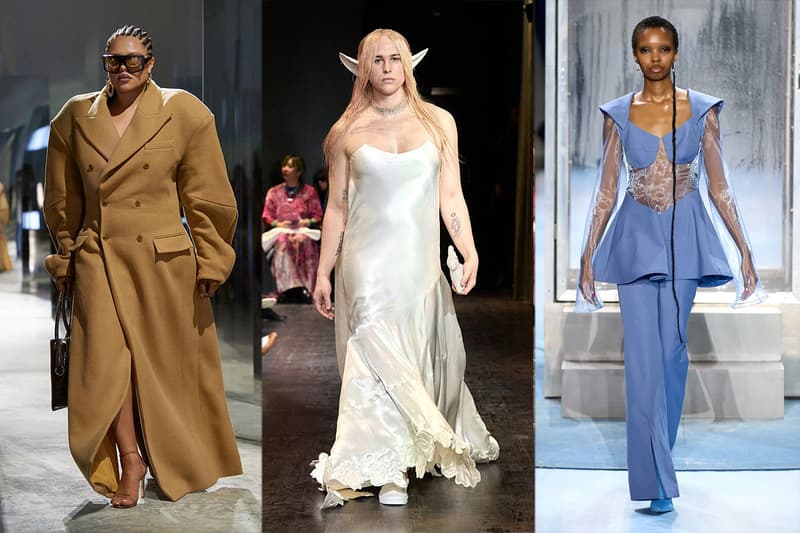 Fashion
All the Best Shows From New York Fashion Week FW23
From Luar and Collina Strada to Head of State.
All the Best Shows From New York Fashion Week FW23
From Luar and Collina Strada to Head of State.
New York Fashion Week Fall/Winter 2023 has finally come to a close and it is clear that brands did not come to play.
Collina Strada went full on Animorphs, casting models in animal-like prosthetics, while PH5 transformed plastic waste into avant-garde garments. There was a potent aroma of nostalgia in the air as labels like Dion Lee took a fresh approach to portraying moments from yesteryear. While Y2K has been all the rage, most designers are claiming the '90s, delivering ultra-thin eyebrows, chains wrapped around striped mini-skirts and heavy doses of denim alongside rebellious graphic T-shirts.
Although the season called for layers, and certainly provided, skin was on full display. Tight-fitting mesh served as a recurring character in a number of shows, like Head of State, leaving little to the imagination or offering abstract patterns. Elsewhere, lace made several appearances in the form of lingerie-inspired garments or more modest bloomers.
Continue scrolling to find our favorite shows from New York Fashion Week FW23.
The New York-based brand did not shy away from experimentation this season, taking a different look at the circle of life and incorporating animals into its collection. Models mirrored pigs, horses, lizards and roosters, wearing pointed ears and masks. Fanciful tulle enrobed legs, while silk cascaded down torsos, leaning into the fantastical display. Getting the Gen-Z memo that it's cool to wear clothes on top of clothes, skirts were worn on top breezy pants, whereas corsets cinched more formal blouses. Collina Strada's FW23 collection essentially invented camp.
Dion Lee delivers a rough and tumble aesthetic for NYFW, casting muses in fishnet body suits, distressed daisy dukes and harness-inspired detailing. Balancing a gritty approach with a softer touch, belts replace tops, while flowing chiffon is tailored into skirts. Powder blue stretch fabric is artfully cut into evening wear and updated with unexpected cutouts along the waist and clavicle. Outerwear is not left behind as heavy shearling is fashioned into formidable jackets, while the collection's most interesting piece, a transparent puffer, arrives in a smoky gray and Barbie pink.
Taofeek Abijako honors his father's sacrifice with Head of State's FW collection. Paying homage to Lagos' culture, namely its architecture, Abijako infuses each and every garment with the Nigerian city. Blazers equipped with corset boning and sheer panels are painted in a powder blue, reminiscent of the sky, while mini dresses with a levitating curved hems evoke a sense of levity and hard-earned freedom. No detail is missed as models' hairstyles are even sculpted to mirror Lagos' architecture, truly emphasizing Abijako's creative vision. For bereft fans of the now cancelled Gossip Girl, Evan Mock makes an appearance on the runway as the designer made his Met Gala suit.
Making history, Heron Preston debuted his NYFW first collection on February 11. The sartorial wunderkind demonstrated an acute observation and understanding of his audience, reinvigorating streetwear and returning it to its owners. The brand's FW23 presentation excels in tasteful layering, positioning frayed mini-skirts on top of pants, arming its wearers for the toils and troubles of everyday life with the assistance of chainmail balaclavas and protective wrap-around sunglasses. References to the It girl-favorite motocross trend are littered throughout the collection, while it retains its sense of subversive luxury with the use of faux fur handbags and leather opera gloves.
Closing NYFW, Raúl Lopez proved why he deserved the hallowed spot. The genderful collection paid homage to the women who treated the streets of Williamsburg as a runway, taking everyday errands as an opportunity to wear their best outfits. Shoulders were sharply structured and exaggerated beyond the point of no return, commanding attention and demanding respect. Each piece was treated with the expectation that one day it might be passed down as feathers peeked out of collars, adding extra value.
PH5 transformed its trademark wave motif and took us way down under the deep blue sea to imagine what life and fashion might look like if we lived underwater. Addressing climate concerns, the brand forces us to grapple with the reality of leaving planet Earth and the vast amount of plastic waste we might find in our new aquatic surroundings, thanks to our careless habits. Upcycled takeout bags, PH5 both assuages and stokes our eco-anxiety, exhibiting uber-saturated garments out of necessity.
Designer Carly Mark serves up a gothic gourmet feast with her unabashedly macabre FW23 collection for Puppets & Puppets. Grounded in a rich color palette of black and red, Mark uses art as inspiration. An excitingly ghastly gown with a dangerously protruding chest, depicts The Operation by Gaspare Traversi, a painting, which portrays the pained face of a screaming man being operated on without anesthesia. Crinkled dresses create optical illusions, while lace tights replace pants. Fried eggs and roses cover breasts, whereas elaborate beads cover faces, transfiguring models into the chandeliers one might find in an abandoned mansion.
---
Share this article