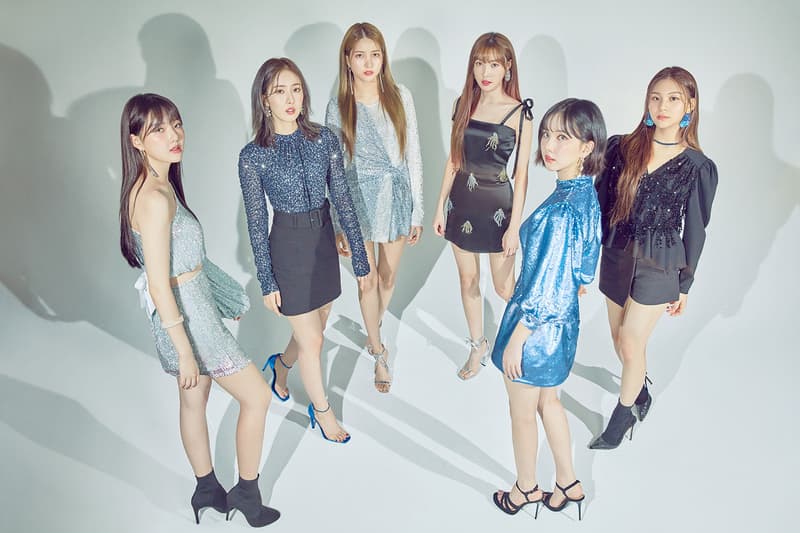 Music
GFriend Members Share Inspiration Behind Their First-Ever Japanese Album, 'Fallin' Light'
As well as their future plans on performing in more countries.
GFriend Members Share Inspiration Behind Their First-Ever Japanese Album, 'Fallin' Light'
As well as their future plans on performing in more countries.
With K-pop becoming a mainstream genre recognized around the world, idol groups like GFriend are now expanding their reach beyond South Korea. Upon the release of its first Japanese album, Fallin' Light, we spoke to the six-member team about its new music, ambitions as well as future plans.
Having debuted in 2015 under now-Big Hit Entertainment-owned label Source Music, Sowon, Yerin, Eunha, Yuju, SinB and Umji received much attention as the only girl group to be nominated for the Best Korean Act category at the 2015 MTV Europe Music Awards, alongside boy bands like BTS and GOT7. After gaining much popularity with its hit track "Me Gustas Tu" in its first year, GFriend scored its first music show win the following year with "Rough." In 2018, the group opened its first solo concert, followed by its Japanese debut, reaching number 10 on Oricon's weekly chart.
Amassing a strong fanbase in the neighboring country, GFriend members talked to us about the inspiration behind their latest album and what their Japanese fans can expect. Read our interview below to learn more about GFriend and its upcoming projects.
While you are here, take a trip down memory lane by checking out this timeline of how K-pop became a global phenomenon in the 2010s.
Could you tell us a little bit about your new album, Fallin' Light? What was the inspiration behind it, and what can your fans look forward to?
Light is often expressed as an angel's ladder in Japanese, which is why we used that as the theme of our track "Fallin' Light". The song was created during the song camp of IGGY, SYB and Carlos, the songwriter of our Japanese single "Memoria." Our fans can look forward to each member's refined emotions and facial expressions that fill up the track. We worked with pianist D.H. Jeong for a performance in the intro, which harmonizes with passionate orchestral instrumentation.
The K-pop industry has grown so much, now with more idol groups than ever. How do you think GFriend as a group appeals to fans worldwide?
We believe that as a group, GFriend has an outstanding musical identity. Also, we are happy to see that the energy we give off during our performances appeals in a good way.
You will soon be celebrating your fifth debut anniversary. How do you think the group has grown over the last five years, and what are some aspects you would like to work on in the future?
We did not choose an easy road. We focused on ourselves each and every moment and tried to grow by sharing stories that were most relevant to us during those moments. As we have done so far, we will continue to grow and wear the colors and fits that suit us best. We will strive to improve as individuals and as a group. We cherish every moment with our fans, of course, but we're most focused and determined on stage because we wish to give our fans the best performance we possibly can.
What are your plans following your first Japanese album release? Do you plan on expanding further, globally?
We will have the last show of our Asia Tour GGG alongside promotions for our Japanese album. We will also be performing at various year-end events. We're really excited to share new stories with our fans and will be working to better ourselves for the next time we meet.
How would you describe each of your styles? Where do you look to for fashion and beauty inspiration?
SOWON: In Korea, we like to shorten all kinds of phrases — my favorite is "ggu-an-ggu" (꾸안꾸), which is short for "stylish without effort" (꾸민 듯 안 꾸민 듯). I like anything that's simple and has an eye-catching aspect at the same time. I love monochromatic looks and as for accessories, I'm into rings and earrings.
YERIN: I enjoy trying out different types of dresses. When it comes to fashion and beauty, I explore and take inspiration from online shops and social media. I tend to try new things to see what suits me best.
EUNHA: I like oversized clothes. I usually wear sportswear on my off days. I like to describe my style as "soon to be stylish," since I'm always looking for new looks to try out.
YUJU: I usually like to add accentuating accessories to finish off a clean look.
SINB: I used to prefer wearing simple outfits, but recently I've been trying out so many different styles that it is hard to pin down just one. I also like playing around with colors to lighten up my wardrobe. I get most of my inspiration from runway shows as well as social media.
UMJI: It's rather hard to define my style. I usually like to put on a cardigan or zip-up over a T-shirt, or I go for more comfortable options like sportswear at times.