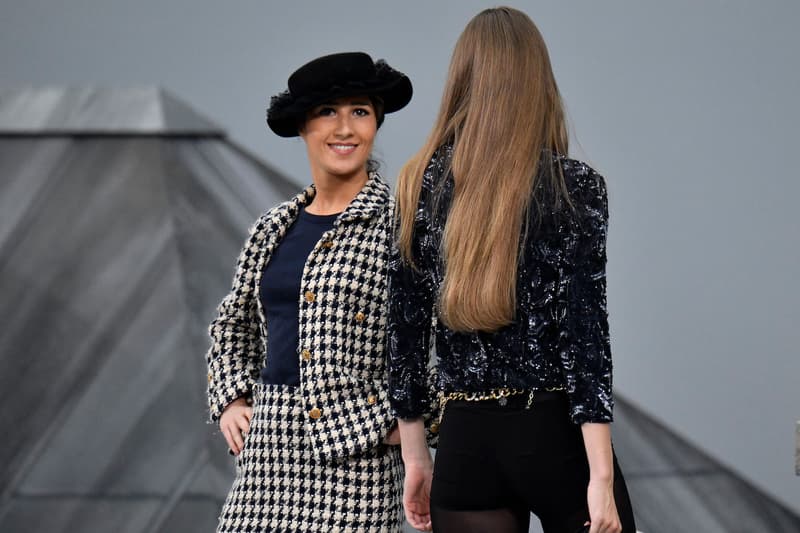 Fashion
The Most Talked About Moments During Fashion Month SS20
Gigi Hadid saves the day after someone crashes the Chanel finale.
The Most Talked About Moments During Fashion Month SS20
Gigi Hadid saves the day after someone crashes the Chanel finale.
With shows from Chanel and Louis Vuitton for the grand finale, Fashion Month has finally come to an end. From New York and London to Milan and Paris, we've rounded up some of the most talked about moments this season.
In New York, Tom Ford invited guests to the underground world for a runway set in a subway station, and Rihanna debuted her Savage x Fenty show which is available to stream on Amazon Prime Video. Meanwhile, Gigi Hadid walked the runway barefoot at Marc Jacobs' Spring/Summer 2020 show after breaking a heel.
Taking the crowd to London, Victoria Beckham launched her eponymous beauty line along with her new collection, while a climate change activist group took to the streets to protest against the environmental harm caused by fashion. Kendall Jenner unveiled an entirely new blonde hairstyle on the Burberry runway.
In Milan, J. Lo took the Versace runway in a green dress reminiscent to the one she wore to the Grammys in 2000, while an unplanned protest was staged at Gucci. Meanwhile, "Baby Shark" accompanied catwalk looks at GCDS and A$AP Rocky was spotted chewing on some snacks while sitting front row.
Lastly in Paris, Cardi B took the streets in a full Richard Quinn outfit from head to toe, resembling fashion influencer Checking Invoices spotted at Milan Fashion Week. Meanwhile at Chanel, Gigi Hadid saved the finale when a prankster decided to jump on the runway.
Scroll down to take a full look at all the highlights from this Fashion Month. While you're here, read about how BLACKPINK became Fashion Month's unlikely heroes. 
A French YouTuber and comedian jumps on the Chanel runway.
Virginie Viard transformed the Grand Palais into a landscape of Parisian rooftops, where models strutted in "Nouvelle Vague" outfits. During the finale, someone from the audience decided to crash the runway. Later identified as Youtuber and comedian Marie S'Infiltre, the prankster was taken down from the stage by none other than Gigi Hadid.
After seeing anonymous duo influencer Checking Invoices take over Milan Fashion Week, Cardi B took to the streets in a full Richard Quinn look. "Make sure a car doesn't hit me, because this b*tch cant' see," the musician tells photographers as she crosses the street with the Eiffel Tower in the background.
Models bounce around in dreamy, playful dresses falling from the sky at Issey Miyake.
Guests were mesmerized when hoops of Issey Miyake dresses fell from the ceiling, sliding right onto models. Instead of a conventional catwalk, models danced around in the colorful, bouncy outfits.
Courrèges' show was all about this dramatic entrance.
Artistic director Yolanda Zobel invited guests to a set of chairs lined up along the Canal Saint-Martin. Models appeared standing on a boat alongside singer-producer Lafawndah.
Model Leon Dame takes the spotlight with his power walk at Maison Margiela.
Leon Dame was the biggest hit on John Galliano's Maison Margiela runway, showing off a power strut that caught the audience's eye. The 20-year-old German model was trained by Pat Boguslawski for this particular performance of heavy stomping and powerful glares.
Jennifer Lopez closes Versace with this iconic green dress.
Social media blew up when the 50-year-old singer and actress took the finale at Versace in a green gown resembling the one she wore nearly 20 years ago to the Grammys.
"Baby Shark" makes its Fashion Week debut at GCDS.
"Baby Shark" has been taking the world by storm, with James Corden singing the toddler-favorite with Sophie Turner on The Late Late Show last year. This season, the song made its fashion debut by accompanying dinosaurs and manga-themed looks on the GCDS runway.
A non-binary musician artist also known as YaYa Bones, Ayesha Tan Jones took the audience by surprise on the runway when she raised her palms to reveal the message, "mental health is not fashion." After the show, the model took to social media to explain the unplanned protest that, "as an artist and model who has experienced my own struggles with mental health, it is hurtful and insensitive for a major fashion house such as Gucci to use this imagery as a concept for a fleeting fashion moment."
What are A$AP Rocky and Lou Dillon chewing on while sitting front row at Gucci?
Along the star-studded front row seats at Gucci, A$AP Rocky and seatmate Lou Dillon were spotted on what seem to be Pocky sticks.
These cute kid models steal the finale at Richard Quinn's show.
While the designer's show was off to a bumpy start with delays and technical difficulties, all were forgiven when a group of children wearing miniature versions of the finale outfit took the runway.
On her first runway of the season, the 23-year-old model strutted in a new blonde hairdo, wearing a jacket with a black fringed midi skirt. The last time we spotted the star in blonde was a wig she wore to dress up as a fembot for Halloween last year.
While London is gearing up for its fourth day of Fashion Week, climate activist groups like Extinction Rebellion have been taking the streets to protest the environmental harm caused by fashion and consumerism. According to Vogue, prior to LFW the group petitioned the British Fashion Council to shut down the week-long event as a whole. XR kicked off the week by showing a graphic protest of fake blood symbolizing the lives that have been and will be lost due to the impacts of the fashion industry.
Victoria Beckham finally launches her beauty line.
Initially announcing the launch of her eponymous beauty line back in February, the designer finally revealed the entire collection for Victoria Beckham Beauty, along with her SS20 runway show in the city. The lineup, featuring makeup essentials like palettes, eyeliners and eyeshadow pots, boasts deep smoky, brick-like shades.
"I want to perform like it's my last time playing," the singer explained before taking the stage at a Jazz Age-era nightclub that transformed into Ralph's Club for the night. Sporting a tuxedo-style dress, Janelle Monáe exuded powerful energy by stepping on tables and splashing champagne during her performance.
Pyer Moss celebrates black femininity with a grand choir singing Cardi B's "Money."
Creative director Kerby Jean-Raymond invited guests to Flatbush, Brooklyn for a collection, dubbed "Sister," centered around artists like Rosetta Tharpe, Erykah Badu, Lauryn Hill and Missy Elliott. Three rows of singers took the stage, singing songs like Cardi B's "Money" and Missy Elliott's "Rain (Supa Dupa Fly)."
With the supermodel's natural and sexy strut on Marc Jacobs' runway, guests didn't realize Gigi Hadid being barefoot was actually an accident until stylist Katie Grand revealed the behind story on an Instagram post. "In the first opening 'finale' of Marc's show Gigi's heel broke – if you see images from the first passage she has thigh high silver socks and white leather mules," Grand explained. Instead of replacing the mules with another pair of shoes, the stylist believed the look would be more natural without shoes at all.
Rihanna's Savage x Fenty show, taking place at the Barclays Center in Brooklyn, featured star-studded performances by Halsey, Big Sean, Migos, Tierra Whack and Normani. Unlike last season, guests were asked to leave their phones and cameras outside as the show is slated to air on Amazon Prime Video on September 20. With celebrities taking to social media to comment on the show, fans are more than excited to peep what went down that night in New York.
Tom Ford takes his runway underground in a working subway station.
For his SS20 collection, Tom Ford invited guests to an abandoned platform in Bowery subway station. The designer revealed that the show venue was inspired by Luc Besson's 1985 film Subway, along with a photo of Andy Warhol and Edie Sedgwick pictured coming out of a manhole.
Only one model is needed for Tomo Koizumi's presentation.
18-year-old Ariel Nicholson was the one and only model who went on stage for Tomo Koizumi's presentation. Appearing in a tight black bodysuit and spiky hairdo, Nicholson stepped into a puffy dress covered in bright pink hues, changing into a total of seven garments on stage while showing off dramatic and theatrical gestures.
Share this article