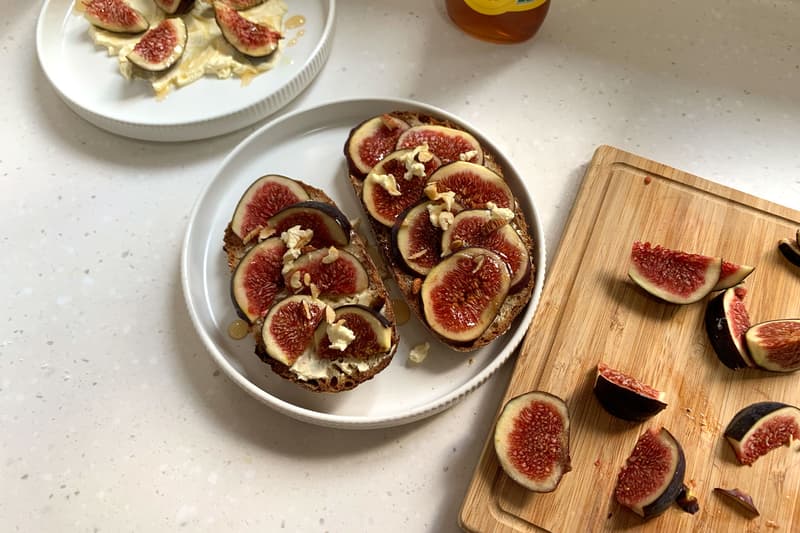 Culture
How to Make Fig, Cream Cheese and Honey Toast
Here's an easy recipe for the ultimate fall breakfast.
How to Make Fig, Cream Cheese and Honey Toast
Here's an easy recipe for the ultimate fall breakfast.
It's that time of the year again when many of our Instagram feeds are filled with pictures of aesthetic fig dishes. For those looking for an easy breakfast or brunch idea to try, we've put together a quick guide to making one of fall's most popular recipes: the delicious fig, cream cheese and honey toast.
From jams to salads, figs are loved for their versatility and beautiful colors. A recent report by Waitrose even reveals that fresh fig sales have risen by 52 percent year on year. While typically used for preparing Middle Eastern dishes, the seasonal fruit has been increasingly used in breakfast recipes in recent years.
Here, we're introducing one of the simplest fig dishes you'll most likely have come across on social media. The recipe calls for ingredients that are probably already sitting in your pantry, including cream cheese and honey. The contrast between creamy and juicy mouthfeel, as well as the delectable blend of salty and sweet flavors, make this the perfect autumnal breakfast.
Continue reading to make fig, cream cheese and honey toast with us. For more seasonal recipes, learn how to make pumpkin spice latte at home.
Ingredients
Sourdough or soft whole wheat bread
Cream cheese
Figs
Olive oil
Honey
Optional
Ricotta cheese
Sea salt
Any type of nuts
Recipe
1. Leave the cream cheese at room temperature to soften.
2. Toast your bread.
3. Cut figs into thin slices. Feel free to get creative and experiment with different shapes.
4. Spread cream cheese on the toast. The soft, sticky texture will serve as a base to keep the fig slices in place.
5. Place figs on toast.
6. Drizzle olive oil and honey.
7. Finish off with toppings of your choice. Add sea salt to amplify the sweet taste, or sprinkle crushed nuts and bits of ricotta cheese for a nutty flavor.
8. Serve with a morning drink of your choice, such as coffee, tea or juice.
---
Share this article