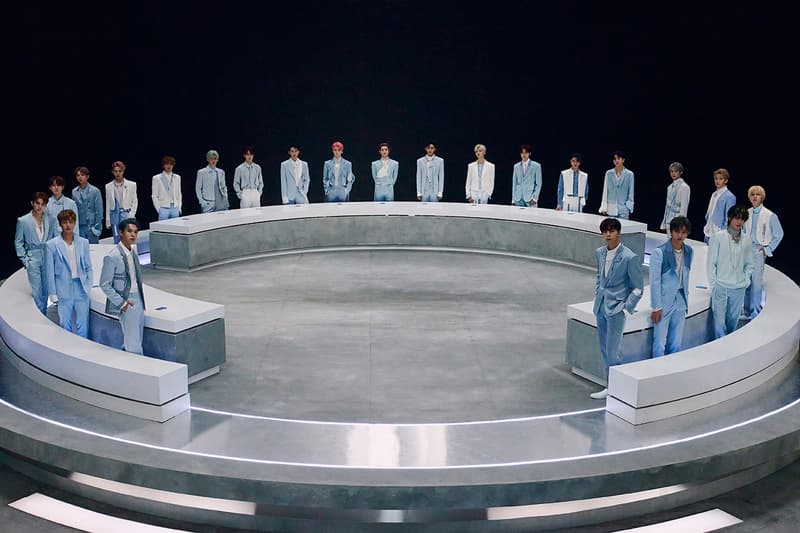 Music
Can You Keep Up With NCT's Musical Universe?
The 23-member K-pop group has made an explosive comeback with new album, 'RESONANCE Pt. 1.'
Can You Keep Up With NCT's Musical Universe?
The 23-member K-pop group has made an explosive comeback with new album, 'RESONANCE Pt. 1.'
With 23 members that come from across Asia and the West, performances that raise the bar and personalities as diverse as their backgrounds, Neo Culture Technology (aka NCT) is the future of music and a beautiful representation of the diversity in K-pop.
Two years after releasing EMPATHY when there were only 18 members, the group is back with a new album that pushes stylistic boundaries and adapts to the current world climate. NCT 2020 presents us with RESONANCE Pt. 1, with title tracks that showcase their musical range — from the energetic hip hop-pop track "Make a Wish," to the slow crooning emotional ballad "From Home". RESONANCE Pt. 1 features unit songs as well, like NCT 127's "Music, Dance," NCT Dream's "Déjà Vu" and WayV's "Nectar". Each one dips into the taste of their respective groups, and NCT U makes up the rest of the album, mixing and matching various units of the 23 members who best suit the specific track. They also filmed track videos for "Misfit," an old school hip hop/rock fusion reminiscent of Run DMC, and "Déjà Vu," which shows Mark Lee's return to the youngest unit, NCT Dream.
It's close to midnight in Seoul when I join the Zoom call with seven members of NCT, but the members are still as ebullient as ever. Jaehyun, Doyoung, Taeyong, Lucas, Xiaojun, Jaemin and Shotaro come together for "Make a Wish," the song that recently broke an SM Entertainment record by becoming the fastest music video to reach 60 million views from the company. RESONANCE Pt. 1 sold over a million copies in its first week of release, a first for the group. If you didn't know about NCT before, you'll definitely want to catch up now.
Taeyong, the 25-year-old leader, says RESONANCE marks a progression from EMPATHY. "We added two new members [Shotaro and Sungchan]. These guys are really, really amazing. And our music is so different too, because now we are in the pandemic, and our lyrics mean we can overcome this right now, and we're more confident and powerful. We are definitely more grown-up." Taeyong's endearing leadership qualities are palpable even through Zoom, as he constantly takes the lead to answer questions in both English and Korean, while still inviting the other members to contribute. Despite being the leader, he jokes around quite often, creating an aura that's both collaborative and free for expression.
Breaking down "Make a Wish," Jaehyun explains that doing both a Korean and English version of the title track was decided with international fans in mind. English versions of songs are nothing new for NCT, as songs like NCT 127's "Regular" and "Highway to Heaven," and Chinese sub-unit WayV's "Love Talk" and "Bad Alive" already demonstrate a desire to include and better relate to a global audience. As Jaehyun puts it, "the song is similar but the detailed meaning of the lyrics and the vibe is kind of different." He chuckles, but explains that it needs no further explanation, the music speaks for itself. "People who listen to our song will know what the difference is." This inspires enthusiastic agreement from the rest of the members.
While it's not uncommon to make art inspired by the world's circumstances, NCT's unique theme is a refreshing and uplifting contrast from other releases this year. The song is definitely special — vocalist Doyoung shares that "Make a Wish" aims to give listeners a positive vibe and deliver positive energy. He says, "The reason why the birthday song was added as the theme is because on your birthday is when you make wishes usually, so that's just another spin on it. And we included that in the lyrics as well." In typical NCT fashion, the celebratory track is not your average birthday song, but one that makes you want to get up and dance, a vibrant distraction from the negativity that has pervaded much of this year. This sort of innovative branding is exactly what NCT is all about, and the reason why they're receiving the well-deserved attention from music fans galore.
Xiaojun, a Chinese member of WayV who is making his NCT U debut with this album, is excited to join in on the fun. "The rhythm, the flow, the melody, I naturally just feel so happy. There are a lot of fun songs on this album." Speaking on recording during the pandemic, he makes sure to shout out their NCTzens, "We do anything for the fans because they love us and we love them, and we'll find any solution to let them see us." Like many other members on the NCT roster, Jaemin from NCT Dream and Doyoung from 127 both recently opened Instagram accounts, further creating content for fans.
This album sees the introduction of two new members, as Taeyong mentioned. Shotaro, a Japanese 19-year-old rapper and dancer, who has already won the hearts of the fans, is excited to finally debut. A true Gen-Z personality, fans have raved over Shotaro's popular TikTok account from before he debuted. "I hope to bring new energy into the group and want people to expect that from me. I'm confident in my dancing skills so I want fans to look forward to that as well."
Speaking on the brevity and nuance present on the 13-track album, Taeyong points out, "One of the genres or styles I really wanted to try is that old school retro vibe, and that's been really trendy recently as well." The old school manifests itself primarily through R&B and hip hop, with a fusion of other genres that give the album a modern feel. "If you listen to our album, you'll notice that obviously we have a more traditional kind of ballad, but we also have other tracks that are more old school and have that retro vibe." The group's collective choice for a standout track is surprisingly not one of the titles, but the "Interlude: Past to Present," which fits perfectly in the middle of the album. "It explains NCT and kind of introduces the group within the music," Taeyong elaborates.
The guys then begin narrating the most fun part of filming their music video for "Make a Wish": riding the chandelier. Taeyong describes it as "very, very awesome." And while Jaemin, Shotaro, Doyoung and Xiaojun watch with smiles on their faces, Lucas demonstrates how he rode the chandelier, Jaehyun explains the technical part, and Taeyong sings. All in all, the energy is chaotically radiant.
The interview concludes with more smiles and laughs, as the members of NCT serve as their own entertainment, due in part to their shared passion for performance and also the inherent chemistry built from the frontrunners of one of the most innovative projects in music. Though 23 members may sound like a lot to newcomers, it's quite easy to adapt to the family-like atmosphere the group exudes when they come together. Taeyong and Jaehyun sum up their community as "classmates" or a "school," and Xiaojun shares his own wish for the impact of the album, "I want fans to take away more reasons to love us." Mission accomplished.
---
Ashlee Mitchell is a US-based freelance writer with a focus on Asian and Black pop culture. Her work can be found in Teen Vogue, i-D, Dazed and others. You can connect with Mitchell on her website and Instagram.
Share this article