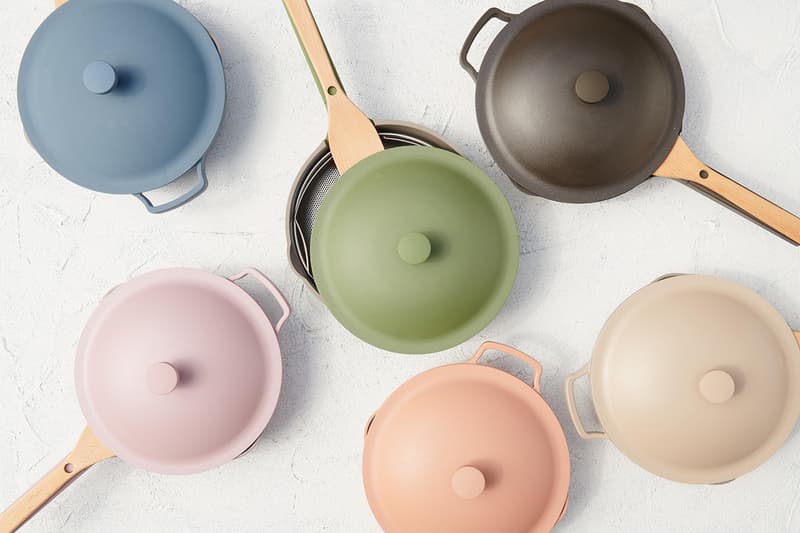 Home
12 Tasteful Kitchen Gifts for Anyone Who Loves Cooking
Cookware, tableware and small appliances that make at-home dining enjoyable.
12 Tasteful Kitchen Gifts for Anyone Who Loves Cooking
Cookware, tableware and small appliances that make at-home dining enjoyable.
Whether you're shopping for a birthday present or a housewarming gift, kitchen gadgets and utensils are some of the most thoughtful and practical items that you can give someone. From coffee makers to frying pans to complete sets of cutlery, these new additions will take your recipient's at-home cooking and dining experience up a notch. Here, we highlight 12 tastefully designed kitchen gifts — spanning modern cookware, sleek dinnerware and cool drinking glasses — that are sure to spark joy.
Read on for our gift guide and while you're at it, here are some of the best kitchen appliances for minimalist homes.
For Making Breakfast
What better way to brighten up someone's morning than gifting them breakfast- and coffee-making appliances that are both stylish and useful? HAY's newly launched electric Sowden Kettle comes in a rainbow array of color options to suit different tastes. The classic EM77 French Press will be endlessly appreciated by any fan of Danish design, while BALMUDA's signature toaster will delight those who enjoy fresh-tasting morning pastries.
For Cooking
For beginners and serious home cooks alike, consider giving culinary supplies that will make prepping meals in the kitchen all the more fun. Caraway's Dutch Oven and Our Place's Always Pan — the latter of which conveniently comes with a steamer basket and a wooden spatula — are some of the chicest cookware you'll find on the market. Premium pantry essentials, like Oracle's small-batch Greek extra virgin olive oil, will make your recipient feel extra special.
For Dining
Offer someone an elevated dining experience at home with gifts of unique tableware, like this stackable Heller dinnerware set, or gold-plated forks, spoons and dinner knives. MENU's understated bottle spice grinders, an upgrade of your typical salt and pepper mills, will add the perfect finishing touch to any table.
For Drinking
Made for sipping, these gifts will impress anyone who loves having a fancy drink at home every once in a while. From a minimal stainless steel cocktail mixer, to sophisticated tumblers and coupe glasses, these elegant designs will certainly raise the bar.
Share this article