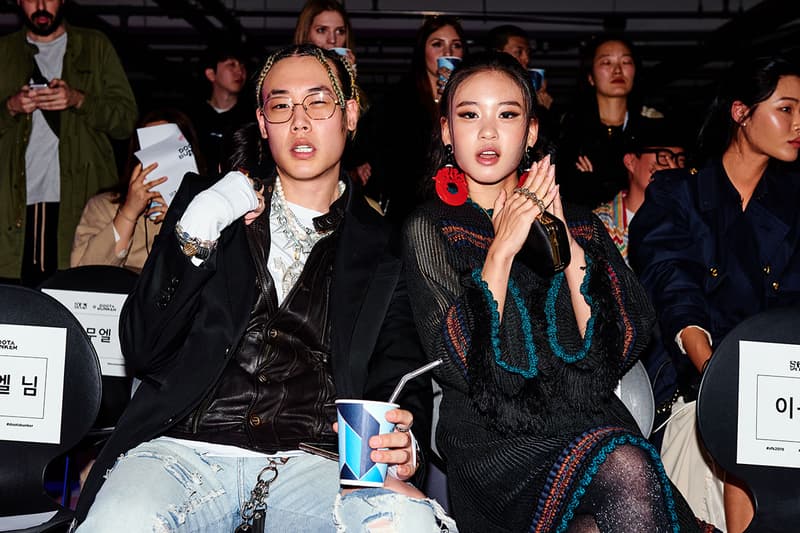 The Top 5 K-Hip Hop Artists to Watch in 2020
Lil Cherry & Jito Mo, Sogumm, Swervy and more.
While K-pop has taken over the world over the last decade with supergroups like BTS and BLACKPINK, K-hip hop is another growing genre in the music industry of the country. Below, we've put together a list of South Korea-based hip hop artists to watch this year.
Kicking off the roster is Lil Cherry & Jito Mo, a sibling duo known for mumble rapping and unique music video styles, who were also spotted sitting front row at IISE during Seoul Fashion Week last September. YUNWHAY and Sumin are known for creating their own style of music rather than sticking just to hip hop, fusing various genres like electronic and R&B together. Adding to our list is hip hop crew Balming Tiger's Sogumm, an emerging artist who made her breakthrough through collaborations with musicians like dress and YUMDDA. Swervy is another name to watch as a groundbreaking musician being the only woman signed with record label Hi-Lite Records.
Continue reading to learn more about these K-hip hop artists. For more on music, don't forget to check out all the music festivals happening in the UK this summer.
On the rise for their unique style of mumble rap and lyrics that are sometimes incomprehensible, sibling duo Lil Cherry & Jito Mo joined their current label Sauce Cartel last year in May, shortly after leaving WEDAPLUGG, a record company owned by rappers Swings and Giriboy. Having spent their teenage years in Miami, Lil Cherry and Jito Mo both enjoyed creating, from writing poems to illustrating, which led up to their career as musicians today. The two artists most recently released "MUKKBANG!," a track inspired by "mukbang," a word indicating a video in which the host eats food while interacting with his or her audience. Other music videos from the duo also include visual components inspired by Korea such as "get a whiff of dis."
Currently signed with WEDAPLUGG, YUNWHAY gained presence in the Korean hip hop community through her appearance on the eighth season of Show Me The Money. After her debut in 2015 with her digital single "Fatal Love," the artist has dabbled in a various range of music styles including R&B, hip hop, electronic and more, mentioning in an interview with Allure Korea that she doesn't want to be defined as an artist with one specific genre. Known for frequently using the word "teriyaki" in her music thanks to her parents who own a teriyaki restaurant in USA, YUNWHAY has most recently released her album INSTANT and will be returning this year with more music.
Releasing her first solo album in October 2019, Sogumm kickstarted her career with hip hop crew Balming Tiger. Now signed with Jay Park's record label AOMG, the singer gained popularity through collaborations with artists like dress and YUMDDA — her joint album Not My Fault with dress featured big names in the industry such as Punchnello, Penomeco and Woo Won-jae. Followed by her recent album Sobrightttttttt, Sogumm is continuously building her portfolio both as a solo artist and member of Balming Tiger.
Having written songs for K-pop groups like Red Velvet, Sumin is a multi-faceted artist who creates a mix of hip hop, electronic and bass music to create what she calls "Neo K-pop." The singer-songwriter won Best R&B and Soul at the 2019 Korean Music Awards, becoming a name to watch not only in the world of Korean hip hop but also in K-pop. She made her breakthrough with "U & Me," a collaborative track with Jinbo, and was recently introduced on MBC's reality show Hangout With Yoo.
The only female musician signed with Paloalto's Hi-Lite Records, Swervy made an appearance on Show Me The Money, gaining presence for her unique style. The 19-year-old artist jointed the record label after moving from Russia back to Korea to pursue a career in hip hop. A creative known for her music and art direction that is both distinctive and diverse, Swervy is expected to roll out more music this year following her latest track titled "ART GANG MONEY" featuring Reddy.