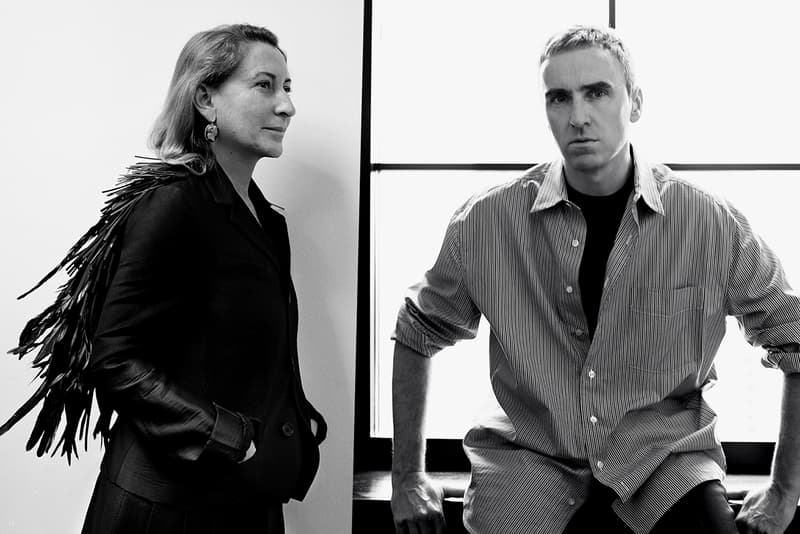 Fashion
Raf Simons Joins Prada as New Co-Creative Director
Miuccia Prada confirms the news at a Milan press conference.
Raf Simons Joins Prada as New Co-Creative Director
Miuccia Prada confirms the news at a Milan press conference.
Raf Simons has landed a new role at Prada, joining Miuccia Prada as co-creative director of the Italian fashion house. The announcement was made Sunday, just a few days after Prada's Fall/Winter 2020 runway show, at a Milan press conference. Starting April 2, Simons and Prada will work together and share "equal responsibilities for creative input and decision-making" for the brand, according to an official press release.
The news came as no surprise for those in the know, as rumors of Simons heading to Prada Group had been swirling around in the fashion sphere for months. The duo's relationship dates back to 2005, when the Belgian designer was appointed to helm Jil Sander by Mrs. Prada's husband and business partner, Patrizio Bertelli. Simons later took the position of Creative Director at Dior in 2012, before moving on to Calvin Klein as Chief Creative Officer in 2016.
Despite receiving much critical acclaim with his work at Calvin Klein, Simons' partnership with the American brand wasn't exactly commercially fruitful, leading to his premature exit from the company in December 2018. In an interview with The Cut, the 52-year-old designer said that it was immediately following his CK breakup when Bertelli approached him to discuss the future plans of Prada. Prada, now at 70, told the publication that the decision to hire Simons isn't preparation for her retirement.
Miuccia Prada and Raf Simons' first Prada collection as co-creative directors will debut this September, during Milan Fashion Week Spring/Summer 2021. For loyal fans of both designers, this upcoming collaboration could be one of the most powerful in fashion history.
---
Share this article