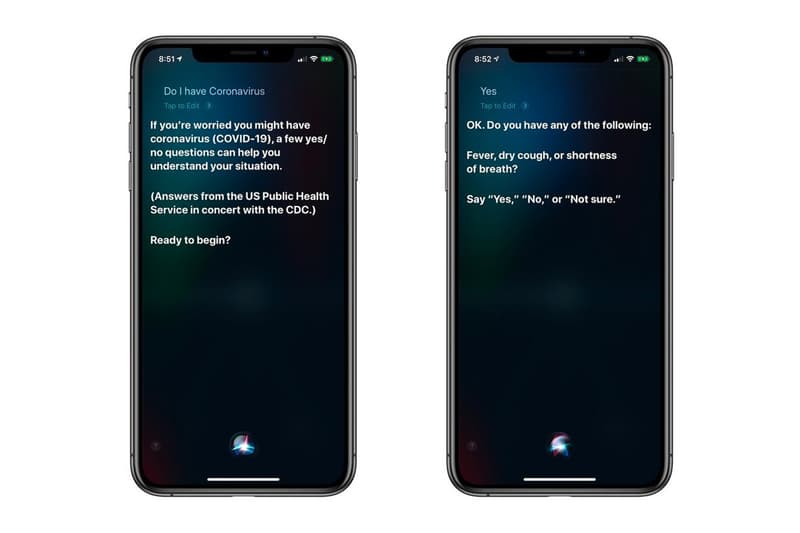 Health
Apple Adds Coronavirus Symptoms Questionnaire to Its Siri Function
Another step towards flattening the curve.
Apple Adds Coronavirus Symptoms Questionnaire to Its Siri Function
Another step towards flattening the curve.
The ongoing coronavirus pandemic has impacted the world unlike anything we've seen before, and with more cases popping up on the daily, the bulk of the population has been encouraged to self-isolate and work from home, if possible. To help people navigate symptoms and questions surrounding the COVID-19, Apple has introduced a new feature to its Siri function available in the US.
Now, the virtual assistant offers a questionnaire that has been developed alongside the Center for Disease Control and the United States Public Health Service, helping users to identify symptoms as well as directing users to the appropriate authorities. The new feature has been introduced after Apple has donated millions of surgical masks to healthcare professionals in the US and Europe. "Our teams at Apple have been working to help source supplies for healthcare providers fighting COVID-19," said Apple CEO Tim Cook, adding,  "We're donating millions of masks for health professionals in the US and Europe. To every one of the heroes on the front lines, we thank you."
For more news surrounding coronavirus, Bottega Veneta has just launched the Bottega Residency to boost creativity and strength during the time of self-isolation.