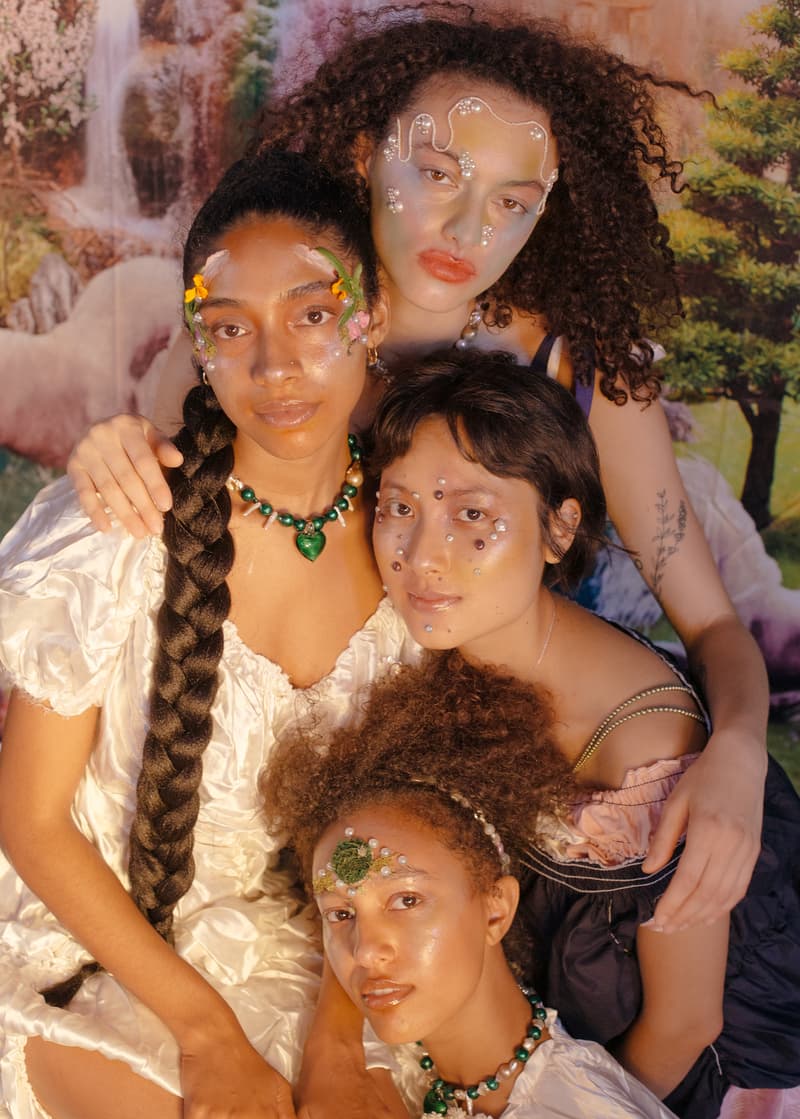 Thanks to a Crop of Young Designers, Pearls Shed Their Stereotypes
The antiquated adornment takes on new meaning.
Fashion
Thanks to a Crop of Young Designers, Pearls Shed Their Stereotypes
The antiquated adornment takes on new meaning.
Pearls are in the midst of a major fashion renaissance. Once a sign of unattainable luxury favored by wealthy grandmothers and private school students à la Blair Waldorf, the gems are shedding their antiquated implications.
Thanks to a crop of designers using the polished, shiny objects in fresh and innovative ways, pearls are seeing a contemporary update. "The single pearl strand has graduated and reinvented itself on new silhouettes from choker necklaces to anklets" says Hallie Spradlin, Accessories Director of trend forecasting agency Fashion Snoops. "It's a favorite among 'cool' girls as a touch of elevation that feels both modern when paired with streetwear, yet familiar in its classic-ness."
Originally reserved for rulers of ancient Egyptian, Roman and Chinese civilizations, pearls have always signified prestige and wealth. Spradlin cites references to pearls in Hindu teachings and the Koran to further prove their precious and powerful connotations. The pearl remained a symbol of "supreme luxury and effortless grace" throughout the 20th century, worn by Old Hollywood stars Grace Kelly and Audrey Hepburn, as well as First Lady Jackie Kennedy, ultimately defining the "ladies who lunch" look that has endured  — at least until recently.
Nowadays, pearls are being used in a range of inventive ways, from adorning jewelry and hair clips to embellishing accessories and outfits. The rise of pearls hasn't escaped industry experts, such as Jane Collins of trend forecasting company WGSN. "We have been tracking pearls at WGSN since late 2015, when we noticed a slew of contemporary fine jewelry designers redefining their conservative aesthetic," the Senior Footwear and Accessories Editor says. "These styles have since been picked up by key influencers and adopted by younger influential costume jewelry brands, allowing them to make their way into the fashion market." Collins also acknowledges the inclusion of pearls in the Spring/Summer 2020 collections of several major luxury brands including Chanel, Miu Miu and Burberry
Simone Rocha's penchant for pearls dates back several seasons. Most recently, the designer debuted a massive pearl purse in her SS20 collection at London Fashion Week. Gucci Creative Director Alessandro Michele also favors the embellishment — he sent hefty pearl earrings and necklaces down the runway of his Resort 2020 show. Two years prior, models at Gucci's 2018 Cruise show even sported pearl-embellished eyebrows. Other designers are tapping into pearls too: GANNI has continued selling a pearl-fringed knit for several seasons due to its continued popularity while 3.1 Phillip Lim touts a faux pearl brooch sweater.
Even FENTY has embraced the trend: Rihanna's recent Cameo collection for the brand includes pearl-framed rings, earrings and necklaces. Featuring the profile of a black woman, the collection subverts the historical connotations of pearls, as well as cameo jewelry.
In major pop culture moments, $3 USD pearl barrettes from Amazon went viral when everyone's new favorite teen icon, Maddy Perez (played by Alexa Demie), rocked pearl eye makeup on HBO's hit show Euphoria. Buzzy emerging designers such as Tuza, Jiwinaia and Susan Alexandra have been using pearls in their designs too, taking the loaded objects to less stuffy places by giving them a whole new look.
An Nguyen, the designer of Sweaty Pigeon who uses pearls in her creations, says, "The market for jewelry targeted at my generation has been stuck in this 'let's layer gold or silver dainty necklaces together' [mentality] so the demand for something different is understandable."
"Pearls to me reflect an easy elegance," says Allison Fry of up-and-coming New York jewelry brand Fry Powers. Fry specializes in mixing pearls with colored beads, turning the combination into body harnesses and statement glasses chains. "I love the flexibility pearls offer. They can be styled in a formal way for the office or a night out, and also worn in an easy, casual way with denim," she says.
Carol Li of Janky Jewels, uses pearls to elevate her creations. "I started using pearls to counter the kitsch-y charms and objects in my designs," the 21-year-old says. "I found that they heightened my jewelry in a way that allowed it to remain fun but look somewhat more sophisticated," the designer, who often inks freshwater pearls with zebra print and butterflies, adds. Despite Li's attraction to pearls for their long standing symbolization of  beauty, purity and wisdom, she aims to breathe new life into them for a contemporary audience. "We all know what pearls look like but I hope that I can manipulate the idea…I want people to not take jewelry so seriously. Pearls have a bad rep for being uptight grandma jewels, but I hope to make them fun and accessible."
Celine Neubauer, founder of Girl With Pearls, considers her pearl-centric designs an expression of "childhood glamour." On the flip side, pearls hold more loaded connotations for Belle Zhao of EarthAngelry. "Pearls remind me of Lisa Simpson, Princess Diana, yin, my Nai Nai [grandmother] who doesn't know about my tattoos, creme fraiche, hymns, the moon, dew drops, Catholic school," Zhao says. The 21-year-old's DIY designs incorporate elements such as metal florals and vintage Snoopy charms, leading the creative to define her aesthetic as a reappropriation of "grandma culture," disrupting their outdated cultural connotations. "I think pearls are what make my earrings versatile for day and night, birthday parties and funerals, zoomers and boomers," she says.
23-year-old Isabella Lalonde of Beepy Bella began making pearl necklaces after purchasing a vintage one by Judith Ripka. "The necklace represents the revitalization of a product whose life had been lived," Lalonde says. "As soon as it was delivered on my doorstep, I couldn't stop wearing it. It quickly became a part of my identity, comparable to a security blanket for my closet." Lalonde also points out hip hop's adoption of the trend."I've been noticing various rappers start to stack pearls with chains," she says, citing Young Thug and A$AP Rocky as examples.
Ultimately, the revitalization of pearls represents fashion's cyclical system. "One of the best aspects of fashion is getting to break rules that have been implemented by older generations," Lalonde points out, dubbing the act of recontextualization "innately subversive and punk." Spradlin seems to agree, defining fashion's current state as "style-agnostic." "Traditional stereotypes are being redefined and remixed," she observes.
As for Collins, the trend forecaster predicts that interest in pearls will persist. "Designers will continue to embrace a growing interest in vintage aesthetics and referencing archive profiles, as demonstrated by shows like The Crown," she says. WGSN also sees pearls becoming a key material in menswear (remember when Harry Styles wore a single pearl drop earring to last year's Met Gala?). Needless to say, fashion's new guard has given a whole new meaning to "pearl-clutching," so accessorize away — pearls aren't just for the rich, white and famous anymore.
Photographer

Theo Wargo/Getty Images
Editor

Alexandra Pauly
Senior Editor

Lily Chen
Share this article