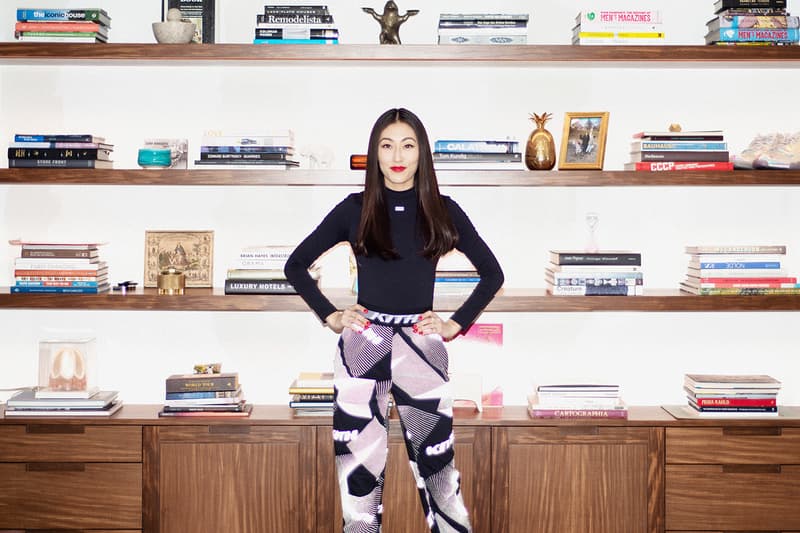 Beauty
KITH Women Director Jackie Kim on the Inspiration Behind KITH x Estée Lauder's New Beauty Collab
A makeup kit celebrating women and "generational beauty."
KITH Women Director Jackie Kim on the Inspiration Behind KITH x Estée Lauder's New Beauty Collab
A makeup kit celebrating women and "generational beauty."
In honor of International Women's Day (March 8), KITH and Estée Lauder have joined forces to release a new makeup collection inspired by the bonds between different generations of women. Marrying contemporary design with a timeless, classic aesthetic, the collectible kit is housed in a KITH-branded plexiglas case, while heirloom-like products bearing Estée Lauder's branding from 1946 are dressed in golden tubes and compacts — a nod to Estée Lauder's original packaging.
The beauty collaboration arrives with the Pure Color Envy Lipstick in a scarlet hue "Kith Red," along with a lip pencil and a custom sharpener, a mascara and a translucent shade of the cult-loved Double Wear Stay-in-Place Matte Powder Foundation, beautifully embossed with the lifestyle brand's logo.
Beauty fiends can get their hands on the collection when it launches March 7 at KITH and Selfridges London. A choice of 12 lipstick shades and five powder shades will be exclusively available in-store at KITH SoHo and Selfridges, where shoppers can customize their own kits from March 7-8.
To celebrate the second chapter of the two brand's partnership, KITH has hosted an intimate dinner with its friends and family at Soho House New York. Inviting HYPEBAE to her home as she got ready for the soirée, Director of KITH Women Jackie Kim details the inspiration behind the new launch, while also sharing with us some of her beauty essentials. Read our conversation below.
Jackie Kim's Beauty Essentials
Estée Lauder Double Wear Stay-in-Place Matte Powder Foundation: I love using this product with a big, fluffy brush. I wear it on bare skin or I set my foundation with this powder. It's skin-perfecting.
May Lindstrom The Blue Cocoon: Last year, I had a really bad eczema flare up. My skin was so sensitive and I started using The Blue Cocoon for my face. It worked wonders. It's hydrating without feeling overly oily, and it didn't agitate my skin.
Frédéric Malle Portrait Of A Lady: This is my signature scent. I've been wearing it since I was an assistant at Barneys and could finally afford to buy a travel-sized version with the employee discount. It still makes me feel so elegant and womanly. It's a nice ritual to put it on every morning.
Dermalogica Dynamic Skin Recovery SPF50 Moisturizer: My Korean mother always stressed the importance of SPF and protecting your skin from harsh lights. I don't leave my house without an SPF on even on the dreariest of days.
La Mer Crème de la Mer: Incredibly decadent and healing. I use it very delicately, because the formula can become quite heavy, but it's exactly what I need when my skin is feeling dry
Neutrogena Fragrance Free Makeup Remover Cleansing Towelettes: The best first step in removing makeup. I love that you can use them on-the-go too. I always carry a travel pack on the airplane as well if I'm coming from meetings, so I can take off the makeup on the plane.
As someone who works in fashion, an industry that is closely intertwined with beauty, what is your beauty philosophy?
My belief is that the most beautiful women are those who are confident and comfortable in their own skin. I truly believe that you can see an inner glow when a woman is feeling her best.
What would you say makes a woman beautiful?
I think all women are beautiful simply because of the fact that they capable of so much. I am consistently inspired by the women who balance so much in their lives, and yet still take the time and effort to honor themselves.
KITH and Estée Lauder have come together again this year to launch another beauty collaboration celebrating International Women's Day. What is the inspiration behind this new kit?
This year's kit was inspired by the idea of "generational beauty." It's the belief that when you look at yourself in the mirror, you can see unique traits and qualities passed down through the generations. It's also the belief that our character and mannerisms are also inspired by women around us, or by women we have read about in the past. We wanted to create products that felt like heirlooms to represent the gifts and talents that have been passed down through the generations of women.
What is your favorite shade among the co-branded lipsticks?
"Kith Red" — it's universal, it's elegant, it's timeless. (Editor's note: this is the only lipstick shade from the collaboration that will be available online.)
What are you looking forward to the most about the dinner tonight?
I'm so excited to share the Chapter 2 kit with our wonderful friends and family. The KITH and Estée Lauder team worked so hard to make this product special and elevated. It was a labor of love and we are thrilled with how it turned out.
Let's talk about skincare. Do you consider working out and eating healthy part of your beauty regimen?
As someone who deals with eczema, fitness, eating healthy and also stress management plays a huge part on how I look, but more importantly on how I feel.
This past year, I focused on having a more balanced lifestyle and a healthier gut. I cut out drinking, spent more time taking care of myself, committed to running daily and focused more on what I was putting into my body (celery juice!). I still gave myself little indulgences in moderation, but overall I feel so much better and so much more in control of how I feel.
Who are some of your biggest beauty icons?
Gemma Chan, because she is so elegant and classy. Mia Kang, because she is so beautiful, disruptive and powerful. Michelle Lee from Allure, because she is an EIC, a mother, and has amazing dewy skin. Kimora Lee Simmons — anyone who was a breakthrough Asian beauty in the culture will always be a beauty icon to me.
What are your favorite beauty parlors in NYC?
Only Nails in Financial District for the best dip powder nails. Moon Flower Spa in Midtown for extractions and microderm. EyeLoveLash in K-Town for Lash Extensions.
---
Share this article