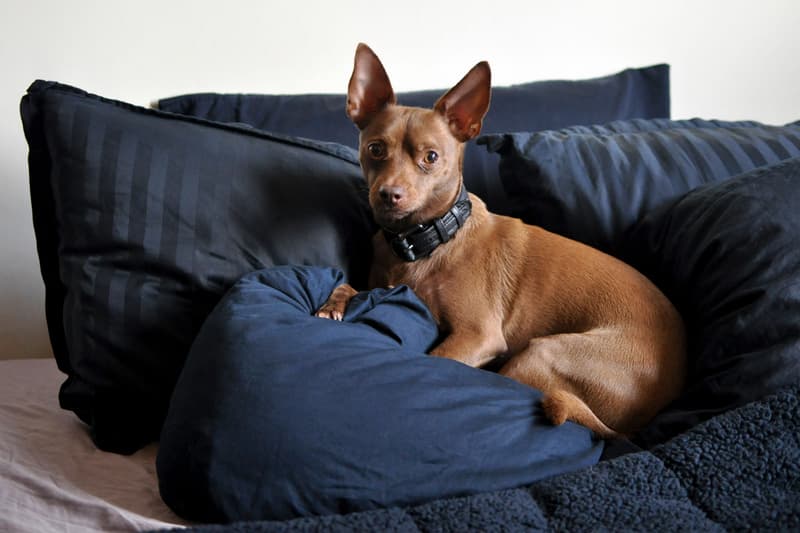 How to Keep Your Dog Enriched and Healthy in Quarantine
Professional dog trainers weigh in.
Though your dog may be blissfully unaware of the coronavirus pandemic, pets are certainly feeling the effects of quarantine as the health crisis disrupts the daily routines of their owners. With dog parks shuttering, work from home becoming the new normal and pet parents staying home most of the day, your furry friend is likely adjusting to life in the time of COVID-19 too. But even in quarantine, it's essential that your dog keeps active and mentally stimulated — just as he or she was pre-pandemic. Though some changes in their day-to-day are inevitable, there are ways to maintain a semblance of normality and ensure Fido won't be shocked when life returns to the way it was.
HYPEBAE consulted professional trainers about how best to care for your dog while in quarantine. Keep reading for their tips on how to exercise, mentally stimulate and socialize your pet amidst the coronavirus pandemic.
Exercise your dog the same amount as you would pre-pandemic.
Social distancing recommendations should not prevent owners from walking their dogs as frequently as they would before shelter-in-place orders went into effect. "I don't see any reason that the pandemic requires us to walk our dogs less," says New York-based trainer and behavior consultant Lauren Novack. "We simply need to walk our pups at quiet times on wide streets and wear a mask while doing so," the expert explains, adding that walks at off-peak hours early in the morning and after dusk make it easier to maintain a safe six feet of distance between others.
In addition to the obvious necessity of walking your dog, regular strolls have a profound effect on your pet's overall health. Besides weight gain — which can cause respiratory problems, joint inflammation and shortened lifespan — a decrease in physical activity also impacts their mental wellbeing. "Walks are both physically and mentally stimulating for your dog," says Dr. Andrea Tu, medical director of Behavior Vets NYC. Without adequate stimulation, they will resort to destructive behavior such as chewing on furniture or going to the bathroom indoors.
Ignore attention-seeking behavior.
Even with regular exercise, your dog is still missing out on pre-quarantine activities such as visits to the dog run, puppy playdates and accompanying you on errands. In response, he or she may exhibit signs of boredom, often expressed in the form of attention-seeking behavior. Novack describes attention-seeking behavior as "anything that has resulted in you giving [your dog] attention in the past. [He or she] might sit and stare at you, bring you a toy, paw at your leg, bark at you or engage in other unwanted behaviors like chewing on inappropriate objects," she illustrates.
Owners should wait to respond to attention-seeking behavior until Fido is calm. Providing an occupying activity — such as a toy or puzzle — while your dog is actively trying to get your attention may be interpreted as a reward. "Wait until your dog is lying down calmly to initiate a play session, a training session or a walk," Novack recommends.
That being said, calming a dog down is often easier said than done. The aforementioned Behavior Vets NYC, a veterinary clinic and training provider that purports itself a psychiatry practice for dogs, offers a free webinar providing in-depth instruction on how to deal with attention-seeking behavior. The 60-minute video offers a wealth of advice, including one particularly important point to keep in mind: never punish your dog. Instead, use positive reinforcement such as treats and praise when they exhibit desired behavior. Punishments for misbehavior including yelling or shock collars should be avoided at all costs.
Lastly, keep in mind that dogs can pick up on our own boredom and anxiety in quarantine. "Dogs can actually smell our emotions, and our emotions affect them," Novack says. "Some dogs are more sensitive to change than others, but in practice I have found that owner anxiety correlates with pet anxiety," she concludes. If you find yourself falling into an unhealthy spiral of anxious thoughts surrounding the pandemic, consider practicing mindfulness to ease coronavirus-related stress.
Toys and training sessions provide indoor enrichment.
Once your dog has settled down, provide him or her with an engaging toy. "Dogs love and need to chew, so I recommend getting a wide variety of long-lasting animal chews and stuff-able toys," Novack says. Andrea Arden, founder of Andrea Arden Dog Training, agrees. "If your dog is happily engaged and 'hunting' for food from these toys, it means [he or she isn't] engaged in inappropriate behaviors," she adds. Arden, also based in New York, recommends the Puptoys Comfort Bone for puppies and small dogs and the Busy Buddy Twist n' Treat for larger breeds.
Owners can up the ante and challenge dogs to scavenge for meals by hiding breakfast or dinner in a puzzle toy. However, be sure to change it up once in a while — "If you're feeding out of puzzles for enrichment, it's only fun if you get creative," Novack acknowledges. "Sometimes, hide their kibble around the house. Roll it up in a towel or put it in a box for them to tear up," she lists. If you have a backyard, utilize it. Try scattering food in the grass for your dog to find.
In addition, take advantage of quarantine to teach your dog new skills and brush up on basic obedience. "Practicing basic manners like sit, down and stand can be supplemented by loads of fun tricks. The only limitation is your creativity," Arden says. Easy-to-teach yet impressive tricks include shake, roll over, play dead and spin. Trusted organizations such as the American Kennel Club (AKC) offer training guides for certain behaviors on its website.
Creative solutions can keep a puppy socialized.
Quarantine has led to an increase in dog adoptions, a heartwarming development of the pandemic that nevertheless poses challenges to new owners. Those who have adopted puppies or older dogs with behavioral problems, a common consequence of prior mistreatment, will need to provide unique care in both instances.
Dogs under four months old must undergo socialization, which Novack defines as "a very specific period of development in a puppy's life that only happens before 16 weeks of age." When done properly, socialization ensures a puppy grows up to feel safe around all types of people and other dogs, as well as in a variety of environments. The socialization stage is crucial to their healthy development and often, older rescue dogs miss out on it completely, resulting in displays of fearful behavior in certain situations.
To continue socialization even while social distancing, Behavior Vets NYC offers several creative solutions in its free webinar on the subject. Try setting up a picnic blanket in park (one that is not too crowded, of course) where you and your pooch can sit, allowing him or her to observe various sights and sounds. If any dog-friendly stores near you are open, acquaint your dog with retail environments by bringing him or her inside in a carrier bag. You can even sit with your dog in a parking lot or near the store entrance so he or she can observe people and other pets coming and going.
At home, get your dog used to change by wearing different outfits. Put on sunglasses, hats, old Halloween costumes, you name it — anything that alters your appearance will help your dog remain calm when encountering strangers. In addition, try changing the set-up of your home by moving around your furniture to further acclimate them to change.
Be sure to leave your dog alone for periods of time each day.
Dogs love spending unlimited time with their owners in quarantine, but it's still important to maintain alone time. "One of the things people need to be most concerned with during this time is the risk of dogs developing separation issues," Arden says. Novack concurs, describing a likely "uptick in separation anxiety cases once owners go back to work." To prevent separation-related issues once life returns to normal, leave your dog alone regularly, either by putting him or her in a separate room (with engaging toys) or by leaving the house entirely to a take a walk or run errands.
Trainers are still offering virtual services.
If your dog is struggling with serious behavioral issues, don't forget that professionals such as Novack and Arden are offering their services virtually. The AKC website also has an informative guide to choosing a dog trainer. If you are looking for educational resources on understanding your pet's behavior, Duke University's Associate Professor of Evolutionary Anthropology Dr. Brian Hare offers a free course on dog psychology.
Share this article