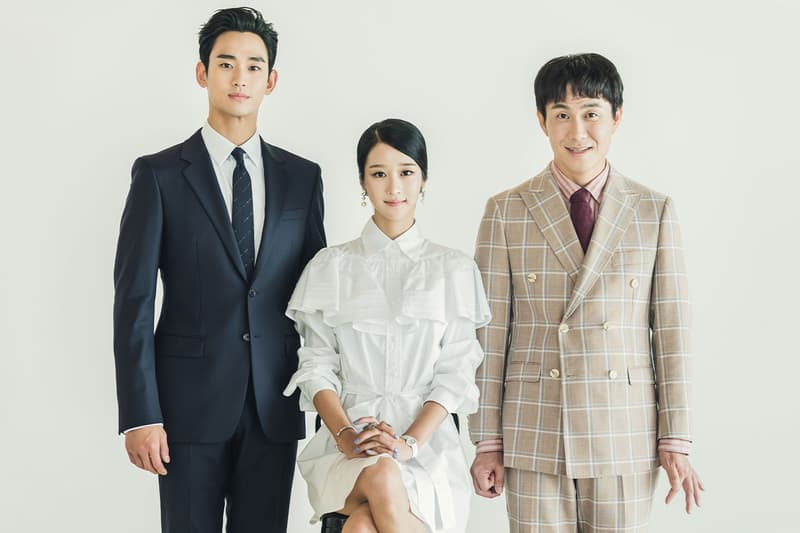 Film & TV
5 Lessons on Mental Health from Netflix's 'It's Okay to Not Be Okay'
Told through stories of characters Gang-tae, Sang-tae and Moon-young.
5 Lessons on Mental Health from Netflix's 'It's Okay to Not Be Okay'
Told through stories of characters Gang-tae, Sang-tae and Moon-young.
Netflix's It's Okay to Not Be Okay is the latest title to join 2020's roster of K-dramas, following the releases of hit shows like Itaewon Class and Crash Landing On You. The television series, which aired its finale earlier this month, has gained attention among international fans for its honest discussion about mental health. Here are a few of the key takeaways from IOTNBO, centering on characters Gang-tae (Kim Soohyun), Sang-tae (Oh Jungse), Moon-young (Seo Yeji) and more.
Warning: This post contains spoilers.
For those who have yet to watch the tvN show, It's Okay to Not Be Okay illustrates the story of Gang-tae, a psychiatric health worker who lives a nomadic lifestyle mainly due to his autistic brother Sang-tae's fear of the spring season and butterflies, both of which are tied to their mother's tragic death. After moving numerous times, they finally settle in their hometown Seongjin city, where Gang-tae finds a job at OK Psychiatric Hospital and meets famous fairy tale writer Moon-young. Struggling with impulsive and antisocial behavior, Moon-young overcomes her emotional wounds with the help of the two brothers.
Through the depiction of the main characters as well as each of the patients at OK Psychiatric Hospital, IOTNBO delivers important messages on mental health, a topic that is often neglected in Korean society and media. Below, we break down some of the lessons from the show.
While you are here, read our guide to some of the best K-dramas of the year.
Each person has their own unique story.
Although Moon-young seems cold and unempathetic in the first half of the series, her behaviors are later explained — she has a traumatic childhood and an unsettling relationship with her mother. Through combatting her fears and unresolved family issues with help from Gang-tae, she slowly learns to control her impulses. Similarly, Gang-tae seems to have everything together while taking care of his brother and working a full-time job, until Sang-tae brings up their near-death incident on a frozen lake years ago. The drama series touches upon each character's stories, showing that a book should not be judged by its cover.
You have to face your trauma in order to overcome it.
"Butterflies are psyche, psyche represents healing. Butterflies have the ability to heal," Sang-tae repeatedly tells himself after a session with OK Psychiatric Hospital's director Dr. Oh Ji-wang (Kim Chang-wan). Having had a traumatic experience with butterflies his entire life, Sang-tae refuses to paint the insect in a mural he works on inside the hospital. Towards the end of the series, he learns to overcome his fear by facing it and practicing to draw butterflies, rather than avoiding it altogether. Meanwhile, Kwon Ki-do (Kwak Dongyeon), a patient whose father is a member of the National Assembly, struggles from depression caused by the lack of attention from his family growing up. By facing his problems and deciding to dance on his father's stage, his conditions improve significantly.
Healing takes time.
As shown throughout the series, mental health issues including post-traumatic stress disorder (PTSD), dementia and depression don't simply go away overnight. Through overcoming numerous obstacles, the characters face their fears and are finally able to enjoy freedom. Kang Eun-ja, a patient at the hospital, struggles from depression after losing her daughter to a tragic car accident. The loss of a loved one leads to her obsession over a fur shawl that her daughter has gifted her just before her death. Over a course of incidents, she eventually gives the shawl to Moon-young, suggesting that she is letting go of the guilt for yelling at her daughter and accepting the fact that she is no longer around.
No one should be treated differently for being different.
Sang-tae, diagnosed with Autism Spectrum Disorder (ASD), struggles to recognize others' emotions, and is fixated on certain things like children's books and Korea's 1980s cartoon Dooly the Little Dinosaur. Gang-tae, who has been taking care of his brother his entire life, always ensures that Sang-tae is never treated any differently by others. Towards the end of the show, Sang-tae learns to become more independent by treating his little brother to a meal and building a career as an illustrator. This aspect of IOTNBO is one of many highlights of the series, as visiting a psychiatrist and openly discussing mental health are traditionally, and still to this day, considered taboos in South Korea.
It's okay to not be okay.
The title of the TV series says it all. Each character's story in IOTNBO stresses that everybody is broken in their own way, and that it's okay to not be okay all the time. One will be able to overcome their psychological wounds as long as they communicate and reach out for help. As symbolized by butterflies throughout the episodes, emotional healing will come with time and effort.
Share this article