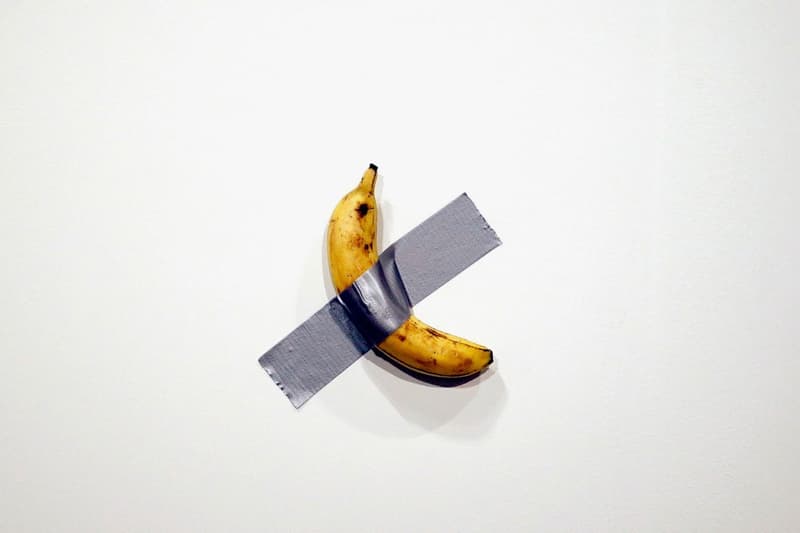 Art
You May Be Able to View Maurizio Catellan's Notorious Banana Artwork at the Guggenheim Museum Soon
'Comedian' was donated anonymously to the art institution.
You May Be Able to View Maurizio Catellan's Notorious Banana Artwork at the Guggenheim Museum Soon
'Comedian' was donated anonymously to the art institution.
Artist Maurizio Cattelan took headlines at Art Basel Miami last year after unveiling Comedian, an artwork featuring a banana duct-taped to the wall. The craze followed with the piece being printed on T-shirts, and Kendall Jenner transforming into one of his works in a cover for GARAGE Magazine. After almost a year, New York City's Guggenheim Museum has acquired the provocative piece, thanks to an anonymous donor.
Since its reveal, Comedian was priced around $120,000 USD to $150,000 USD, sold to a French collector via Perrotin. "We are grateful recipients of the gift of Comedian, a further demonstration of the artist's deft connection to the history of modern art," Guggenheim's director Richard Armstrong told the New York Times. 
Instead of a physical banana and duct tape, the museum was given a certificate of authenticity, along with instructions spanning 14 pages on how to install and maintain the fruit. According to the document, the banana needs to be taped 175 centimeters off the floor and has to be replaced every seven to 10 days. "Of all the works I have to confront, this is probably one of the simplest," chief conservator Lena Stringari commented.
While this comes as exciting news for the art industry, the Guggenheim does not have plans to display Comedian for the public as of now.
Share this article