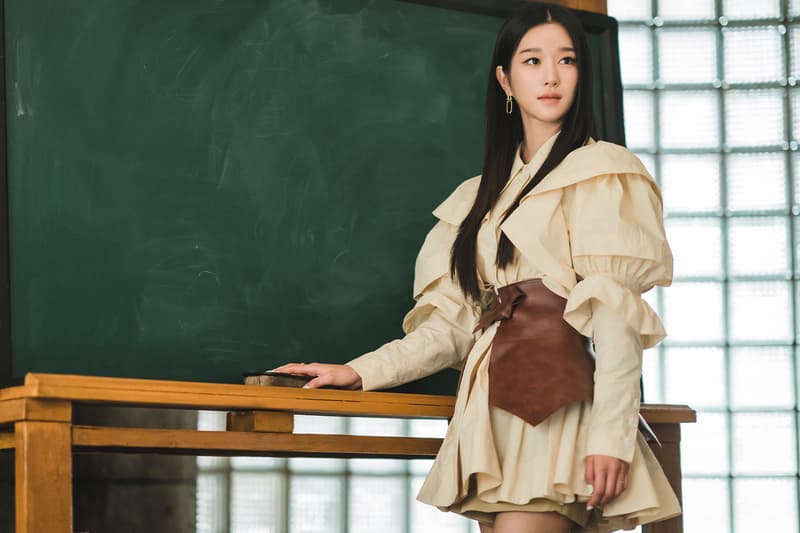 Fashion
Minju Kim Talks Favorite Seo Yeji Outfits on 'It's Okay to Not Be Okay'
Along with how life has been post-pandemic as a young designer.
Minju Kim Talks Favorite Seo Yeji Outfits on 'It's Okay to Not Be Okay'
Along with how life has been post-pandemic as a young designer.
From winning Netflix's Next in Fashion to landing on major retailers like Net-a-Porter, Minju Kim has seen immense growth this year. This summer, the rising South Korean designer also took fashion headlines with her garments being featured on It's Okay to Not Be Okay, a K-drama series praised for its cinematic aesthetics and focus on issues like mental health. As the creative joins Net-a-Porter's Fall/Winter 2020 The Vanguard program for emerging talent, we caught up with Minju to talk about how the pandemic has affected herself and the fashion industry, along with the latest milestones in her career.
Although there have been some hiccups along the way, there's an impressive demand for Minju's head-turning designs. "Minju has a modern approach to femininity. Her play of shapes and volumes were very unique but also in a very balanced way," Net-a-Porter's Global Buying Director Elizabeth von der Goltz comments on the designer. "Her previous season has resonated globally, and it has been super exciting to see how customers from all over the world have reacted to her collection – it performed brilliantly in the emerging designers' category for us, which was extremely positive."
Continuing the momentum, Minju is seeking ways to grow her eponymous label with mentoring from the Vanguard program. For her upcoming Spring/Summer 2021 collection, which will likely be presented virtually, she's exploring more loungewear options as consumers spend more time at home. Read below for our latest conversation with Minju, where she discusses her designs spotted on Seo Yeji in IOTNBO, celebrities she wishes to dress in the future, as well as how she has been navigating the pandemic as a young creative. You can head over to Net-a-Porter to shop pieces from the emerging designer.
How have you been after Next in Fashion premiered on Netflix and your debut on Net-a-Porter?
It's already been seven months since Next in Fashion, but we're still getting warm messages from those who watched the show. After we presented the collection with Net-a-Porter, some of the items were immediately sold out. We also received many requests to restock the pieces. I am so happy to be on this journey with Net-a-Porter. We definitely got a lot of help from them to develop the label more professionally. This season, I joined their Vanguard program, which supports young designers to build their business. We've been taking advice on the direction and next steps for the business.
The last time we spoke, you mentioned that your FW20 collection would be shown at Seoul Fashion Week, which was canceled due to the ongoing pandemic. As a brand, how have you been navigating these unprecedented times?
Our team worked really hard for the runway and we also made quite a big collection for the show. We were so excited to show the new collection after NIF released, so when we heard that everything was going to be canceled, we tried to move as quickly as possible. For instance, we did a video runway with Vogue Korea and worked really hard to develop our website too. As a brand, everything is so new and we are trying to get used to it as we go, since we're aware that this can, in fact, become our long term future. We need to find our own way to keep going.
Your "Night of Knight" FW20 collection was presented virtually instead. What was that experience like?
The special thing about MINJUKIM is that we develop our own graphics based on different concepts and stories each season. When we produced the videos with Vogue Korea, the collection looked very strong visually and I was able to convey the concept beautifully. I loved the mix between animation and images. However, we realized that creating videos can sometimes cost just as much as a physical show. It even takes more sometimes, depending on the quality and the time you're putting into it. So honestly as a brand, it's not easy to make every moment virtual. I miss the runway and physical presentations.
I think the runway really allows designers to share dramatic energy with the audience. Everything has two different sides. After the pandemic, I realized how much I love the runway. It reminded me of five years ago when we discussed every show would soon be replaced by digital. I also miss the backstage moments.
How do you think the pandemic has changed your future plans and outlook on the fashion industry?
I think many things will change because I believe fashion is all about lifestyle. Nowadays, I see fashion becoming more simplified and focused on needs. For the SS21 season, we expanded our home wear and casual pieces more than ever, but with a touch of MINJUKIM. We've also developed sustainable fabrics in our graphic print. It's a special Korean traditional fabric that can only be produced in Han-San city. We used natural hemp fabric and printed our graphic with 100 percent rotting ink. This may be a very small change to protect the Earth, but we want to take steady steps to help create a more eco-friendly fashion industry.
Your designs received more attention globally through Seo Yeji's outfits on It's Okay to Not Be Okay. How did that collaboration come to be?
We got a phone call from the famous costume director Jo Sanggyeong. She visited our office to make a special selection for the Ko Moon-young character. I was so excited when I got the call from Sangkyeong, since she is one of the top costume directors in the country, having worked on The Handmaiden, Thirst and Mr. Sushine.
Each of Seo Yeji's looks played a significant role in the development of Ko Moon-young. What were the key inspirations behind selecting pieces for her looks?
When we heard Moon-young is a fairytale writer, we made some special selections for her. We believed she wanted to be protected by her strong beautiful looks, and treated fashion as her armor. We chose pieces that are tailored but with our signature voluminous shape to make her look strong.
What was your favorite look on the show?
I love the yellow puff sleeve jacket that was styled with the Loewe belt. It was an unexpected look since Yeji actually wore it as a dress.
If there's anyone else that you could dress, who would that be and why?
Léa Seydoux. She is my favorite actor. It's really difficult to explain her in a few words, but I love that she seems hard to read. She seems so soft, pure and beautiful but she seems strong inside.
Share this article