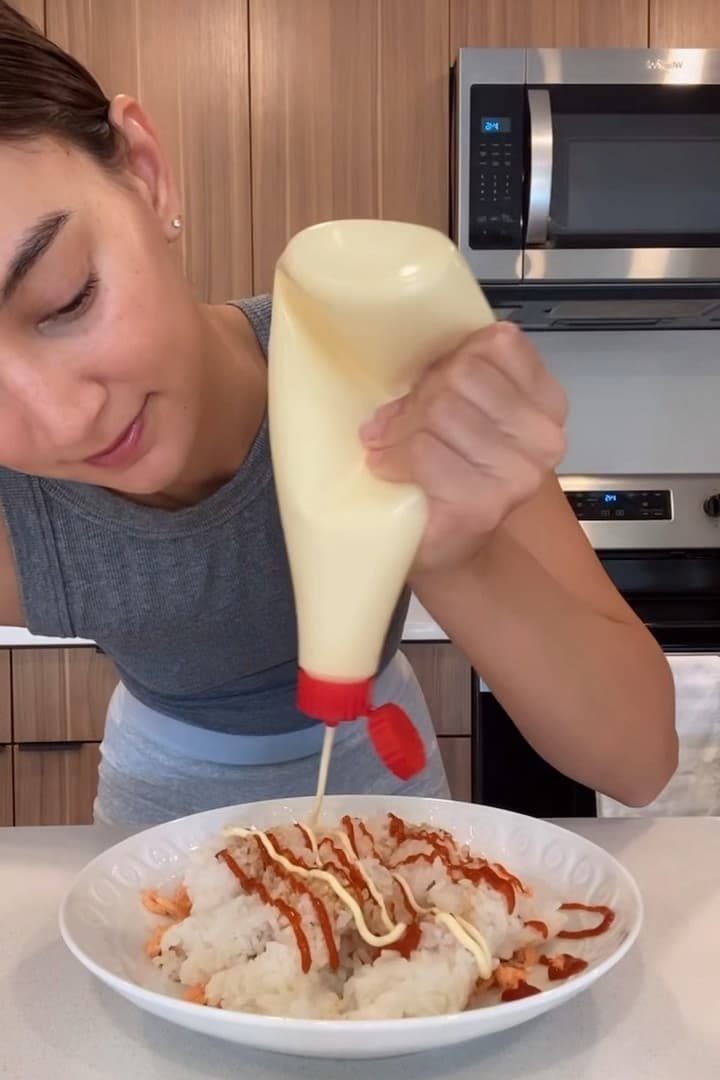 Why Is Emily Mariko Going Viral on TikTok?
Her salmon rice bowl recipe has become social media's new obsession.
Culture
Why Is Emily Mariko Going Viral on TikTok?
Her salmon rice bowl recipe has become social media's new obsession.
If you're on TikTok, you've most likely watched Emily Mariko cook a delicious-looking meal in her clean and neatly organized kitchen. It was probably a video of her viral salmon rice bowl, a recipe that she makes often and gets millions of views. Of course, there are a number of home-cooking creators on the app that maintain huge followings, but there's something about the 29-year-old Bay Area TikToker that has shot her to the top in the last month — her follower count is at nearly 4 million at the time of writing.
Mariko's name has been all over TikTok. She is tagged in other users' videos of them recreating her easy-to-prepare meals, and talked about in duets — videos of people replying to the original clip — by those stumped by how the ice cube she placed in her leftover rice didn't melt after it was being microwaved.
Recently, another home-cooking TikToker began leaning over his counter while filming himself making food, and commenters were quick to point out that he was doing "Emily's lean." People are obsessed, and rightfully so. It's more than just the look of Mariko's meals that gets her more followers, but what is it exactly that make so many unable to stop watching her TikToks?
For one, Mariko's creations are both healthy and appetizing, two culinary goals that many strive for, and she also makes cooking look so easy. A lot of people don't have time to spend in the kitchen, or just don't want to. Now, thanks to Mariko's videos, they may have new ideas for their work-from-home lunch breaks. She uses leftovers and a short list of ingredients to make what looks like a super satisfying bite. Other than the ice cube hack, she also shows how prepping fresh vegetables can help save time for when you need to use them later in the week.
Mariko's TikToks are also just very relaxing to watch. Have you noticed that she doesn't speak in her cooking videos? There's no music either. It's borderline ASMR. Everything about her style is very minimalist and clean, from her recipes, to her camera angles, to her outfits and appearance, and even to her kitchen design: the classic bright lighting, white walls, stainless steel appliances and modern finishes.
The fact that Mariko doesn't talk in her videos or overlay them with music keeps the focus on what she's doing, i.e., preparing food. The viewer is watching her create. There's an intimacy to her content. This isn't to say that home-cooking videos are all she posts, but they are certainly the majority and her most-viewed TikToks. Every now and then, she does vlog-style shopping hauls and videos of her eating at restaurants in which she engages more with her audience — something she is familiar with doing on her YouTube channel, which she started nine years ago with fashion and beauty content.
For the most part, viewers turn to TikTok for comfort, inspiration and entertainment. Mariko's content seems to check all those boxes.
---
Anisah Abdullah is a freelance writer based in Brooklyn, New York, covering news, arts and culture. You can find her on Instagram.
Share this article