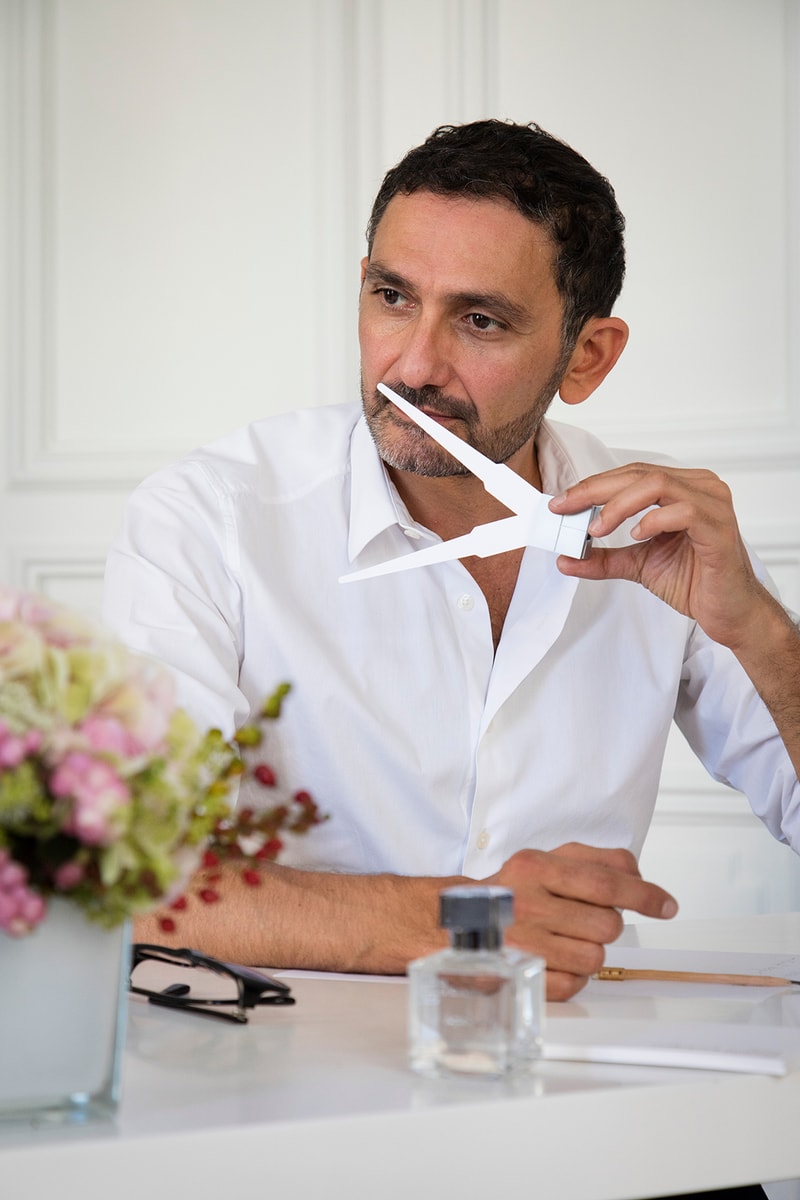 For Francis Kurkdjian, Quality Perfume Combines Aesthetic and Technique
We talk to the famed perfumer about his latest fragrance creations.
Beauty
For Francis Kurkdjian, Quality Perfume Combines Aesthetic and Technique
We talk to the famed perfumer about his latest fragrance creations.
Francis Kurkdjian, one of the key players in the perfume industry, has been honing his craft ever since the young age of 15. After learning about the art of fragrances for almost 10 years, Kurkdjian's career officially began in 1995 when he composed his first perfume, "Le Mâle" by Jean Paul Gaultier, which became an international bestseller.
Since then, Kurkdjian has devoted his creativity to producing timeless scents — some of which have been conceptualized for major fashion brands including Dior, Armani, Versace, Burberry and more. The French creator expanded his skill even further by recreating the late Queen Marie Antoinette's signature perfume for the Palace of Versailles.
Kurkdjian took his career to new heights in 2009 by launching his eponymous label Maison Francis Kurkdjian with co-founder Marc Chaya. By 2017, Kurkdjian's brand reached a milestone and became a part of the LVMH Group. Most recently, the creative has been announced as Parfums Christian Dior's perfume creation director, leaving him in charge of the house's fragrances.
Below, we spoke with Kurkdjian about how Paris inspired the concept of his perfumery, the challenges he's had to face and his vision of the perfume industry. Read on for our full conversation.
In what ways has Paris, your hometown, inspired the concept of your perfumery?
Maison Francis Kurkdjian is a tribute to Paris — its magic and its spirit of freedom. This city is the heart of my inspiration and each of my perfumes is part of a fragrance wardrobe that I built year after year. My travels take me away, but they also serve to bring me back to Paris and its heterogeneous population, to its light, the shade of its monuments, the gray of its rooftops, its incredible skyline and the bursts of magic as its golden spires puncture here and there. Above all, I love the cultural life in Paris: the museums, the theaters with classical and modern pieces and the architecture that ranges from classic to modern.
So, Paris inspires the universe of my fragrance house, like the gray zinc and gold caps of our bottles. The inspiration for the perfume bottles comes from an antique, to which I added the house monogram, like an artist's proud signature on their work. The fine fragrances — the core of my work — convey the sense of Parisian elegance and chic attitude that inspired me here. In my mind, there is a unique style in Paris that I have not seen anywhere else in the world. I feel a sense of creative freedom when I'm in Paris.
What sort of challenges did you face when you started your bespoke fragrance atelier in 2001? How did you manage to overcome them?
As a perfumer, I was the very first one to propose bespoke scents under my own name. No one else was doing it. So, the toughest challenge was to set up everything from packaging, method, PR and pricing, but also to find a clientele that did not really exist at the time. That was very challenging but finally, it helped me to define the fundamentals of Maison Francis Kurkdjian. The typography and the logo are based on the same elements, and so is the bottle. The octagon of the first logo became a square at Maison Francis Kurkdjian, for example. Not to mention many other little details.
"At Maison Francis Kurkdjian, I leave total freedom of expression to those who choose to wear my creations."
Can you share with us what your creative process is like when you decide to produce a new scent?
Within Maison Francis Kurkdjian, creativity leads marketing and not the other way around. I'm inspired by my life experiences, the people I meet and my surroundings. The only thing I need is an emotion, a feeling or wonderment. I don't follow any rules.
Once I have an idea, the name comes after. I cannot create a perfume without having its name first. It can be a simple oxymoron, a feeling, a trip I've gone on or a concept. Once I settle on that, I work on the formula.
You launched your "Cologne Forte" line back in the summer. What inspired you behind "Aqua Universalis," "Aqua Vitae" and "Aqua Celestia"?
To understand the idea behind the "Cologne Forte" collection, you need to go back to the creation of "Aqua Universalis," which launched when Maison Francis Kurkdjian was created in 2009. The inspiration for this fragrance, later followed by "Aqua Vitae" and "Aqua Celestia," could be summarized with the Latin quote, "mens sana in corpore sano," meaning "a healthy mind in a healthy body." I wished to reconnect with the tradition of the Eau de Cologne, which was also drinkable in its original form, creating an "inside-outside" effect. What is good for my body is also good for my mind. In late 2011, we came up with the name "Forte," a reference to classical music and a way to express the idea of strength in these fresh fragrances.
Fast forward to 2021, I wanted to bring new light to this "Aqua" collection and a new caliber to the "Forte" range, keeping in mind that the idea of freshness could also be explored through the sensations induced by light. This is how "Cologne Forte" became a reality. It is a modern, long-lasting cologne that brings together the ideas of light, color and all those sensations that were already at the core of the original Eau de Toilette.
For each "Cologne Forte," I had a clear vision. "Aqua Universalis" is the notion of extreme clarity pushed to the extreme, a pure breath of fresh air and the feeling — but not the smell — of cleanliness. "Aqua Vitae" is about the light of the sun at its peak, with a floral blaze crossed by a surge of hot air. "Aqua Celestia" is the encounter between the blue hues of the sea and the sky, a horizon beckoning you to daydream.
View this post on Instagram
What has been your proudest career moment so far? Why?
Being able to combine a demanding and captivating professional life as a perfumer and an entrepreneur with a family life. I am very proud of this.
What are the biggest lessons you have learned throughout your 25-year career?
One thing I've learned is that going wrong is not a problem in itself, as long as you learn from your mistakes. Going wrong is a way to grow and find new creative paths. You learn to walk by falling and getting back up. That's how I see things.
On a more technical aspect, after all these years of creating fragrances, I slowly understood that a solid, well-made perfume subtlety combines aesthetic and technique — a new olfactory signature needs to be built on good architecture. Volume and diffusion are very important, they are the technical part of a fragrance and its backbone. It's a real challenge to create a long-lasting perfume but this is truly where the craft is. It's a technical aspect that makes all the difference, like in a painting.
What is your vision of the perfume industry's future?
I can say that many changes have occurred over the years. I'm becoming a veteran (laughs). When I started 25 years ago, it was all about the brand. The perfumer was behind the scenes, hidden from the client and of course from the press. Then, the "story" became important, and the storytelling around the ingredients took more and more relevance up to a point where perfumers started to be celebrated on the frontline. Today, the perfumer has more recognition, even though in some companies they are not necessarily the decision-maker of the final fragrance.
New natural ingredients and molecules have entered the perfumer's palette with incredible new shades and facets. Things that are totally unique now and that help create new olfactive experiences. Accurate marketing and clienteling tools have also spread in the industry, bringing a different vision to the craft and splitting the business into two categories: the marketing-driven brands and the creativity-driven ones. Opportunities have never been so vast.
What matters ultimately, though, is the emotion and the joy of wearing a scent. I think the biggest trend I see today is around gender. The male-female dichotomy is being challenged. The lines between attributed genders are blurring and people want to be able to define themselves freely. As perfume is profoundly linked to culture and feeling, it mirrors this tendency. That's why at Maison Francis Kurkdjian, I leave total freedom of expression to those who choose to wear my creations.
---
Share this article