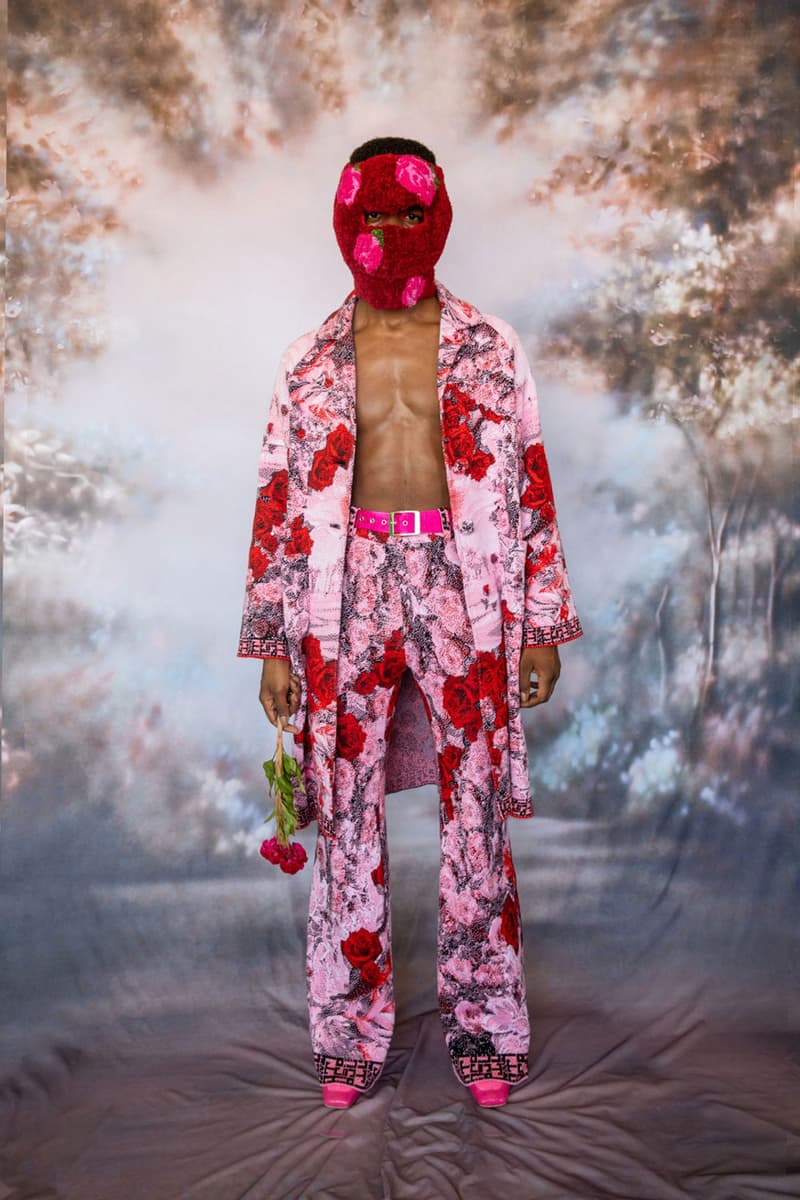 1 of 8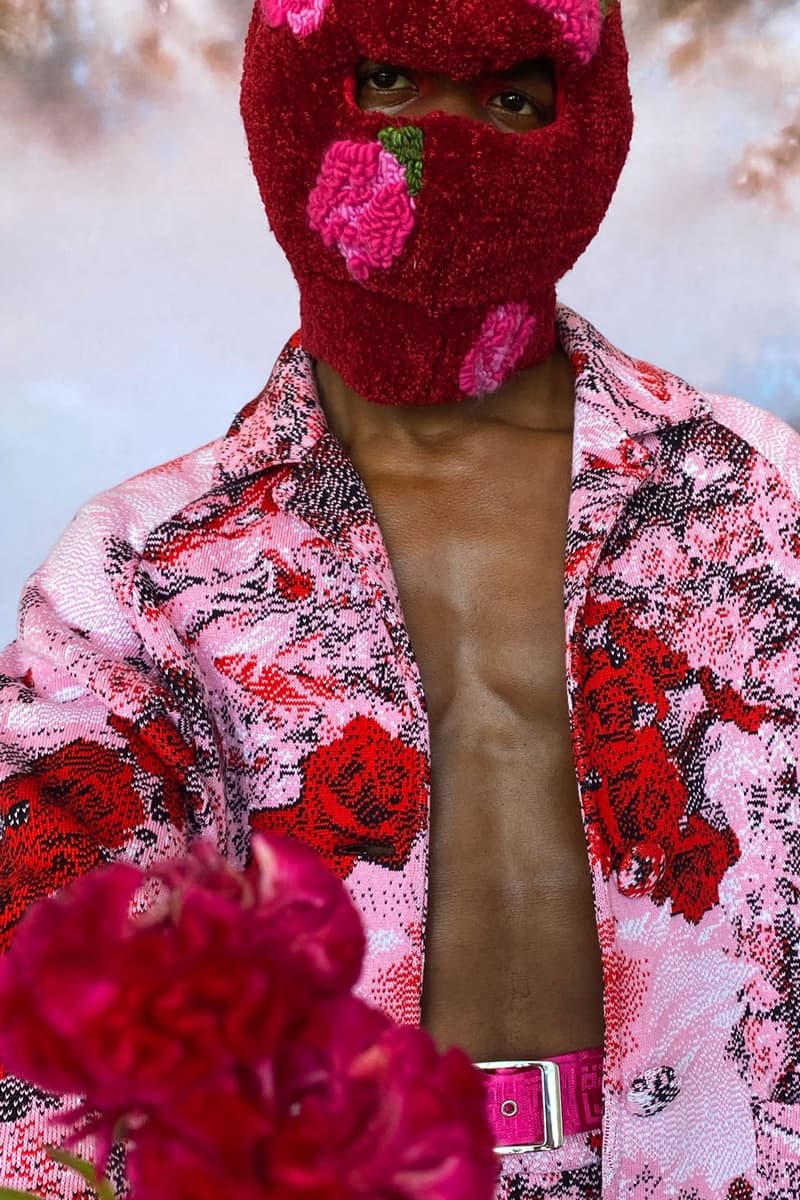 2 of 8
3 of 8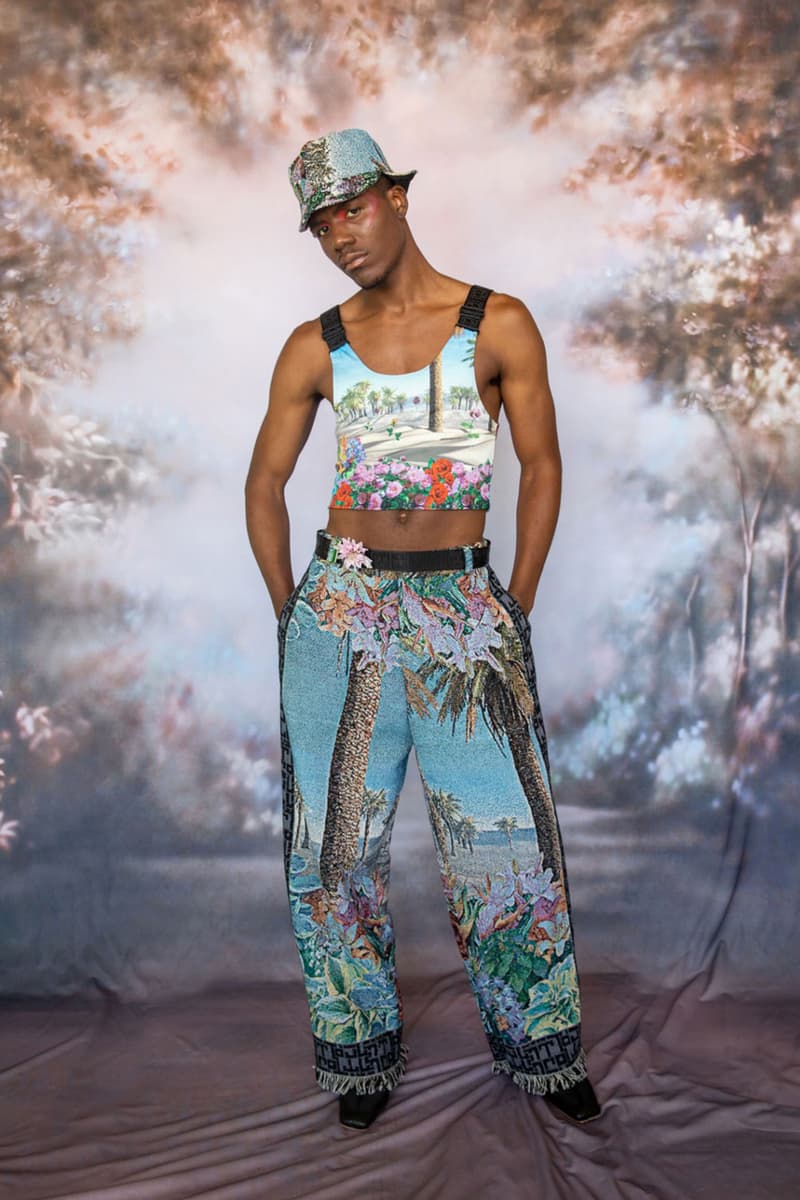 4 of 8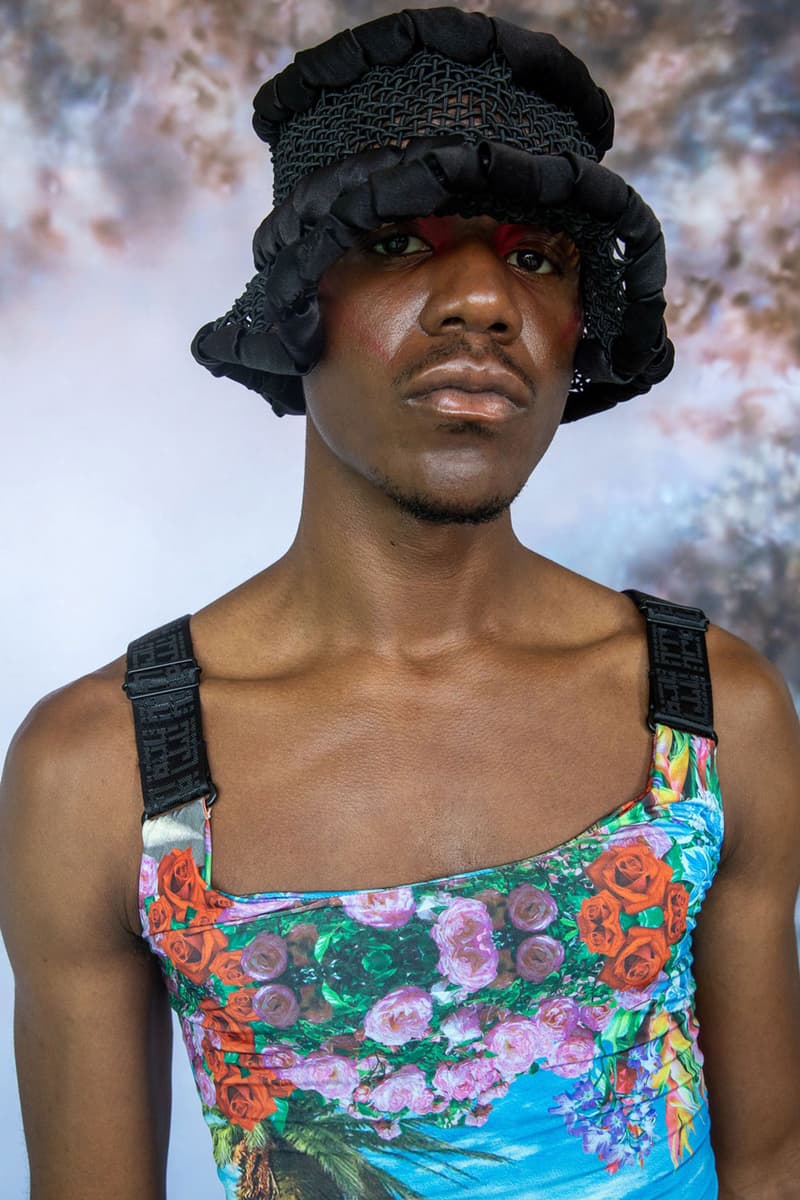 5 of 8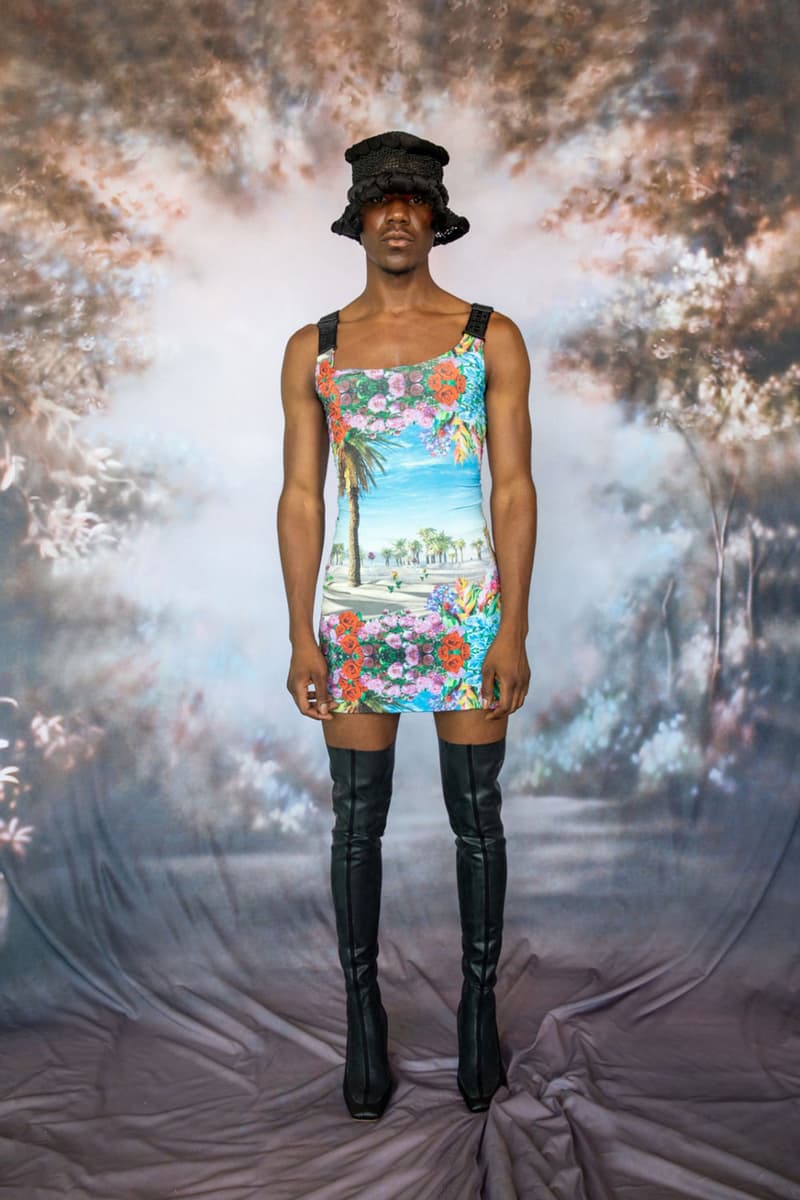 6 of 8
7 of 8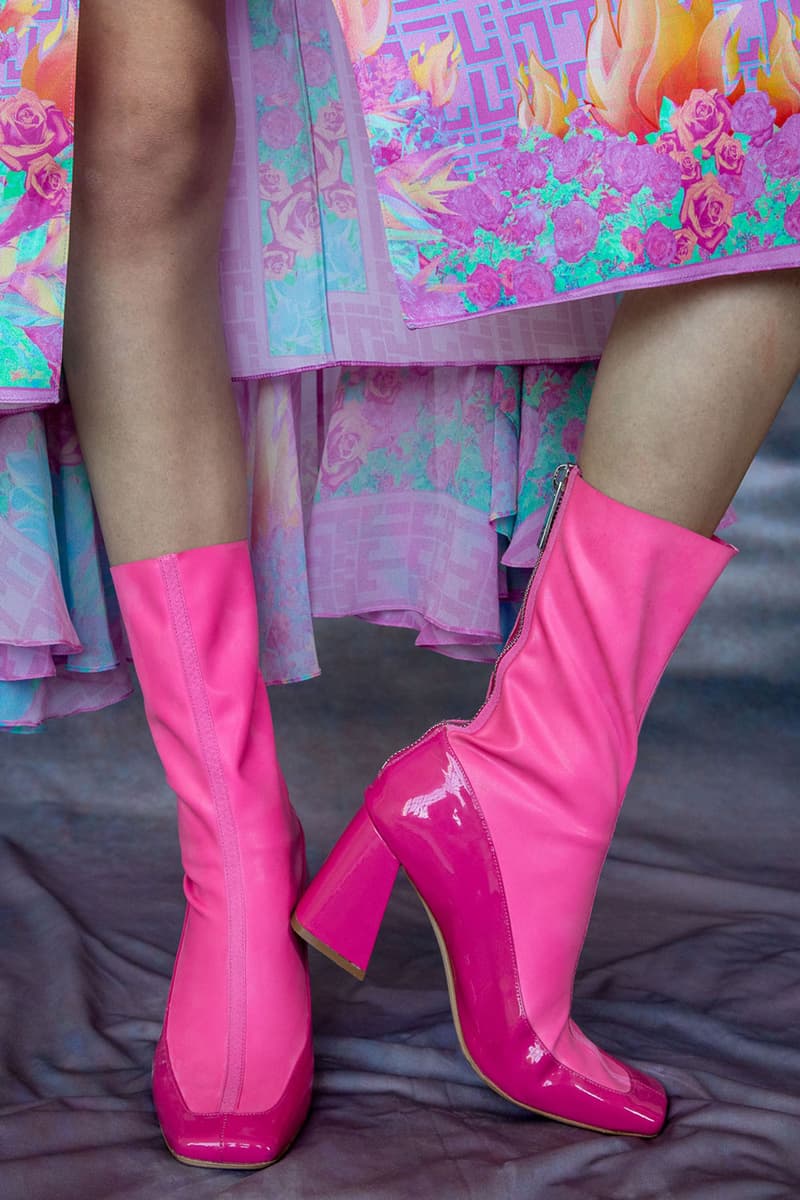 8 of 8
Fashion
Tara Babylon Harnesses Handmade Techniques to Craft Gender-Fluid Clothing
In conversation with the textile-driven British-Iraqi designer.
Tara Babylon Harnesses Handmade Techniques to Craft Gender-Fluid Clothing
In conversation with the textile-driven British-Iraqi designer.
Imbuing blissful textiles with an artisanal level of craftsmanship, Tara Babylon is a British-Iraqi designer utilizing her keen ability to craft vibrant, gender-fluid silhouettes made from eco-conscious materials. As a textile-driven designer, the Central Saint Martins and Parsons graduate has mastered a wide range of handmade techniques including weave, print, tufting and crochet. Through employing unconventional fabrics and traditional design methods in a newfound way, the New York-based designer has introduced an offering of romanticized garments as part of her Spring/Summer 2022 collection. 
The collection titled "DJENNA," meaning paradise in Arabic, pays tribute to the design talent's roots and reimagines modern-day Babylon in the form of a whimsical utopia. Amongst the collection are textural creations and slick accessories that nod to Tara's career as a performer in London, such as mini dresses in slinky fabrics and vivacious prints, soft-to-the-touch outerwear in playful silhouettes, woven tops and sublime boots made from bubblegum pink latex or recycled car tires. 
With a penchant for sumptuous, feel-good fabrics and genderless styles, Tara's latest ready-to-wear and accessories range is a playful offering of pieces that evoke joy and a dose of paradise. To get to know the designer, HYPEBAE sat down with her to discuss how nostalgic American references and cultural icons of the past inspired her SS22 collection, why handmade techniques and craftsmanship are integral to the brand, and how performance art and her affinity for eco-conscious textiles fuel her design practice. 
Check out the SS22 offering in the gallery above, and head to the Tara Babylon website to shop and explore.
When did you realize you wanted to pursue a career in fashion design?
I've been obsessed with fashion forever, and the journey began with thrift stores. It all started when I was a teenager, when me and my friends would go into thrift stores — which were not cool, by the way. I used to get teased for it, but being able to style and express myself through outfits was a way for me to speak without speaking. I felt like I wasn't as good as a talker as some of my friends and my peers. My [designs] are extroverted, but my character is a little bit more on the introverted side. I started getting attention from my peers and friends telling me that I should design, but I didn't really believe in myself. My parents are doctors, and they didn't push for me to be an artist since they're Arabic and very traditional. 
I ended up going for it and learned how to first make clothes in Manchester, and that was during the time I started a career as a performer. I moved to London, started interning as a pattern-cutting assistant, and realized I wanted to pursue fashion design. It was a long, windy road between pattern-cutting, being a performer and an assistant. The development process [for my brand] would have never happened had it not been for these experiences.
How does your affinity for materials and unconventional fabrics play a role in your design process?
I'm obsessed with weave and carpet. I'm heavy-duty and heavy-handed, and I love bulky materials. When I was younger, I loved mixing up menswear and womenswear, so I just love heavy materials and carpet. I don't know if that comes from being Middle Eastern and being surrounded by carpets from home, or if I just love the texture of it. When I was studying at Parsons, I went to Peru for two weeks as part of the textiles program and learned how to weave, crochet and knit. I brought the samples I made and the research I had found, and wanted to figure out how to make these my own. There was so much experimentation and I was taking traditional techniques like weave, rug-making, crochet and making pieces that embody what Tara Babylon is.
What is your process like when creating a garment or collection?
I'm a very textile-driven designer and I'm also a performer. To start, I will gather research and collect visuals, which I put together on mood boards, and from there, I'll start making fabrications and samples. Once I have my fabrications, samples and my mock digital printings, I will reinterpret and recreate those inspirations on myself in a performative photoshoot setting. So I'll stylize all of the references and visuals [I've collected] into a photoshoot, play with the imagery in photoshop and then collage everything together. That's how I assess or determine what textiles will work best as a collar, a mask or a vest, for example. It's a form of performance art.
How is sustainability an integral part of your brand and your design methodology?
During my graduate collection in 2019, sustainability wasn't at the forefront of my mind — my focus was more on textiles and extravagance. With COVID-19, it felt completely impossible to ignore the waste problem that exists within fashion and the world. With my collection, I wanted to develop and implement techniques that I already use, and incorporate materials within my world of textiles that are more eco-friendly, organic and environmental.
For your SS22 collection, how did your designs draw inspiration from classic American themes and icons?
Being on my own and without my family during the pandemic in America, I was looking at American references and I wanted to make a collection that felt more romantic, a little intense but still gentle. At the time, I was already working on reinterpreting my brand. I'm Arabic and I'm from Iraq originally, where Babylon is located, and that's why my brand is named Tara Babylon. For my collection, I wanted to recreate this utopia of what Babylon would look like today, and I wanted it to emulate a type of paradise. It made sense to start gathering American references. I sourced a lot of images, like pictures of James Van Der Zee, a photographer and figure during the Harlem Renaissance, and photos of Marilyn Monroe. Naturally, I was drawn to imagery from the '40s and '50s and the protective wear worn during that time, and I merged that with this paradise I had created.
Share this article