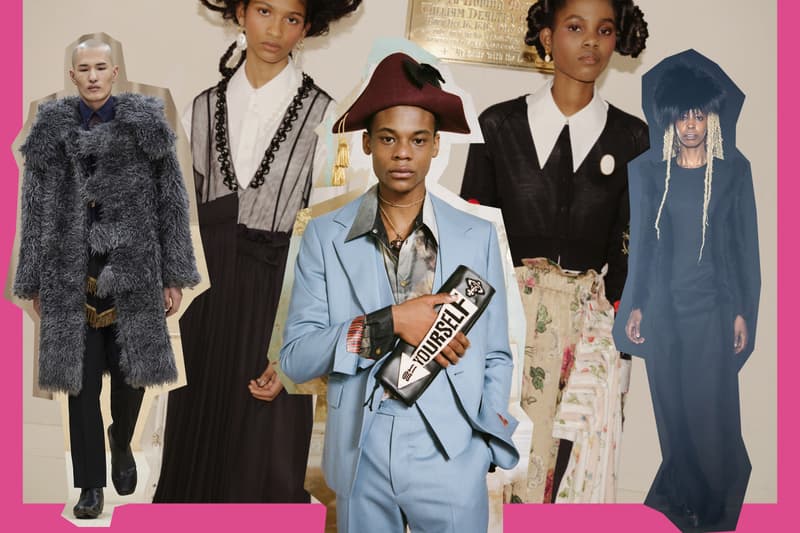 Fashion
Here Are the Collections You Missed From London's Digital Fashion Week
Digital fashion month kicks off with shows from Gabriela Hearst, Proenza Schouler and more.
Here Are the Collections You Missed From London's Digital Fashion Week
Digital fashion month kicks off with shows from Gabriela Hearst, Proenza Schouler and more.
London's Digital Fashion Week has just come to an end, and we've seen exciting shows from up-and-coming labels like Art School, as well as favorites from the schedule like Burberry and Simone Rocha. With the COVID-19 pandemic, London was the first to go digital, creating its own platform to host fashion week and showcase collections from over 100 brands and designers.
We've spoke to the British Fashion Council to learn more about the challenges involved, as well as the future of fashion. Keep reading for our full interview, and scroll down to see some of the best collections from London Fashion Week.
What have been some of the biggest challenges taking fashion week digital?
LFW was the first of the 'Big Four' Fashion Weeks to pivot quickly to build and publish a digital platform to host fashion week. The digital platform was, of course, a first for everyone which came with a lot of challenges and meant there has been a lot to learn and develop. Not being able to showcase collections in the normal way has presented some obstacles including the lack of touch and feel of the garments and the absence of networking with the industry, including press and buyers. Due to supply chain disruptions and the closure of factories, the first digital fashion week back in June saw less focus on actual product, which of course made it more difficult for our designers to sell their collections. As we moved further ahead in the year, we saw that designers adapted quickly and now, the content is both about the brand's story and the product. However, by going digital, we have the opportunity to amplify the audience reach and make sure British designers are present in many more markets. During London Fashion Week in September 2020, we saw over 100,000 views on the schedule only from over 70,000 unique users over a two-week period from over 170 countries. This level of exposure would not be possible without a digital platform, enhanced by social media activity. Our impressions across Facebook, Twitter, YouTube, WeChat and our other channels also broke previous records, really proving the success of a digital LFW.
How do you think the industry has changed since the start of the pandemic? Positive/negative changes?
The global pandemic has left the fashion industry in a state of emergency with many designer businesses struggling to stay afloat. Our current estimates show that the industry could be hit twice as hard compared to the UK overall, whipping out the above-average growth achieved in the past ten years. We anticipate about 240,000 direct job losses and a level of contribution to GDP down from £35 billion GBP in 2019 to £26 billion GBP. However, there were also lots of impactful moments over the last year and we saw designers taking the time to reset, putting product, sustainability, and creativity at the core of their businesses. What we have seen, is how a digital first approach also comes with benefits. Thanks to digital, our designers have been able to reach a much larger audience, building even more meaningful relationships with their clients, no matter where they are based. Virtual showrooms such as JOOR, also offer great possibilities of viewing 360-degree detailed views of each product and the opportunities to develop technology further in the future is really exciting. Last year, we also made the decision to merge all the men's and women's events for 2021, making London Fashion Week genderless and open for all. Although we are facing challenging times ahead, I am hopeful that our industry will recover; British fashion is known for its resilience after all!
Do you think we will ever go back to the way things were? What does the future of fashion week look like?
My hope is of course that we will go back to some sort of normality very soon. This season will be a digital-only event, with the digital platform serving as the Official Digital Hub, freely accessible to everyone. While I do believe that digital will never replace the magic of in-person gatherings and events, the importance of the direct access to a global audience cannot be underestimated and we will encourage brands to continue to focus on digital strategies going forward. We are also constantly working to evolve the event in response to the changing market to maintain its position as one of the top four fashion weeks globally. When we look at the future of LFW, the work we do will be very much a hybrid of digital and physical, informed by society and increased demands for democratisation of the event. This is why working with companies such as Clearpay, who have come on board as London Fashion Week's Principal Partner, gives us a new way to sustain the industry and help jumpstart retail while making fashion more inclusive and accessible to the public
LONDON
Simone Rocha
Simone Rocha debuted a collection that featured structure and extensive craftsmanship for Fall/Winter 2021. In her press release, the designer describes the collection as "thinking of clothes in a protective and practical way," as well as being inspired by uniformity and naivety. Rocha's signature layering is emphasized by mixing and matching materials like satin, leather and tulle, with the designer's recognizable punk-inspired aesthetic. Pearls, chunky boots and eye-catching blush rounds off the collection.
Watch the full runway video above to see all of the looks.
Art School
Dubbed "Ascension," London-based label Art School presented a collection emphasizing diversity and representation. Led by Creative Director Eden Loweth, the presentation took to Truman Brewery, a classic London location throughout fashion week (although this time strikingly empty) to put on a catwalk show. In terms in the cast, the designer tapped members of London Trans+ Pride, two nonbinary stars of RuPaul's Drag Race U.K and more, to bring their vision to life.
The striking collection quickly gained buzz across social media, and Loweth took to Instagram to write, "For four and a half years I've worked to go all the way; today, with all of you alongside me, I believe I can." Debuting pieces in leather with juxtaposed looks in lace and linen, they manage to create a collection for everyone – designed for different body shapes and anyone that wants to wear the pieces. The collection features a handful of all black looks, which are then broken up by a selection of bold, red designs, and finally the collection finishes with cream whites.
Art School is without a doubt one of the most exciting labels coming out of London, and Eden Loweth is the name you need to be watching.
Burberry
For his first standalone menswear collection, Riccardo Tisci was inspired by nature and the great outdoors, titling his collection "Escapes." Inspiration for the collection came from when "[people] formed communities with a deep respect for nature and the outdoors and looked forward to a future full of possibility," the designer explained in a statement, also reflecting on our past year where most of our time has been spent indoors.
The pieces in the collection features photographic animal prints on shirting, fuzzy coats and vests from imitation mink and shearling, as well as Burberry's signature trench coats in new styles. A sporty varsity jacket also caught our attention, as well as the label's signature earthy and beige color palette.
Vivienne Westwood
View this post on Instagram
Having always been a pioneer within the world of sustainability, Vivienne Westwood created a collection mainly made from materials like organic cotton, recycled cotton, organic silk, eco and recycled denim as well as recycled nylon and polyester. "We aim to make clothes which last, which are timeless, that you can style with favourite pieces from your wardrobe – and wear year in year out," the designer explains on Instagram.
The collection itself incorporates Westwood's British heritage as well as inspiration from her archives, bringing out traditional wool fabrics, tartans, herringbone and King of Wales check, as well as soft silk and viscose. "90% of our main-line collection is made from materials that have a reduced impact on our environment," explains the label. For Fall/Winter 2021, nothing is more important for Westwood than caring about the environment – and that has always been the brand's ethos, ever since its inception.
Edward Crutchley
View this post on Instagram
"I've been wondering how relevant a video of a show is to brands like mine. Is that what we really need to show to the world or can we talk about something broader?So this season I've presented a video talking about how we source and produce our collections. With video our suppliers have made of work in progress alongside footage of the final collection. To me luxury is about process and quality and I'm hoping to broaden out that conversation," Edward Crutchley tells us about his Fall/Winter 2021 collection.
With an earth-toned color palette and experimental silhouettes, Crutchley takes us into his world which plays with classic silhouettes and elevates everyday pieces with unconventional takes. For FW21, oversized scarves, hats with earflaps and uniform-like styling immediately catches the eye.
---
NEW YORK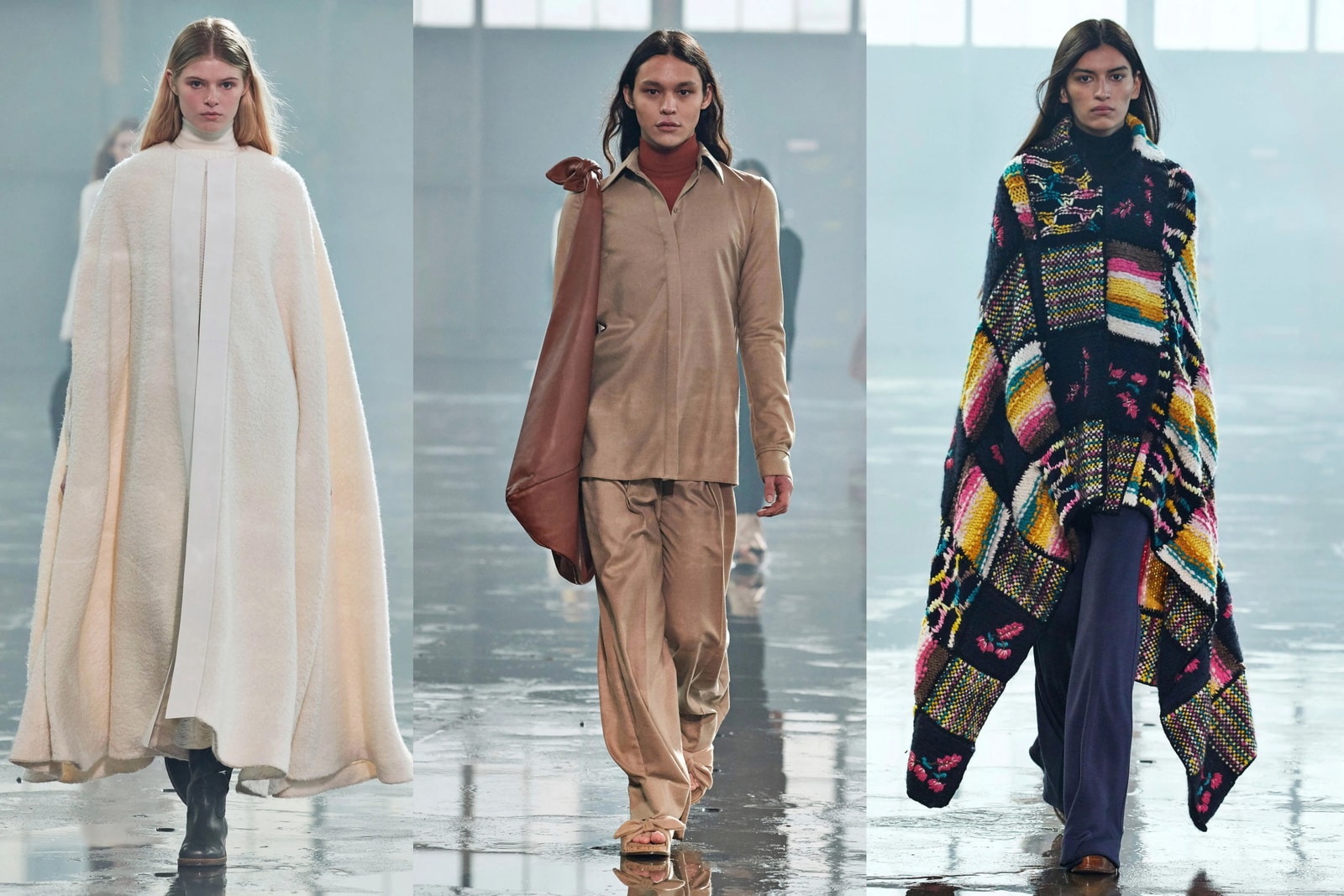 Gabriela Hearst has become one of the most talked about designers over the past few months following her appointment at Chloé in December. Her eponymous label is the perfect mix of luxury and everyday silhouettes, and for Fall/Winter 2021 Hearst focused on maintaining her brand ethos, which includes sustainable thinking and the goal of creating her collection using 50% recycled materials.
Inspired by Hildegard of Bingen, noting that "She believed in 'green power,'" in an interview with Vogue, Hearst included floral prints reinterpreted by her 12-year-old daughter, as well as her own interpretations of Bingen's work throughout the collection. She also brought the inspiration to a pair of ruanas, that were hand-knit by the Manos del Uruguay women's collective, where Hearst is from. All in all, a personal collection that captured Gabriella Hearst's personal reflection as well as the luxury of her brand.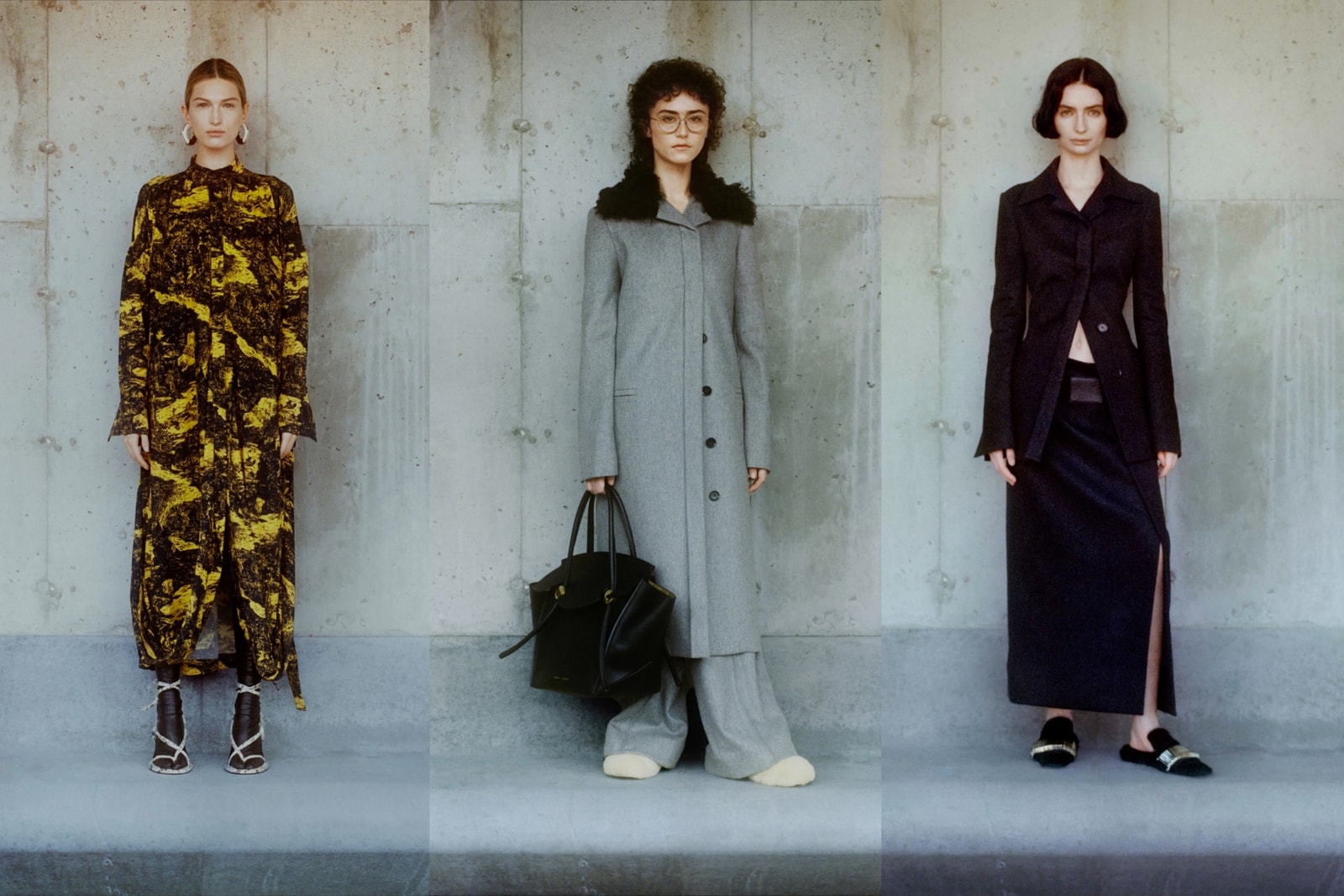 Following the reveal of Proenza Schlouler's FW21 collection, pictures of Ella Emhoff from the lookbook were all over the internet. Not only did the label manage to work with one of the most buzzing up-and-coming names, but also created a collection filled with timeless staples with elevated materials and silhouettes. Knits, fringe and tailored suits dominate the collection, which follows a muted color palette with occasional pops of red, green and yellow.
The structured, minimalist collection is a reflection of the past year, where we've all turned away from the over-the-top luxury, and are focused more on longevity and pieces that can last a lifetime. Just short on their 20th anniversary, Proenza's Jack McCollough and Lazaro Hernandez know that the industry has changed forever, and clothes now need to look good as well as feel good – and that's what the Fall/Winter 2021 season delivered.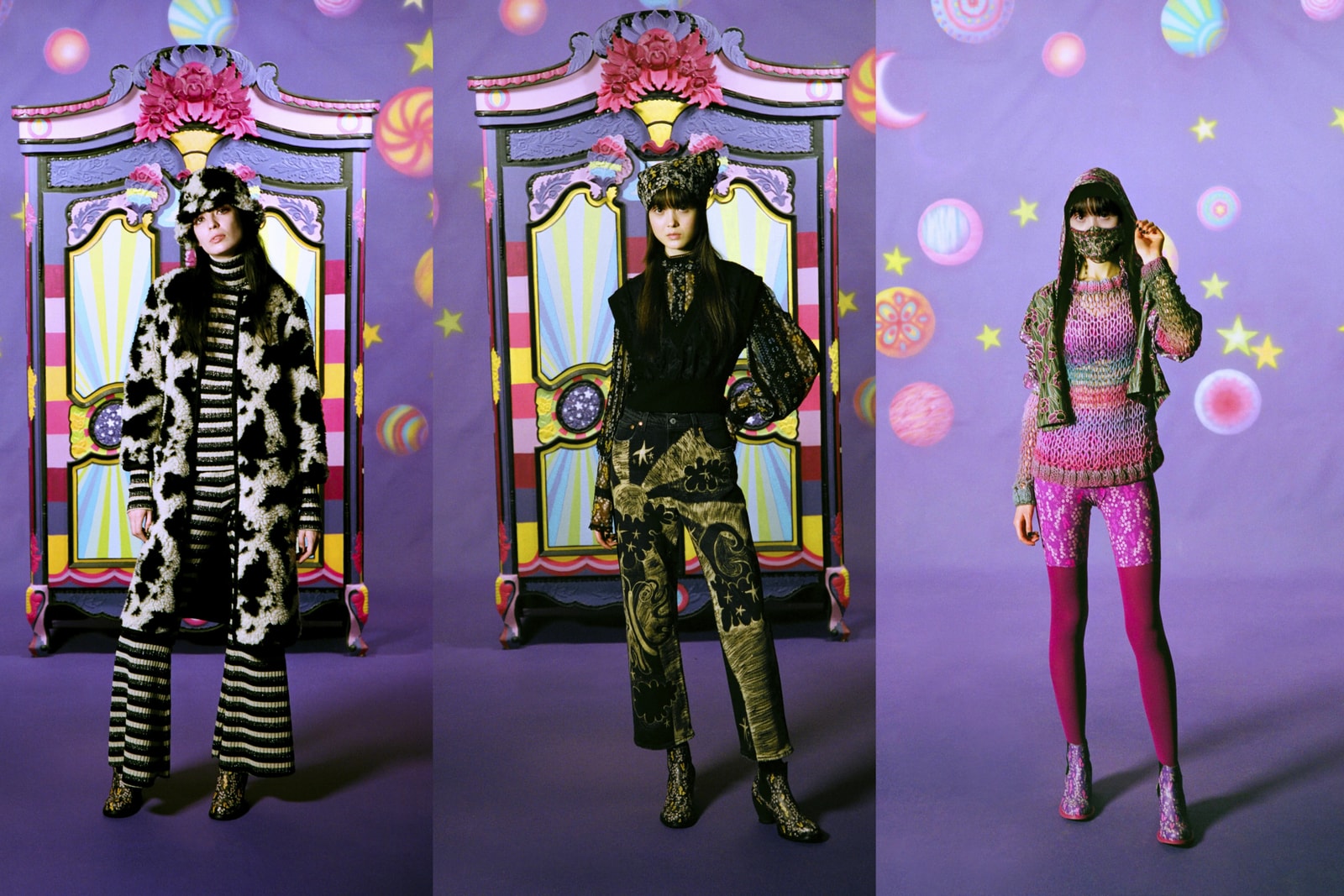 When the world is boring and we're still stuck indoors, Anna Sui is brightening our Fall/Winter season with her colorful and eclectic collection. Featuring everything from printed denim to rainbow knitwear and cow-print fleeces, the collection is all about self-expression and having fun.
For a whole year we've been spending time indoors without being able to wear our favorite outfits, and Anna Sui remains positive that by the end of the year, we'll all be able to once again wear our most eye-catching pieces out again. The collection is a refreshing range to see, in a world where minimalism and leisurewear is becoming increasingly important.
View this post on Instagram
Fashion is no longer what it used to be, and Collina Strada has focused on the unconventional for Fall/Winter 2021. Dubbed the "Collina-mals" collection, the lookbook features models morphing into animals, dinosaurs and lizard-human hybrids. The collection itself is print-heavy and plays with mixing and matching shapes and patterns to create an eclectic feeling, and features matching legging and shirt sets, tracksuits and day-to-day pieces that can be layered and worn in many different ways.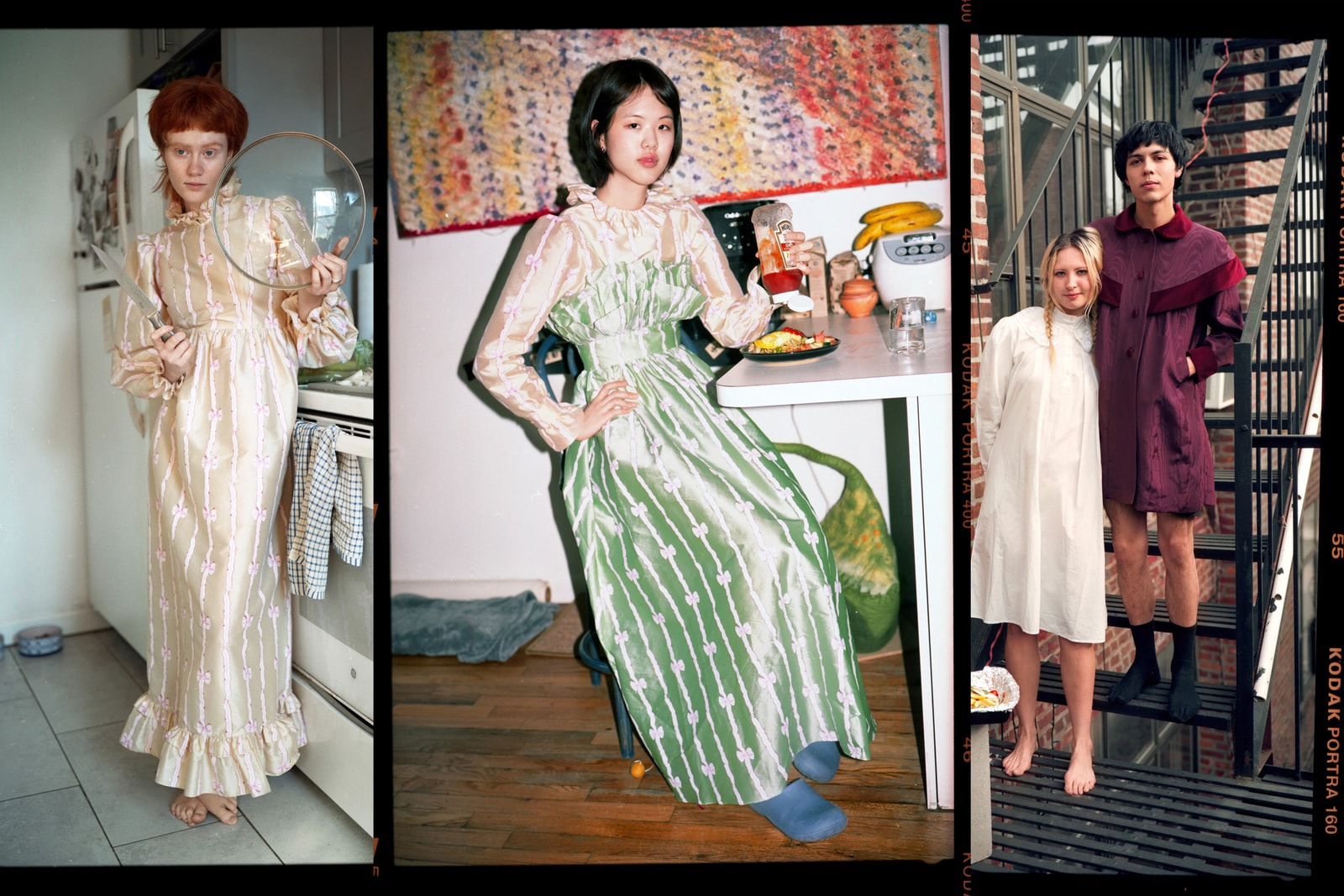 Turning a lookbook into a cookbook, Batsheva Hay has photographed people cooking in their kitchens or in their homes, wearing the label's Fall/Winter 2021 collection. This season, the cast of models include familiar faces like Nicky Hilton and Euphoria's Maude Apatow, all interpreting the pieces in their own way. The collection captures the Batsheva consumer perfectly, as someone who wants to get dressed up and cook a three-course meal on one day, and lounge around in the sofa the next.
Share this article