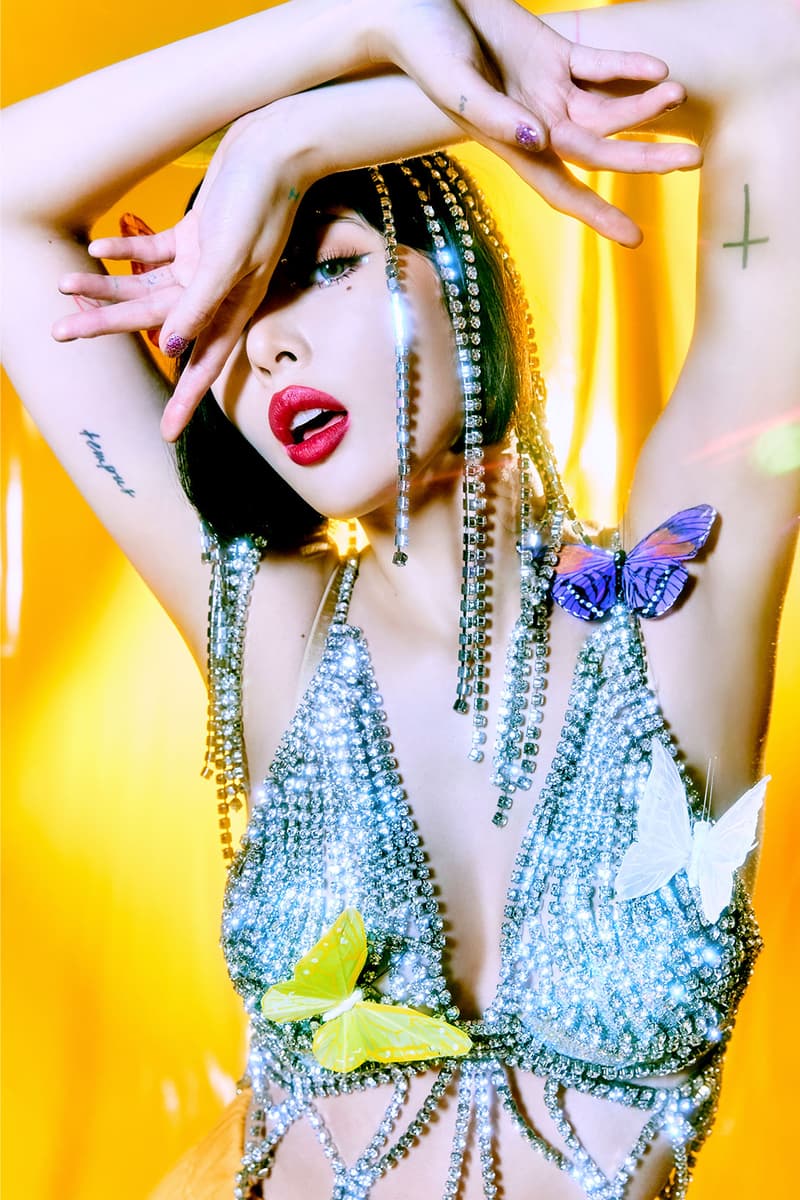 The Best K-Pop Songs and Music Videos of 2021 So Far
From HyunA to Baekhyun, these are our favorite tracks and albums of the year.
Music
The Best K-Pop Songs and Music Videos of 2021 So Far
From HyunA to Baekhyun, these are our favorite tracks and albums of the year.
The first quarter of 2021 saw the K-pop industry continuing to debut exciting new tracks and albums for fans worldwide almost weekly. For those looking to update their playlists, below, we've gathered some of the genre's best releases of the year so far.
At the beginning of this year, K-hip hop veterans Epik High tapped CL and ZICO for their new project Epik High Is Here, while singer-songwriter Colde released his latest EP. Idol group IZ*ONE revealed their final single "D-D-DANCE" in late January. Solo artists HyunA and CHUNG HA dropped hit tracks and captivating visuals for "I'm Not Cool" and "Bicycle" respectively. Other standout releases come from artists like BLACKPINK's Rosé, Jessi and IU, as well as Baekhyun, who has recently launched his third mini-album. Read on for some of our favorite K-pop songs and music videos of 2021.
While you are here, these are the best new idol groups to look out for this year.
Epik High – "Rosario (Feat. CL, ZICO)"
Following their 2019 album sleepless in __________, Epik High released the first part of their newest project dubbed Epik High Is Here. The record is led by two tracks, "Rosario" and "Based On A True Story," with guest appearances including the likes of CL, ZICO and Heize. The former delivers a message to those praying for others' failure and unhappiness, while the latter follows a melodramatic story.
Colde – "The Museum"
R&B singer-songwriter Colde dropped his seven-track EP idealism led by two songs, "The Museum" and "A Song Nobody Knows." The music video for the former expresses the feeling of being mesmerized by a piece of art at a museum. In the visual, the artist is seen walking through a gallery, only to end up in front of the same artwork again.
IZ*ONE – "D-D-DANCE"
IZ*ONE, a one-year project girl group formed through the reality TV show Produce 48, released their single "D-D-DANCE" before their final online concert One, The Story in March. This music video would be the last from the K-pop team as they are disbanding as planned following their contract expiration.
Sogumm & DJ Wegun – "Imagine (Feat. Hoody)"
AOMG signees Sogumm and DJ Wegun joined forces with Hoody for a digital single titled "Imagine." The three artists take the stage in an empty venue to deliver a modern track accompanied by Sogumm's signature soft and smooth vocals.
HyunA – "I'm Not Cool"
HyunA returned with her seventh mini-album I'm Not Cool filled with catchy tunes "I'm Not Cool," "Good Girl," "Show Window," "Party, Feel, Love" and "Flower Shower." The title track, which boasts addictive synth sequences, is co-written by PSY, DAWN and HyunA herself.
BIBI – "Eat My Love"
Breakout musician BIBI, who has been taking over charts and screens over the past year, dropped her new single "Eat My Love" sending messages of love. In the lyrics, the songstress compares love to a medicine that can cure depression and fatigue. The colorful music video sees BIBI featured alongside an animated bear and rabbit that get counseling from the artist.
SE SO NEON – "Jayu"
SE SO NEON, one of Korea's hottest indie bands, returned in February with "Jayu," which translates to "freedom" in English. "It's not the feeling of liberation felt by someone shouting 'I'm finally free!' in an open space, but a realization of freeness felt sitting inside one's small room, watching people pass by through the window and contemplating about the bigger world," the team's vocalist and lyricist So!YoOn! elaborated in an interview with The Korea Herald. The track is accompanied by a cinematic music video starring actor Yoo Ah-in in a single frame, performing a held-back yet powerful scene conveying different emotions.
CHUNG HA – "Bicycle"
CHUNG HA launched her first solo studio album Querencia with the title track "Bicycle." The catchy tune is performed with impactful choreography, which includes a backflip and a human bicycle. "The lyrics convey 'I will do what I want to do in my own way.' I put lots of thought into the lyrics, and I think overall, 'Bicycle' represents me as a person and the artist I hope to become," the K-pop artist shared in an interview with HYPEBAE.
SHINee – "Don't Call Me"
After a three-year hiatus due to their mandatory military service, SHINee made a grand comeback with their newest title song "Don't Call Me." Boasting a hip hop beat, the song is accompanied by eight other titles under the studio album of the same name. The tune arrives with a music video that features the now-four-member group staging a series of dynamic dance moves.
Sunmi – "Tail"
Written by the musician herself, "Tail" has become one of Sunmi's many hit tracks, including "LALALAY," "Siren," "pporappippam" and "Gashina." On the track, the star expresses instinctive emotions and sexual fantasies by imitating the movement of animals in her choreography. "[Animals will] shake their tails gently when they're in a good mood and flick it hard if frustrated. I liked the frankness of this instinctive behavior and the word 'tail' just left a huge impact in my mind," Sunmi explained in a conversation with The Korea Herald.
Wonho – "Lose"
Former MONSTA X member Wonho kicked off the year with the second installment of his highly anticipated solo mini-album Love Synonym #2: Right for Us. The record is led by "Lose," an electronic dance song that took over Billboard's World Digital Song Sales chart upon its release.
LIM KIM – "MAGO"
In celebration of International Women's Day, LIM KIM teamed up with fashion label MISCHIEF for a project titled "MAGO." Delivering a message of female empowerment, the song takes inspiration from Mago, a mythical figure who is also known as the "Great Goddess." The release also highlights LIM KIM's Korean roots with traditional instruments like the ajaeng, bak and bara.
Rosé – "On The Ground"
Roughly two years after Jennie's "Solo," BLACKPINK member Rosé debuted her first-ever solo project dubbed R. The release is comprised of two tracks "On The Ground" and "GONE," the latter of which was first revealed at the K-pop group's virtual concert in late January. With the former title, the songstress set a new YouTube record by amassing 41.6 million views in 24 hours, surpassing PSY's 2012 music video "Gangnam Style."
Super Junior – "House Party"
K-pop veterans Super Junior returned with their 10th album The Renaissance and debuted the upbeat track "House Party." Keeping the ongoing pandemic in mind, the song reminds fans and listeners that we should "put aside our feelings of wanting to be together for a while" and stay "connected without any physical contact."
Jessi – "What Type of X"
Adding to her list of TikTok-viral releases such as NUNU NANA, Jessi dropped a new single titled "What Type of X." Written by the musician herself, the song delivers messages of self-love and confidence as she sings: "I'm a different type of beast… What type of X do you think I am?"
IU – "LILAC"
Reflecting on her 13-year-long career, IU released her fifth studio album titled LILAC. The 10-track record features her recent single "Celebrity" alongside the title tracks "LILAC" and "Coin." The music video for the former is packed with symbols representing the different stages of IU's professional career, while the latter captures the artist in a casino-themed set.
Baekhyun – "Bambi"
EXO member Baekhyun is continuing his career as a solo artist with his third mini-album titled Bambi. The release is comprised of six tracks led by the eponymous title, where the artist repeatedly sings: "You're my only Bambi, Bambi." Depicting a love story, Baekhyun's sensual R&B tune marks his transition "into an adult from a boy," as announced during a virtual press conference. "If the previous album had been about evolving, with this album, I tried to make those changes into mine," he added.
Share this article