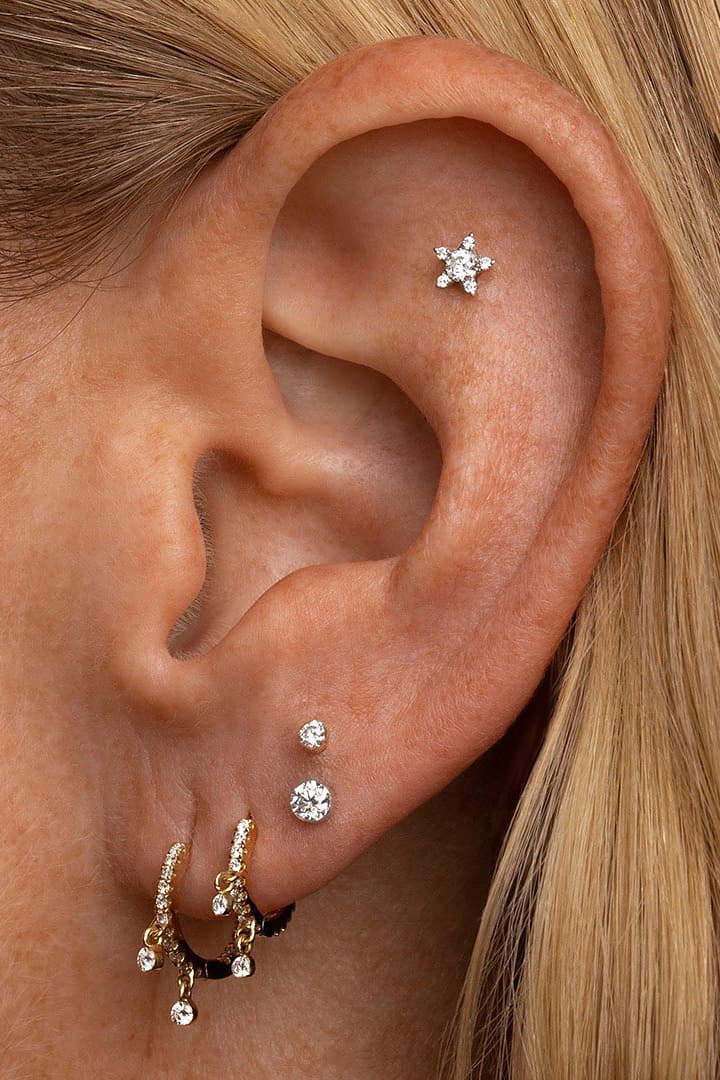 These Are the Top 3 Piercing Trends for 2021
Piercing pioneer Maria Tash shares her insight.
Fashion
These Are the Top 3 Piercing Trends for 2021
Piercing pioneer Maria Tash shares her insight.
When the pandemic hit the U.S. in March, Maria Tash thought ear piercing was done for. The elastic loops on face masks seemed like they would deter people from getting their lobes and cartilage pierced but, luckily, that was not the case.
The fine jewelry designer and founder of Maria Tash, her eponymous New York-based piercing salon and jewelry brand, reports that business is seeing pent-up demand now that more people are vaccinated and feel comfortable venturing back into salons. "Now that our stores have reopened, we are seeing an influx of customers and appointments are booked as far out as the end of June," Tash says.
Of course, the pandemic hasn't completely spared the piercing industry. Nostril, septum and oral piercings are temporarily paused as a precautionary health measure, shifting focus to more traditional spots on the body. The expert predicts that customers will embrace ear piercings of all kinds, from the classic earlobe to more adventurous cartilage placements.
Keep reading for Tash's top three piercing trends for 2021.
Lobe
A natural choice for piercing beginners, earlobe piercings are versatile and heal quickly. "Stacked and high lobe [piercings] are interesting variations on this very popular part of the ear," Tash notes. Stacked or staggered lobe piercings are placed right above traditional earlobe placements, resulting in a vertical "stack" of holes. High lobe piercings also create a stacked effect but instead of creating a vertical line, they follow the curve of the earlobe and approach the cartilage. "Some people elect to join two earlobe piercings with one piece of jewelry to create an orbit, which is another novel variation that works well in this very flexible tissue," Tash explains, illustrating another option for those considering an earlobe piercing or two.
Rook
A traditional rook piercing is placed at the ridge that separates the outer and inner sections of the ear. For those who want to shake things up, Tash has developed two subtle variations on this piercing: The Tash Rook and the Tash Hidden Rook℠.
The Tash Rook is placed just above the traditional rook, piercing a flat plane of cartilage instead of a ridge. "It's one of our most popular placements because it is easy to adorn, and the tissue is thin so it heals quickly," Tash elucidates. It's also a versatile spot, ideal for both large and small studs.
The Tash Hidden Rook℠, which the expert trademarked last year, lends itself to the delicate chain jewelry she designs. The special placement is tucked just beneath the ridge that a traditional rook piercing sits on. Typically adorned with one of Tash's signature draped chains, the "hidden" piercing makes jewelry appear floating.
Helix
Tash has also pioneered her own special version of the helix piercing, traditionally placed at the inside ridge of the upper ear. The Tash Helix℠, another "hidden" piercing, is concealed underneath the upper fold of the ear. Jewelry cascades down from the piercing, resulting in a floating waterfall effect. "The final look creates a sense of wonder and beauty and makes you think, 'How does this work?'" Tash says of the piercing's unique appeal.
Image Credit

Maria Tash, Anna Elizabeth/Unsplash
Share this article