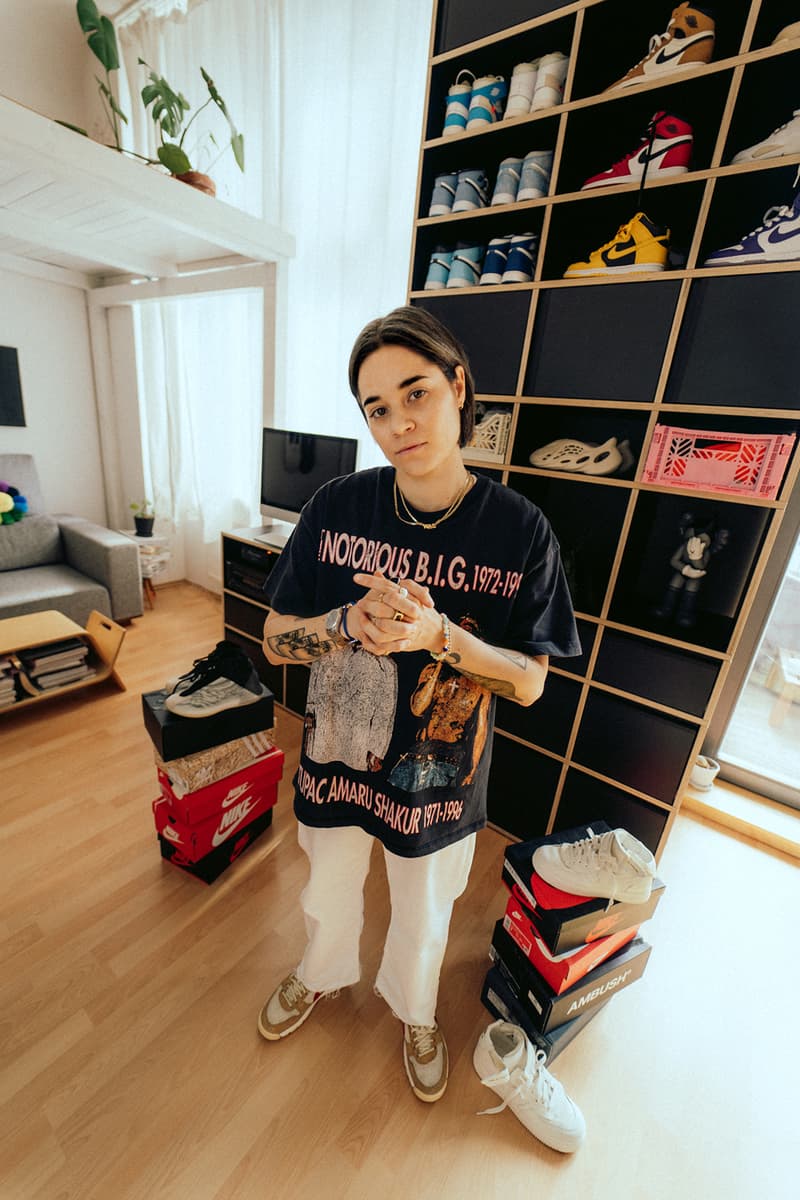 Baes With Kicks: Dani Buck AKA wideawakearthquake
We talk to the Berlin-based DJ about her sneaker collection, LGBTQ+ advocacy and more.
Footwear
Baes With Kicks: Dani Buck AKA wideawakearthquake
We talk to the Berlin-based DJ about her sneaker collection, LGBTQ+ advocacy and more.
Our latest Baes With Kicks feature takes us to Berlin, Germany to meet sneaker collector, content creator and DJ, Dani Buck. Better known as wideawakearthquake online, the creative started her platform in 2013 to share her love of streetwear, travel and art. While Dani isn't sure how many pairs she has in her footwear collection, her impressive lineup features a wide range of brands including Nike, adidas, New Balance and more. Other than being passionate about fashion and music, Dani is an advocate of LGBTQ+ rights, using her work to champion and promote gender equality.
Below, we chat with Dani about her favorite sneaker silhouettes, how her style has evolved since the pandemic hit, how she helps raise awareness of the LGBTQ+ community and more. Read on for our interview.
Name: Dani Buck
City: Berlin, Germany
Occupation: Content creator, social media manager, sales advisor and DJ.
How many pairs of sneakers do you currently own?
I get this question very often, but I never had the patience to sit down and count my shoes. I can only say at this point, I own quite a few pairs!
What are your top five favorite sneakers?
UNION LOS ANGELES x Nike Air Jordan 1 Retro High "Black Toe" and "Blue Toe": These are such a dope collaboration. I really like the concept and the colorways are just perfect — simple and super refreshing at the same time.
Tom Sachs x Nike Mars Yard 2.0: This pair is one of my holy grails. The colorway and the collaboration with Tom Sachs make this shoe so interesting. Tom Sachs is amazing and I'm super happy that I was a #NikeCraftWearTester in the first phase of Nike's wear tester program.
Nike Air Force 1 '07 "White": This will always be my go-to pair. Air Force 1s are a true classic and work with every outfit.
adidas YEEZY BOOST 700 V2 "Static": This is my favorite and most worn YEEZY. I love the silhouette and the aerodynamic look.
New Balance 990v4: The 990v4 is my number one pick when it comes to running silhouettes, simply because it's a classic that will never go out of style.
Do you recall the very first pair of sneakers you bought or received as a gift?
It wasn't my first pair, but when I was playing basketball during my teenage years, I always wanted to wear Jordans or the AI3. In my hometown, Graz, Austria, we didn't have Foot Locker or similar stores, so I had to convince my mom to drive all the way to Vienna to buy me some basketball shoes. I'm still very grateful she did.
What are your favorite brands to shop from?
There are so many. I love to mix streetwear and skate brands with high fashion pieces and more classic, basic staples. Therefore, I shop a lot at Carhartt WIP, Brain Dead, Supreme, Awake NY, Louis Vuitton, Bottega Veneta, Prada, COS and ARKET, to name a few. I would love to tap into the New York-style streetwear looks one day and then go for a more understated look in the future.
Where do you usually cop your kicks?
If I am really into a pair, I participate in all the raffles, including those happening via the SNKRS app. But as we all know, it's getting harder and harder to buy limited releases. If I miss out on a pair, I try to buy them from StockX, GOAT or Klekt.
Has your style evolved since the pandemic hit?
Of course. The number of matching sweatsuits that I own has increased drastically. But other than that, I've tried to dress up frequently, even if it was for a stay-at-home dinner date. I really like the feeling of wearing something special for a different occasion. Other than that, I went through my existing wardrobe and tried to play around with some of the pieces I've had for a while now, and see how I could style them differently by trying out new combinations, which has been a lot of fun.
In your opinion, what does the world of women's sneakers need more of?
Firstly, we need more inclusion. Until this issue is solved, we're still at square one. A lot of great releases still don't come in all sizes, and that needs to change so that everyone who wants to cop can actually cop.
Additionally, the quality of women's exclusives needs to increase, as there is still a big difference compared to the quality we see in most men's releases. Not to mention the never-ending pink or "girly" colorways that are continuously being released. We don't want or need that anymore.
On a more positive note, it's a great step forward that female designers like Chitose Abe of sacai, Cynthia Lu of Cactus Plant Flea Market and Yoon Ahn of AMBUSH are receiving support and collaborating with Nike, and that lots of men and women are wearing their styles.
What's the Berlin sneaker scene like? Is there anything that makes it unique compared to other cities?
It's kind of a small community, but I'm glad to be a part of it and put Berlin on the map.
Let's talk about you as a DJ, where does your passion for music stem from?
Music has always been a huge part of my life. My dad also used to be a DJ when he was younger. When I was a kid, I loved dancing to my father's records, everything from Phil Collins to Faithless.
The music I play as a DJ differs from what I listened to back then, but what hasn't changed is how I use music to express myself. Music is a very important part of my life in general, but it also guides me through my day and is always by my side. Music motivates me; it makes me feel all the feels. I don't know what I would do without it.
As an LGBTQ+ advocate, what are some things you do to help spread awareness for the community?
First of all, I try to be out, proud and loud about being gay. I talk about my experiences very openly, and through this, I aim to empower others to do the same and hope that hearing of my experience helps others feel less excluded. In 2019, I DJ-ed on Pride parade trucks in New York, Berlin and Vienna. I'm hoping that in 2022 and the years to follow, I can travel all over the world playing to and celebrating with my community.
Two years ago, I released a charity T-shirt and donated the profits to GLADT, which is an organization that fights against homophobia, transphobia, racism, sexism, ableism and other forms of discrimination. I'm currently in the process of planning another project to benefit a similar charity.
Share this article