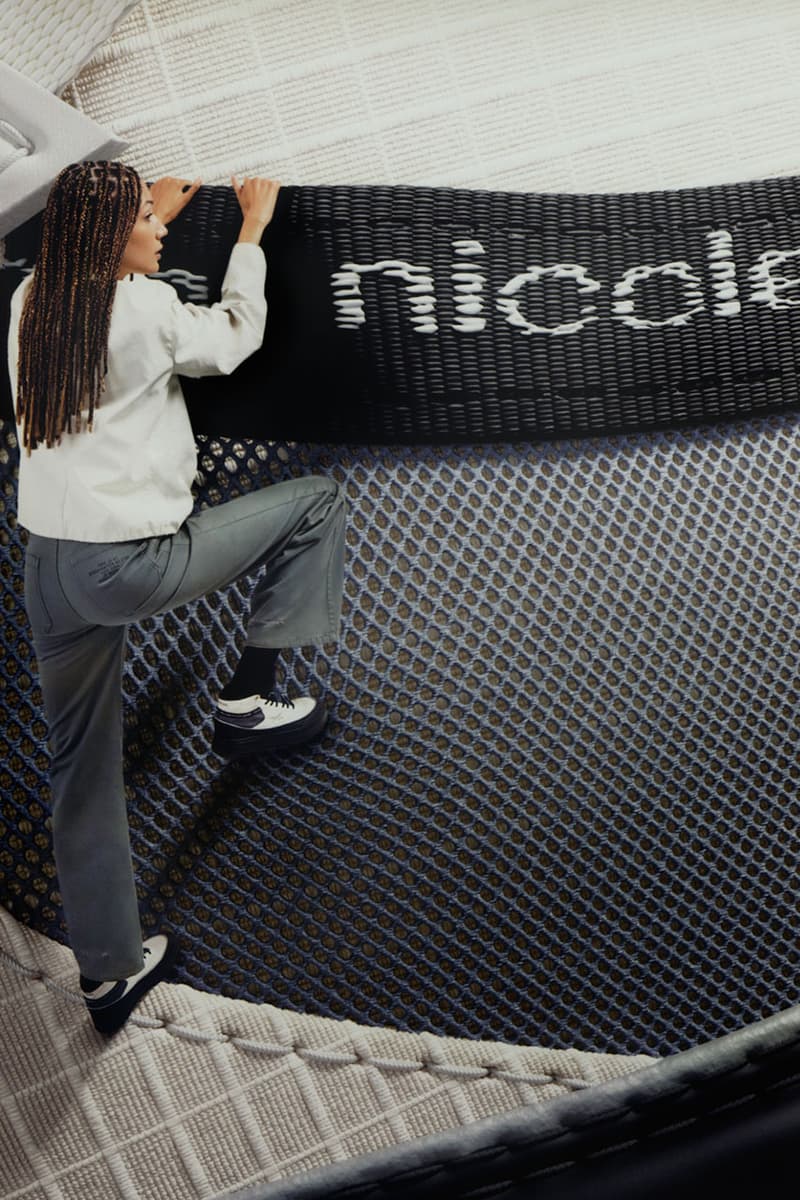 1 of 5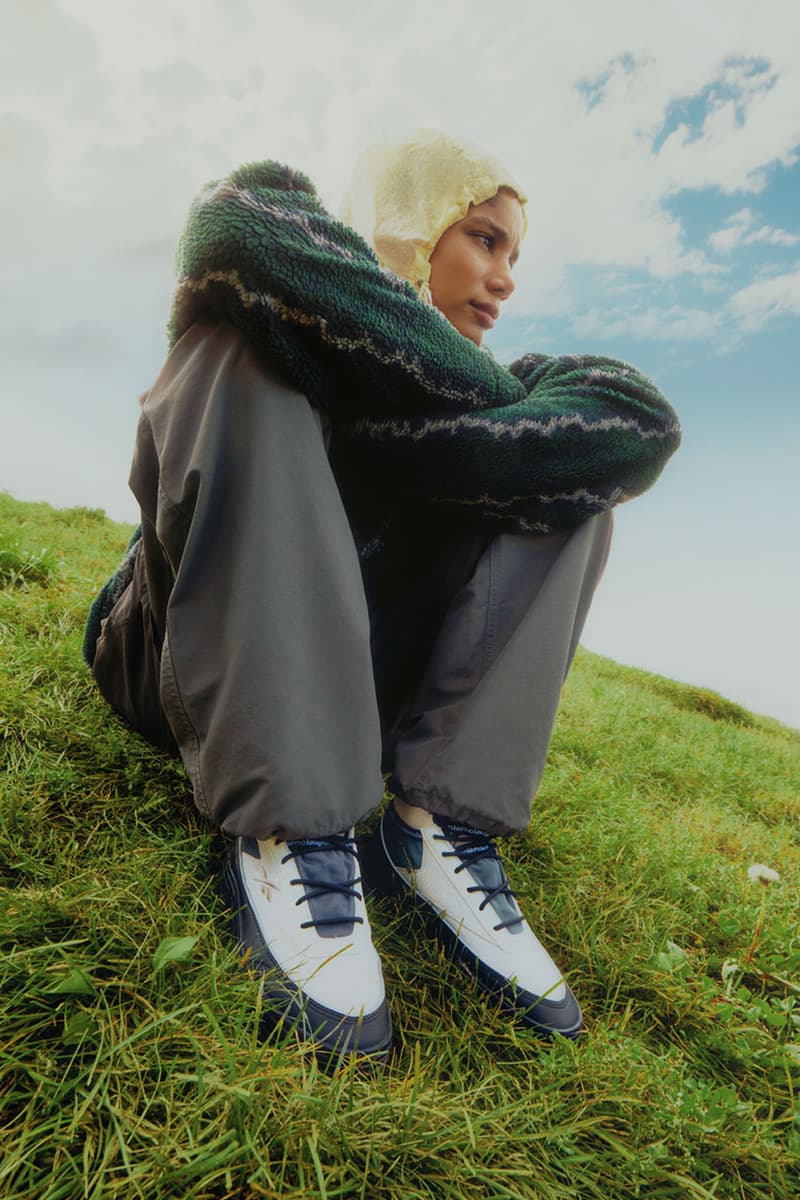 2 of 5
3 of 5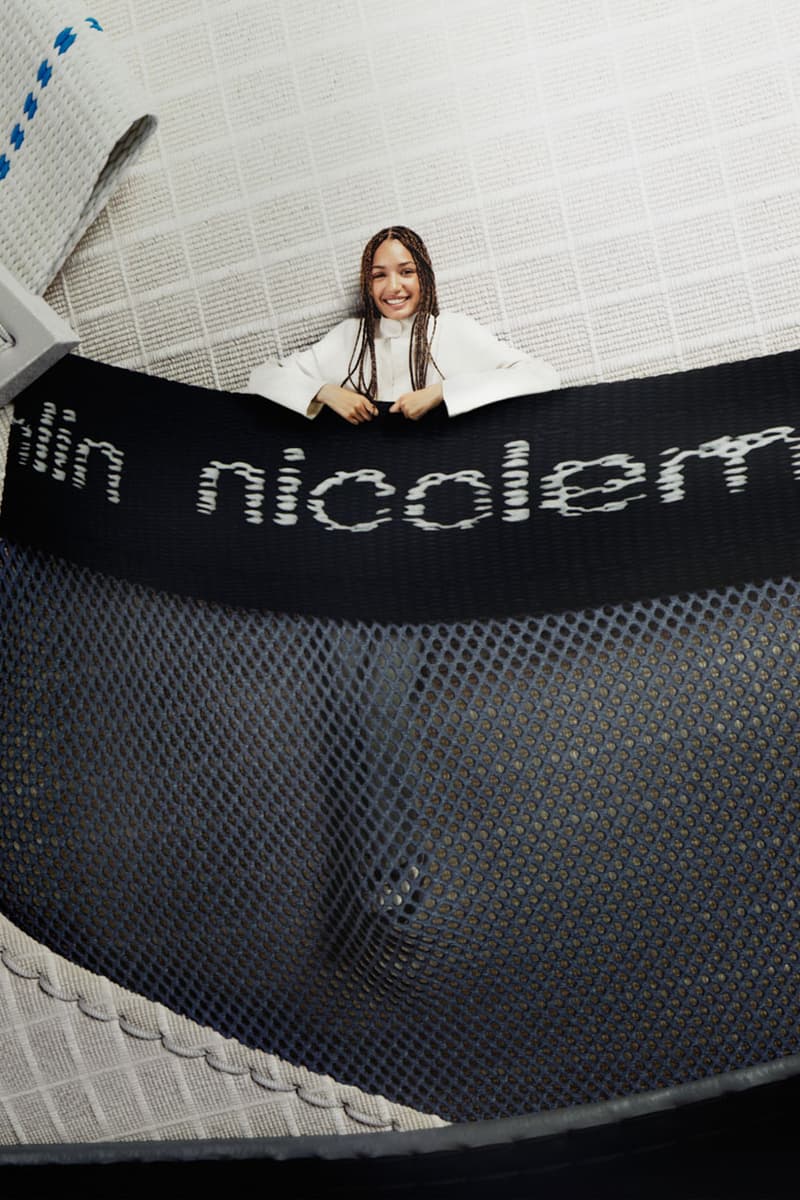 4 of 5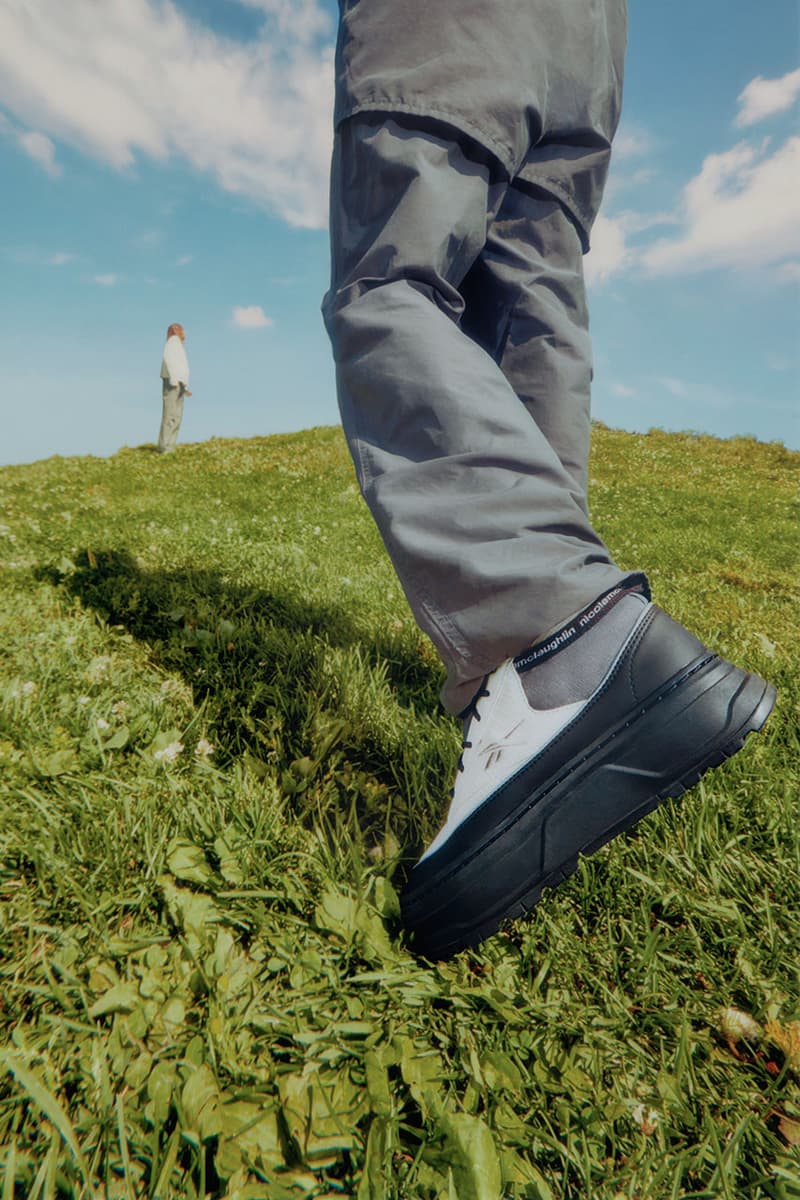 5 of 5
Footwear
INTERVIEW: Nicole McLaughlin Leaves Her Mark on Reebok's Club C Geo Mid
The upcycling trailblazer details her journey from a Reebok graphic designer to a Reebok collaborator.
INTERVIEW: Nicole McLaughlin Leaves Her Mark on Reebok's Club C Geo Mid
The upcycling trailblazer details her journey from a Reebok graphic designer to a Reebok collaborator.
Designer, upcycler and newly appointed Forbes' 30 Under 30 awardee, Nicole McLaughlin defines trailblazing.
From Haribo gummy bear shorts, to Carhartt beanie slides; her design practice fuses creativity and craft, giving new life to everyday objects. Daring the fashion industry to think twice before engaging in mass production, McLaughlin has amassed the attention of eager brand collaborators from the likes of Crocs , Arc'teryx and PUMA.
McLaughlin began her career at Reebok in 2016 as a graphic designer and with circularity at the heart of her ethos it's only fitting her time with Reebok has now come full circle.
Reebok tapped the designer to put her own twist on a new Club C Geo Mid. Drawing inspiration from the great outdoors, as well as her time at the sportswear label, the shoe is designed with multi-functionality and adventure in mind. From forest trails to city sidewalks, Reebok and Nicole McLaughlin's Club C Geo Mid merges effortless modernity with vintage undertones and cheeky storage pockets.
Join us as we sit down with Nicole to discuss her Reebok collaboration, favorite secondhand finds and her vision for a more sustainable fashion industry.
Continue scrolling for more.
Since this is a '90s model, what is your favorite '90s show, snack and musician?
Hey Arnold!, Dunkaroos and I've been getting re-into 3LW lately.
In a return to Reebok, what felt different after pursuing a solo career, what tools were you equipped with to come back to the brand?
It's definitely a different feeling for sure. It was just a crazy full circle moment because that's where I learned literally everything. So, when doing this project, I was applying all the knowledge that I had learned as a young person out of college and I took a lot of the insights that I had from working there as a graphic designer.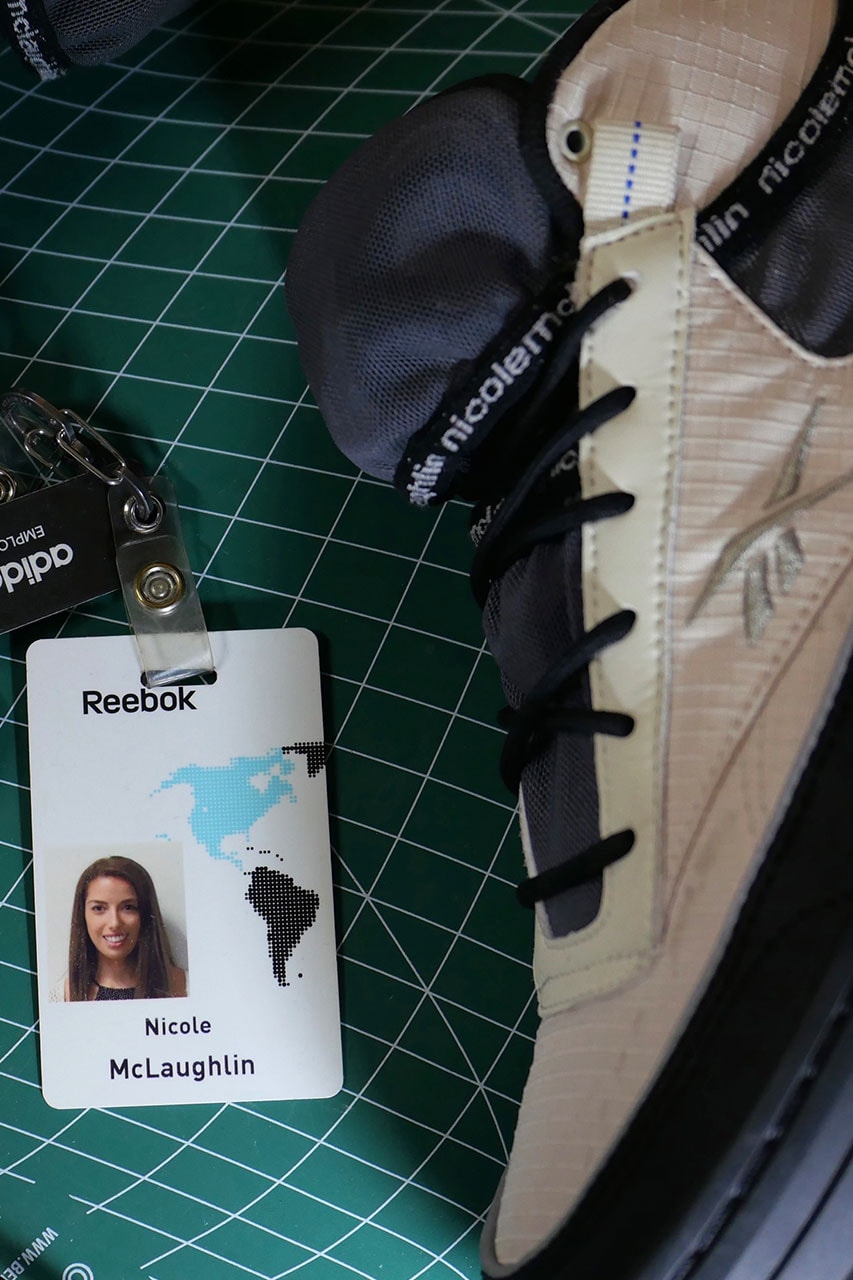 Did you choose the model and colorways?
They came to me with the Geo Mid and, because it was a women's focused shoe, they brought it to me and were like maybe you'd be interested in this. I knew I wanted to bring in my own branding but also reference Reebok's heritage logo that I loved. So, that was a conscious decision when designing the shoe. I also chose the colorway and the mudguard and kind of built up the shoe to make it feel a little bit more trail than sneaker to match my personal vibe.
What inspired the shoe?
My experience at Reebok was very much around the archive. It really just inspired my love for vintage clothing and history in general. Now, it's so crazy to look back on because so much of my work is vintage and about trying to find the beauty and the history within clothing functionality wise. I gravitated towards this vintage model called the Etna for the color inspiration and more of the trail vibe. With this shoe I was thinking about trail hiking but also trail running. There is a pocket on both sides that's reminiscent of a trail running vest that you would put your gels in. There's also the lace garage as well that you can pack up your laces inside.
Storage is always something that I bring into my personal work so, I wanted to bring that into the shoe.  It's crazy that I got to make a balance between something that's my design aesthetic and something that I would wear while bringing those cheeky elements into it.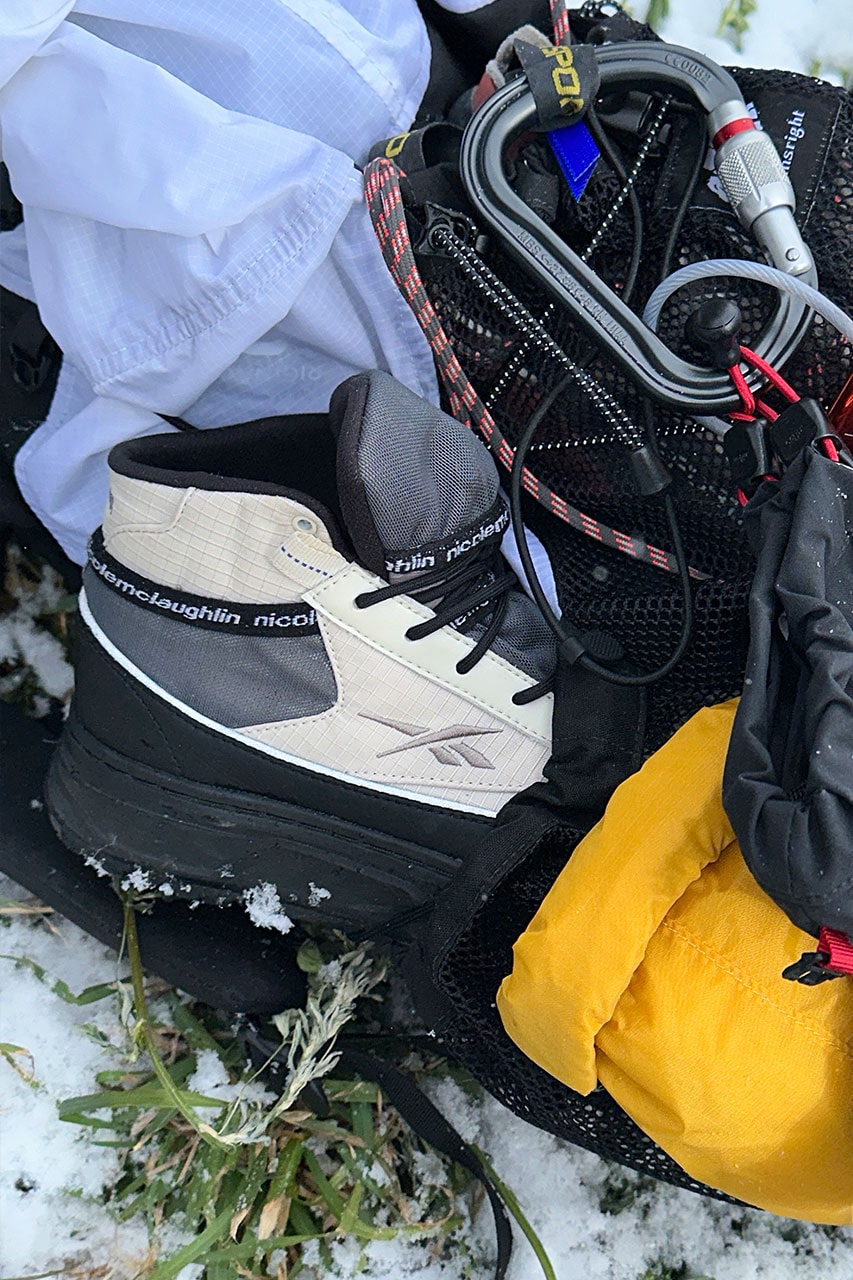 Where is the first place you'd take your Geo Mid in the great outdoors?
I actually recently moved to Boulder, CO, so I'm fully leaning into this lifestyle now. I'm still kind of New York based and have my studio there. But, I love living in Boulder, I thrive when I have that outdoor energy
So, these shoes have already been with me outdoors. They were in New York quite a bit and then I went to a climbing spot here in Colorado in Fort Collins called Horsetooth Reservoir where I took them on a little trail walk. Next, they will be joining me on a trip to Moab.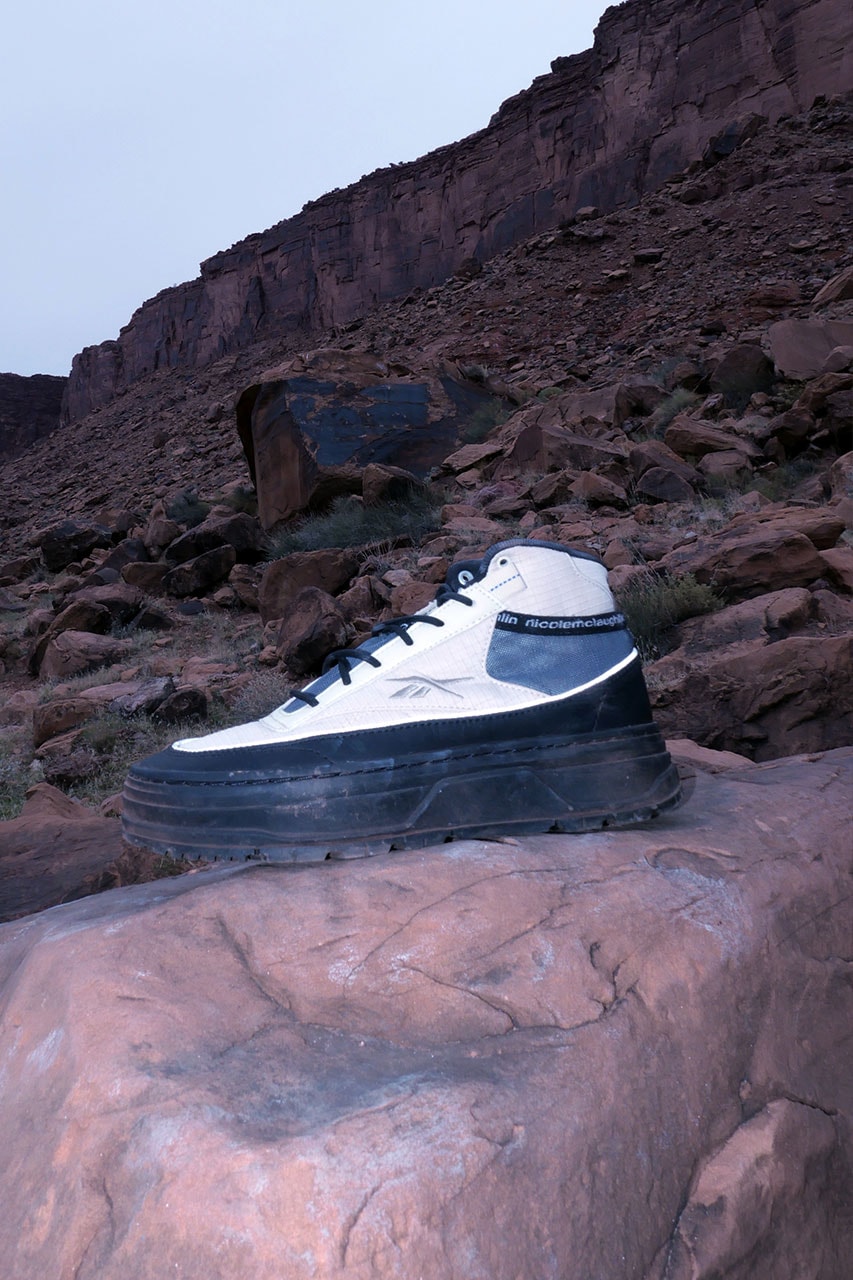 We're approaching the holiday season, one of the most unsustainable times in the year. What is your advice to brands to approach fashion sustainably?
This time of year is always very overwhelming for someone that's in a sustainable design space. I constantly get ads and discount codes and we just don't need that much stuff. As a brand, it's about thinking like maybe instead of some type of Black Friday sale, you do a Black Friday take back program, so you get back materials that you've already made instead of leaving that responsibility to the consumer.
Also, when designing for these clickbait moments of sales, think about design for deconstruction and that's something that I do a lot. When I'm creating something, I think "What can this be next? If this does reach its end of life as a jacket, what can it be after that?"
What's your favorite Reebok shoe?
The Beatnik is always my favorite. I found it in the archive so many years ago. It was at the height of the sneaker craze and all of us internally were like, this is going to be the next thing because it's like a a mule slide.
I also love a Club C that's just beat up and worn out. And then lastly, sorry, I have so many…But Reebok, in '95, made rock climbing shoes which were the Transcender Lace, Transcender Slipper and the Overhang.  Reebok was one of the first brands to actually create the leaf spring technology, which is what you need for a rock climbing shoe because they're bent so you'll be able to grip the rocks better. So, it's pretty cool and was revolutionary for the time.
What are some of your favorite creations and materials to work with?
I have some of the same materials from when I first started doing this like the tennis balls and some fleeces. There's one particular L.L. Bean fleece that I made a pair of shoes with and I'm still pulling from that fabric four or five years later. When I'm buying something that's secondhand I always look for the most amount of elements on the fabric so I can repurpose it. And then, I'd say my Carhartt projects have had the most lives. I got a bunch of snagged Carhartt beanies when I first started at this local store in New York called Pops. I've made them into a top, shorts, shoes and I've just been able to use them over and over again.
What's next for you in 2023?
A lot of workshops and traveling. I love to teach and get people involved in this space. I just connect with people and students and people interested in design all around the world. So, I look forward to doing that and I have some more product moments coming, which is really exciting for me. Over the past few years, I've tried to find brands that are interested in my message as an upcycling designer and see ways of being able to bring that message into this larger mass market. And, of course, I'll be exploring the great outdoors in Colorado. So, next year's going to be a lot of adventures.
---
Share this article